Cable TV upheaval prompts a wave of media merger talks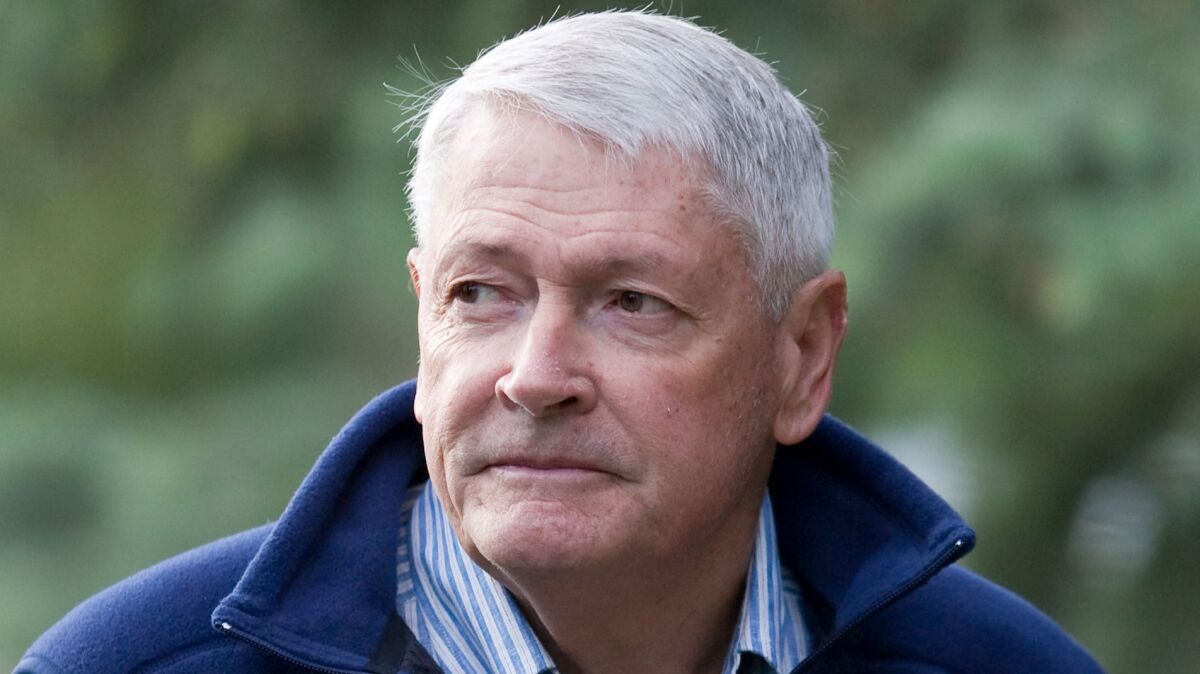 Cable television mogul John Malone for years predicted rapid consolidation in media, adding that there was an opportunity for small independent companies — so-called free radicals — to be swept together to create a more formidable media company.
Charter Communications, which is backed by Malone's Liberty Media, then acquired Time Warner Cable to become the nation's third-largest pay-TV company and the largest TV provider in Los Angeles. Malone invested in the Santa Monica movie and television studio Lionsgate, which last year bought Malone's Starz premium movie channel.
Now, Malone may be about to further expand his empire. Discovery Communications, whose largest individual voting shareholder is Malone, is in talks to acquire another jewel of cable television: Scripps Networks Interactive, which owns such prominent channels as HGTV, Food Network and Travel Channel, according to two people familiar with the talks.
The talks come amid dramatic changes in consumer behavior that have rattled the cable television industry. For years, programmers consistently have hiked the programming fees that they charge distributors, such as Charter and AT&T's DirecTV, for the rights to carry their channels. But consolidation among the TV operators, and a growing trend of cord-cutting, have given the distributors more leverage in carriage fee negotiations. That imbalance has put the squeeze on programmers, such as Discovery and Scripps, which also are experiencing ratings declines. Combining would give them more clout with distributors.
"Whenever there is one merger, another one follows," said Ben Gomes-Casseres, a Brandeis International Business School professor who wrote the 2015 book "Remix Strategy: The Three Laws of Business Combinations."
"All of these cable company mergers have given them more power in dealing with the programming companies,'' he said. "Now it makes sense for the programming companies to realign.… Everybody is looking at everyone else and going around the dance chairs before the music stops."
The media world was abuzz Wednesday, trying to figure out just what Malone's game plan might be. The 76-year-old billionaire, who lives on a sprawling ranch in Colorado, loves doing mergers and acquisitions.
"Maybe he has a grander scheme in mind that involves combining Discovery with other networks groups," Todd Juenger, senior analyst with the investment bank Sanford C. Bernstein, wrote in a research report. "Maybe he just wanted to stir the pot and see what happened."
Together, Discovery's and Scripps' channels would represent about 20% of cable television viewership, putting the combined entity on more equal footing with larger cable channel groups owned by the likes of Walt Disney Co., NBCUniversal, Viacom Inc. and Time Warner Inc.'s Turner.
News of the Discovery-Scripps merger talks, first reported by the Wall Street Journal, sent Scripps' shares soaring 14.7% to close Wednesday at $76.89. Discovery's stock had a more modest gain, up 4.3% to $27.18.
Discovery, based in Silver Spring, Md., owns Discovery channel, TLC, Animal Planet and a stake in the Oprah Winfrey Network. The company was riding high three years ago, but then its stock plummeted amid investor fears that smaller companies, such as Discovery and Viacom, were more vulnerable as major pay-TV companies began weeding out weaker channels to put together lower cost bundles as a way to retain consumers who could not afford — or did not want to pay for — hundreds of channels.
"The underlying logic of the combination makes some sense on the surface — Discovery is focused on men, Scripps on women," Barclays Capital media analyst Kannan Venkateshwar wrote in a report titled "Free Radicals Joining Forces?"
He noted that Discovery would have the ability to distribute Scripps networks internationally, and there would be cost synergies, but networks owned by both companies are having trouble being part of so-called skinny bundles.
A Discovery-Scripps deal could easily collapse, according to the knowledgeable people. And it was not the only potential tie-up being discussed.
Just last week, Malone and his chief deputy, Greg Maffei, chief executive of Liberty Media, met with Univision Communications Chairman Haim Saban and Jonathan Nelson, head of private firm Providence Equity, at the media mogul conference in Sun Valley, Idaho, according to two people familiar with the meeting. Liberty expressed interest in buying a stake in Univision, which is the nation's largest Spanish-language media company.
Saban's investment firm and Providence both own stakes in Univision.
It was unclear how serious the talks were between the Univision owners and Malone. No deal was reached, and price is expected to be a stumbling block in the talks, which were first reported by the Wall Street Journal. Univision is continuing to press forward with its plans for a public stock offering early next year to allow private equity owners to begin their exit after 10 years of ownership.
Univision's minority owner and programming supplier, Grupo Televisa of Mexico, has sought to forge relationships with executives close to Malone. Three of Televisa's board members have ties to Malone: Jon Feltheimer, chief executive of Lionsgate; Michael Fries, chief executive of Liberty Global; and David Zaslav, who is chief executive of Discovery.
Both Univision and Scripps, which is based in Knoxville, Tenn., have been shopped around before. Discovery and Scripps were involved in merger talks three years ago, but those collapsed over price and an unwillingness of the family behind Scripps to sell.
That's why several analysts remained skeptical that a merger between Discovery and Scripps would occur.
"The two companies combined won't have any more content/intellectual property with long-term value than they do currently as separate entities," said Doug Creutz, media analyst with Cowen & Co. "Skinny bundles that are willing to exclude both companies separately will be just as willing to exclude both companies if combined."
What's more, Creutz said, "competition for audiences with lower-margin content providers such as Netflix won't be any easier."
ALSO
When will the other shoe drop in U.S.-China economic relations
Disneyland resort launches digital version of Fastpass, but it will cost you
Plan calls for L.A., Long Beach ports to go to zero-emissions technology; cost could hit $14 billion
---
Inside the business of entertainment
The Wide Shot brings you news, analysis and insights on everything from streaming wars to production — and what it all means for the future.
You may occasionally receive promotional content from the Los Angeles Times.