Disney shows off Fox titles to cinema owners as a new era takes shape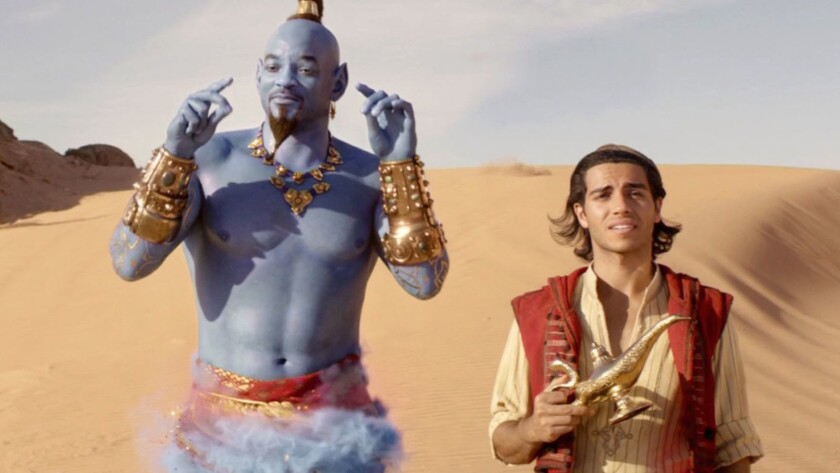 It's a whole new world for the cinema industry now that storied studio 20th Century Fox is part of Walt Disney Co.
That fact was on full display at CinemaCon this week, when Disney gave its first presentation to theater owners after buying the studio as part of its $71.3 billion purchase of 21st Century Fox.
Showcasing the scope of Disney's new kingdom, Disney on Wednesday kicked off its presentation in Las Vegas with a sizzle reel featuring clips from numerous Fox films, including "The Devil Wears Prada," "Aliens" and "Bohemian Rhapsody," along with Disney's multiple blockbusters.
In one brief clip, Ryan Reynolds' anti-hero Deadpool captured the mood: "First day; so nervous!"
Speaking at the Colosseum at Caesars Palace, Walt Disney Studios Chairman Alan Horn was quick to address the acquisition, which has been high on the minds of exhibitors. Disney now has an unrivaled treasure chest of intellectual property, and is expected to control at least 40% of the domestic box office, giving it enormous power in the entertainment business.
"We believe that together we will be more than the sum of our parts," Horn said. "It's just an unbelievable collection of stories and characters and worlds to explore coming from bold visionary filmmakers including Jon Favreau, J.J. Abrams, Jennifer Lee, James Mangold, Joe Wright, James Cameron — and that's just the J's."
Horn also bestowed praise on specialty film arm Fox Searchlight, the unit behind acclaimed films such as "Birdman," "Can You Ever Forgive Me," "Juno," "The Favourite" and "The Grand Budapest Hotel." (However, Horn joked that he never "quite got" the title of Guillermo del Toro's "The Shape of Water.")
Theater owners and rival studio executives have been intently anticipating how Disney would represent Fox's century-long legacy and the impact the deal is expected to have on the industry. The merger is expected to eventually result in thousands of job losses across the combined company.
Disney last month finalized its purchase of Fox, including Fox's TV studio and cable channels FX and National Geographic in a bid to take on Netflix and others in the highly competitive streaming video market. Disney is planning a streaming service to rival Netflix for later this year, which will include movies and shows from brands including Star Wars and Marvel Studios.
Horn gave assurances to theater owners that Disney would continue to support giving movies a robust exclusive theatrical release before making them available for home viewing.
"The theater is and will always be, in our minds, the cornerstone of the moviegoing experience, period," Horn said.
Fox Film's Vice Chair Emma Watts, newly a member of the Disney empire, came to the stage to present some of the Fox movies that Disney is expected to release in the coming year, showing off trailers of X-Men series finale "Dark Phoenix," buddy comedy "Stuber" and race car drama "Ford v. Ferrari."
Watts acknowledged that it was a "shock" to now share the CinemaCon stage with Disney leaders as colleagues, rather than as fierce competitors as in years past. However, despite the major changes that are sure to unfold, she made a point to stress that the Fox brand will live on under Disney.
"While much has been written in the press about our legacy in the past tense, it is my humble hope and contention that legacies are made every day," Watts said. "We are ready to write our next great chapter."
Some of the kinks in the release schedule still need to be worked out. On stage, Disney shared a full calendar of the studios' planned films, making it apparent that some release dates for Fox titles overlap with Disney's own. That will change "soon," said Cathleen Taff, who oversees theatrical distribution for Disney.
"We know some adjustments will need to be made," Taff said.
Taff also acknowledged the leadership of Fox distribution head Chris Aronson and international distribution head Andrew Cripps, both of whom are among the many high-level Fox executives losing their jobs.
Burbank-based Disney's presentation was relatively brief, featuring new footage of live action remakes including "Aladdin" and "The Lion King," as well as the first 17 minutes of "Toy Story 4." The studio did not offer any materials for the highly anticipated upcoming "Frozen" and "Star Wars" movies.
Disney showed a scene from "Avengers: Endgame," which is expected to have the biggest opening weekend of the year when it debuts April 26. The studio's 'Captain Marvel' movie this week crossed the $1 billion milestone at the worldwide box office.
---
Inside the business of entertainment
The Wide Shot brings you news, analysis and insights on everything from streaming wars to production — and what it all means for the future.
You may occasionally receive promotional content from the Los Angeles Times.