Disney extends CEO Bob Iger's contract through 2021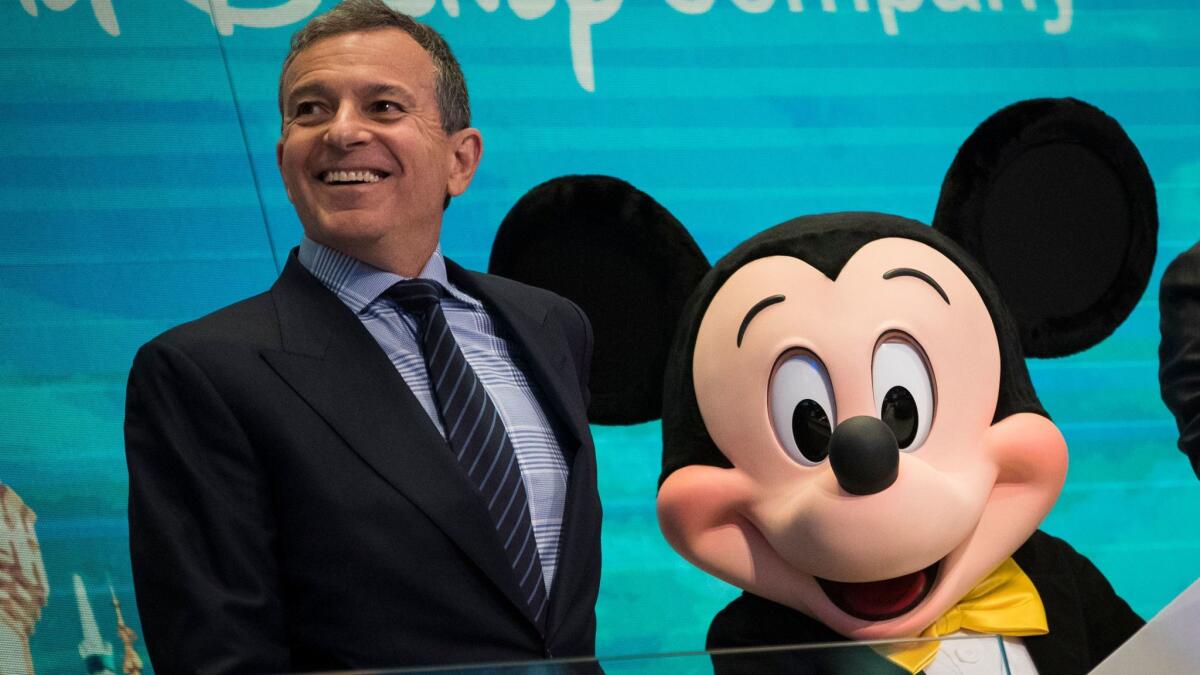 Walt Disney Co. said Thursday it has extended the contract of Chairman and Chief Executive Bob Iger through December 2021, locking in a 16-year run leading the Burbank entertainment juggernaut.
The move, which had been expected, came as Disney announced its $52.4-billion deal to buy much of 21st Century Fox's media assets. It appears to rule out a presidential bid by Iger — at least for 2020 — which some observers had been anticipating.

For the record:
8:15 a.m. Dec. 14, 2017An earlier version of this article stated that with a contract extension, Bob Iger locked in a 26-year run leading Walt Disney Co. The extension would bring Iger to a 16-year run.
An extended tenure for Iger was expected in order to give the company stability as it integrates Fox's assets. Given the lengthy regulatory review the deal is sure to face, it will take 12 to 18 months to close, the company said.
"It's good for certainty around how the company will be managed through the integration and immediately beyond it," said Brian Wieser, a media analyst at Pivotal Research.
Disney said Iger was staying "at the request of both 21st Century Fox and the Disney board of directors."
"When considering this strategic acquisition, it was important to the board that Bob remain as chairman and CEO through 2021 to provide the vision and proven leadership required to successfully complete and integrate such a massive, complex undertaking," said Orin C. Smith, lead independent director of the Disney board.
"We share the belief of our counterparts at 21st Century Fox that extending his tenure is in the best interests of our company and our shareholders, and will be critical to Disney's ability to effectively drive long-term value from this extraordinary acquisition," Smith said.
Iger's tenure has been a boon for Disney investors.
The company's overall stock-market value, now at $163 billion, has surged 256% since Iger became CEO, more than double the 117% increase in the benchmark Standard & Poor's 500 index during that span.
Iger would be well compensated for his efforts. Under the terms of his new contract, he stands to receive more than $100 million in stock grants, based on Disney's current share price.
His annual base salary will increase to $3 million at the beginning of 2018, up 20% from his prior deal, according to a regulatory filing. That will rise to $3.5 million once the Fox transaction closes. The company has set a target bonus of $20 million for Iger, plus $25 million in stock.
His previous target bonus was $12 million, but his actual payout has easily exceeded that because of the company's performance. Last year Iger's cash bonus was $20 million. His total compensation during the company's most recent fiscal year was $43.9 million, including $17.3 million in stock and options.
If regulators approve the deal, Disney would take over the prolific 20th Century Fox movie and television studio, Fox's 22 regional sports channels, cable entertainment brands FX and National Geographic, and Fox's portfolio of international operations, including a fast-growing pay-TV service in India.
Iger had been set to vacate his post at the end of June 2016, but in 2014 his contract was extended two years. In March, it was extended again — through July 2, 2019 — to give Disney more time to search for a successor.
Few internal candidates for the post have emerged, and it seemed increasingly likely the company would look for an outside candidate. The Fox deal could introduce a new pool of potential candidates for the top job, perhaps even James Murdoch, Rupert Murdoch's ambitious younger son. However, Disney has not offered the younger Murdoch a place in its empire yet.
Any candidate would have big shoes to fill.
Iger has already orchestrated three multibillion-dollar acquisitions that have transformed Disney, not including Fox: Pixar Animation Studios in 2006, Marvel Entertainment in 2009 and Lucasfilm in 2012.
A contract extension gives Disney's board time to figure out a succession plan for Iger, Wieser said.
"It buys them time," Wieser said. "I don't think they were satisfied that they had a successor inside of Disney, so there's time either to find outside talent or to assess if James Murdoch or someone from the Fox organization is an appropriate successor."
Times Staff Writer James Peltz contributed to this report
Twitter: @MegJamesLAT
Twitter: @rfaughnder
ALSO
Massive Disney-Fox deal expected to get close antitrust scrutiny
Here's what Disney is acquiring in its blockbuster deal with 21st Century Fox
How key Fox executives could fare after sale to Disney
---
UPDATES:
12:50 p.m.: This post has been updated to include additional analyst comments.
This article was originally published at 5:30 a.m.
Inside the business of entertainment
The Wide Shot brings you news, analysis and insights on everything from streaming wars to production — and what it all means for the future.
You may occasionally receive promotional content from the Los Angeles Times.