Shake-up at the MPAA. Hollywood's chief lobbyist, Chris Dodd, to be replaced by Charles Rivkin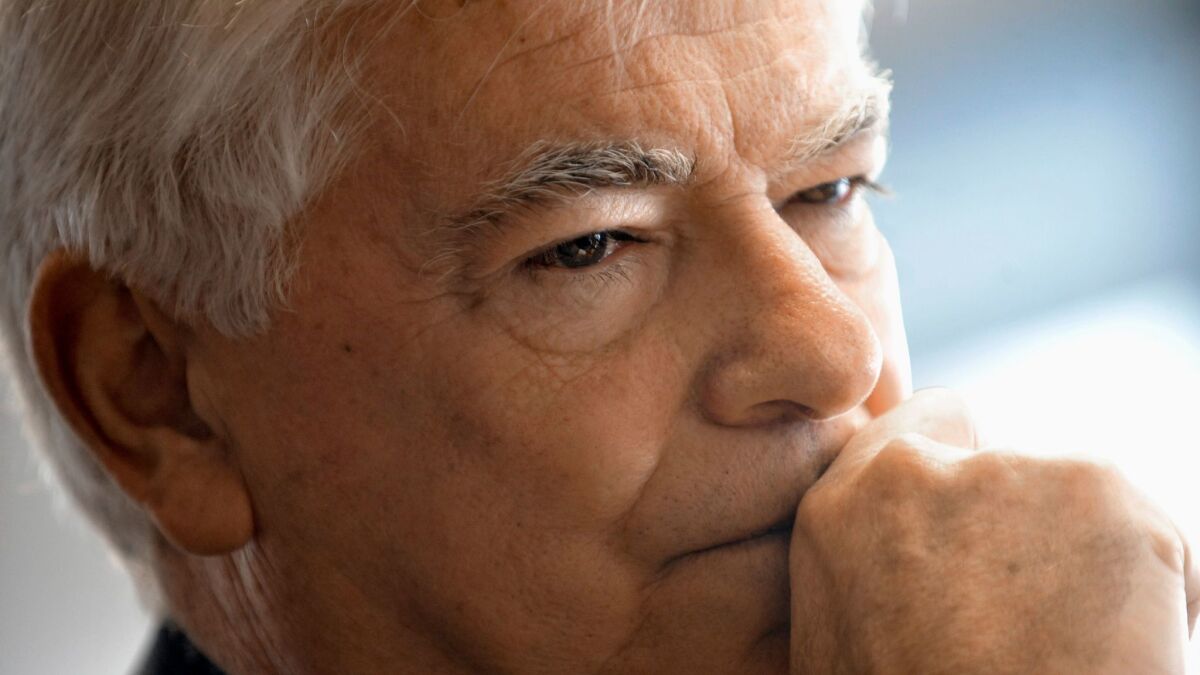 Christopher Dodd will step down as chairman of the Motion Picture Assn. of America after six years as the head of the lobbying arm of major Hollywood studios, the industry trade group said Friday after The Times first reported the shake-up.
Charles Rivkin, former assistant secretary of State for economic and business affairs under President Obama, will succeed Dodd as head of the 95-year-old organization, effective Sept. 5.
The decision was mutual, and Dodd, who is turning 73 in May, was ready to retire, said a person familiar with the matter who was not authorized to comment on Dodd's exit. However, some studio executives were unhappy with his performance and had questioned the effectiveness of the MPAA under his leadership. In 2015, Dodd extended his contract through 2018.
Dodd, a former Democratic senator from Connecticut, was recruited by the six major studios to lead the organization in 2011 after a 36-year career in Congress. At the time of his hiring, the studios hoped that he would restore some of the clout the organization enjoyed when it was led by Jack Valenti, who ran the group for nearly four decades.
But the entertainment industry has changed dramatically since then, and so has the role of the MPAA. The priorities of the major studios — Sony Pictures, Universal Pictures, Paramount Pictures, Walt Disney Co., 20th Century Fox and Warner Bros. — have become increasingly disparate because their respective corporate owners don't always see eye to eye on key issues. Universal Pictures owner Comcast Corp., a cable giant, has strategic interests that diverge from Japanese-owned Sony, for example.
The agendas include how to shorten the time-honored gap between a movie's theatrical release and its availability in the home, a debate that clouded the industry's recent CinemaCon conference in Las Vegas. Dodd was conspicuously absent from the March event, where he has consistently served as the industry's cheerleader. The MPAA said he had a prior family commitment.
"The studios are so different," said an entertainment industry executive who did not want to be named discussing Dodd's departure. "There's very few things they want to come together on."
Under Dodd, the MPAA ramped up its spending on lobbying, new hires and salaries. But he faced growing competition from Silicon Valley during his tenure. The trade association took a major black eye from Google and other tech giants in 2012 because of the Internet companies' successful campaign against the controversial Stop Online Piracy Act, known as SOPA, which the MPAA backed.
The MPAA faced another crisis over its handling of the 2014 cyberattack on Sony Pictures that crippled the studio and exposed a trove of sensitive documents. Dodd had tried to craft a letter of solidarity for Sony, but many executives balked. Sony Pictures Entertainment Chief Executive Michael Lynton threatened to exit the organization and the MPAA's board briefly considered scrapping its long-standing practice of making decisions by consensus.
The MPAA under Dodd's leadership is credited with expanding Hollywood's presence in China with agreements in 2012 and 2015 that opened the film market there and increased the share of revenue American studios collect in China.
Dodd also had some success battling online piracy, which remains a priority for the industry. The trade organization in recent years has waged successful efforts to shut down such infringing sites as MegaUpload and KickassTorrents.
"Protecting copyright is the hallmark of Chris' leadership at MPAA and he helped create a fully integrated, global online antipiracy operation," said Stacey Snider, Chairman of film studio 20th Century Fox, in a statement provided by the MPAA.
Free trade and immigration also remain key. The group last year supported the Trans-Pacific Partnership trade pact, from which President Trump formally withdrew in January. It also expressed "concern" about the potential impact of Trump's travel ban in January.
The group is also in charge of doling out parental guidance ratings for Hollywood movies, a practice that still courts some controversy from time to time. The Weinstein Co. this month protested the R rating given to its LGBTQ-themed upcoming movie titled "3 Generations." The two sides on Thursday reached a compromise to get the film a PG-13 rating.
"I'm honored to have led the MPAA for more than six years and extremely proud of what we accomplished," Dodd said in a statement.
Dodd was well compensated for his efforts. He earned $3.3 million in 2013, well above the $1.1 million paid to his predecessor, Dan Glickman in 2010, tax records show.
Rivkin is well regarded because of his connections in Washington and Hollywood.
He formerly ran Jim Henson Co., creator of the Muppets and "Sesame Street." Before serving as assistant secretary of State for economic and business affairs, Rivkin was the U.S. ambassador to France and Monaco from 2009 to 2013, also under the Obama administration.
"Charlie Rivkin is an excellent choice to lead MPAA into the future, and I look forward to working with him for a smooth and successful transition," Dodd said in a statement.
Times staff writer Meg James contributed to this report.
---
UPDATES:
4:30 p.m.: This article was updated with additional reaction to Dodd's resignation.
This article was originally published at 2:20 p.m.
---
Inside the business of entertainment
The Wide Shot brings you news, analysis and insights on everything from streaming wars to production — and what it all means for the future.
You may occasionally receive promotional content from the Los Angeles Times.