World Series Game 5 with Dodgers delivers lofty TV ratings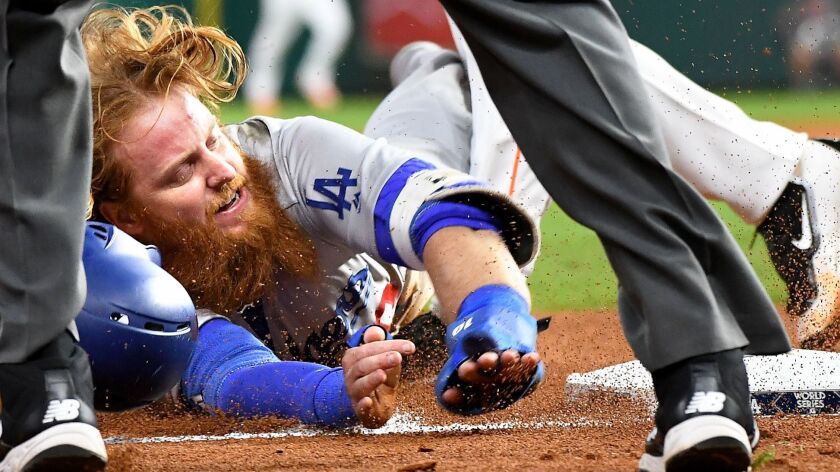 Game 5 of the World Series might have crushed the spirits of the Los Angeles Dodgers and the team's huge fan base, but the television ratings certainly cheered the brass at Fox Sports.
Sunday night's marathon matchup, in which the Dodgers lost to the Houston Astros, 13-12, at Minute Maid Park in Houston, was watched by 19.6 million viewers across Fox's media platforms — the Fox broadcast network, Spanish-language Fox Deportes and Fox Sports Go online.
Viewership for Fox's broadcast of Game 5 — which lasted 10 innings — peaked from 8:45 to 9 p.m. Pacific time with 20.76 million viewers, according to Nielsen ratings released Monday by Fox. The Game 5 ratings are expected to surpass those of NBC's "Sunday Night Football," which saw the Pittsburgh Steelers defeat the Detroit Lions, when the final numbers are released Tuesday.
It was the second-best ratings result for a World Series Game 5 since 2003, Fox said. However, last year's Chicago Cubs-Cleveland Indians game drew a larger audience — 23.6 million viewers.
In the Los Angeles market, the game scored an impressive 32.8 household rating and a 52 share, the largest television audience since Game 7 of the 2002 World Series, when the Anaheim Angels defeated the San Francisco Giants.
Through five games, the World Series has averaged 16.4 million viewers, the second-best number since the 2009 championship series. The Cubs-Indians World Series achieved higher ratings with an average through five games of 19.3 million viewers.
Houston leads the series, 3-2.
Game 6 will be played Tuesday night at Dodger Stadium.
---