ESPN's streaming service could be a game changer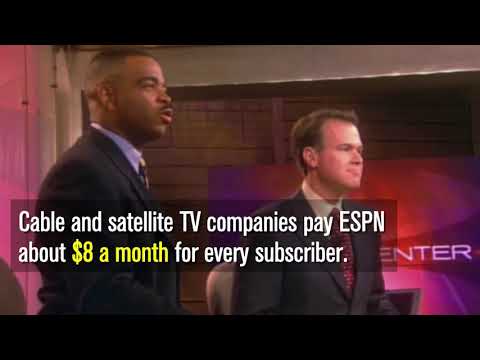 Cable and satellite TV companies pay ESPN about $8 a month for every subscriber. 
The Walt Disney Co. finally unveiled its plan to offer an over-the-top video streaming edition of ESPN for the growing number of fans who want live sports — but not the big cable bill that a previous generation paid.
Now the question is whether the revenue generated by the new service to be launched in 2018 will be enough to offset the subscriber dollars that go away every time a household decides it can do without cable. It may take a few years for that to happen, but the consensus in the sports TV industry is that Disney could not afford to wait any longer to find out.
"It was almost a mandatory that ESPN had to do something like this," said Lee Berke, president of LHB Sports, Media & Entertainment, and a former sports TV network executive. "It's not going to all be made up for in the next six months or a year or two years, but streaming is where the growth is and it's where the next generation of viewers are increasingly heading."
While ESPN continues to be a significant profit center for Disney, the migration of viewers to streaming continues to cut into the revenue it receives from pay-TV providers.
Disney this week reported a 22% third-quarter drop in operating income in its media networks unit, which houses ESPN and ABC. Within the cable networks group, which includes ESPN, segment operating income was down 23% to $1.46 billion. Disney attributed the drop-off, in part, to higher programming costs — including $400 million toward a new NBA TV contract — and lower advertising revenue at ESPN, which fell 8% in the quarter due to smaller audiences.
Every household that decides to cancel its pay-TV subscription means less revenue for ESPN, which commands the highest carriage fees of any network — commanding around $7 to $8 out of every monthly cable bill, according to SNL Kagan. In other words, cable and satellite TV companies pay ESPN about $8 a month for every household that receives the sports channels.
ESPN was in 100 million cable and satellite households in 2011. It's now at 87 million households, according to Nielsen data, as streaming video has become a way of life for the current generation of TV viewers, many of whom are foregoing a pay-TV subscription.
That group is on the rise. According to Nielsen, 62% of all U.S. households — around 73 million — now use Internet-connected televisions or streaming video devices. In those homes, streaming video consumed by those ages 25 to 34 accounts for 23% of TV usage.
The new ESPN over-the-top offering meant to appeal to streaming video users will not be the same channel that cable subscribers currently receive. It will be a separate service available through the ESPN app and offer access to thousands of live events from Major League Baseball, the National Hockey League, Major League Soccer, Grand Slam Tennis, and various college sports organizations.
It will not include NFL or National Basketball Assn. contests that are the big ratings drivers for ESPN's cable channels, which can only be streamed with a pay-TV subscription. Disney has not said how much the service will cost.
But the service could become more robust over time. Walt Disney Chairman Bob Iger said the company will have the ability to deliver the ESPN channels directly to viewers if the number of pay-TV subscribers continues to deteriorate, but indicated there would be an impact on the revenue it receives from cable and satellite providers.
"If we wanted to take ESPN direct [to consumers], we could," Iger told analysts Tuesday.
Iger added that an over-the-top offering would have an effect on some of its agreements with pay-TV providers that he described as "sub-optimal."
Disney's preparation for the streaming future includes increasing its stake in BAMTech, the interactive media company formed by Major League Baseball that designs and operates the platforms for streaming video services. The acquisition announced Tuesday gives ESPN access to BAMTech's technology and the streaming rights to sporting events that the company currently holds.
But whatever strides the company makes in reaching over-the-top users, it may not be fast enough to outpace the loss in revenue that occurs through the loss of cable subscriptions. An analyst note from Barclays Capital called the Disney announcement on ESPN a defensive move.
Andrew Zimbalist, an economics professor at Smith College who specializes in the sports business, agreed with that assessment. He said the bounty that ESPN and other cable sports networks have enjoyed by getting fees for every cable household they reached is going to be missed if sports moves to an over-the-top distribution model and consumers get used to having the ability to pay only for the channels they watch.
"That is going to diminish or disappear and that's bound to hurt," said Zimbalist. He added that the new proliferation of over-the-top services is only going to make the TV landscape more crowded and competitive.
Shifting TV habits have already prompted cuts at ESPN. It went through a major round of layoffs in 2016, reducing its workforce by 4%. Earlier this year, the network fired around 100 reporters, analysts and commentators.
ESPN has also been under pressure from escalating sports rights fees — its costs to carry the NBA just doubled. Other fees may get even higher going forward as technology companies such as Google, Amazon and Facebook are expected to pursue exclusive rights to National Football League packages when they become available in 2022. Amazon is paying $50 million this year for the non-exclusive streaming rights for 10 of the NFL's "Thursday Night Football" games this season that will also air on CBS or NBC.
Patrick Rishe, director of the sports business program at Washington University in St. Louis, said ESPN and other TV networks are still in a better position to deliver a massive number of viewers to advertisers than a streaming service.
"Given where the ratings are and what audiences the network can generate, I'd be very shocked if it could make business sense for an Amazon or [Google] to outbid them," he said.
Twitter: @SteveBattaglio
ALSO
Disney to offer two streaming services and end its movie distribution agreement with Netflix
Suspended Fox host suing reporter over alleged lewd texts
Diversity training was supposed to reduce bias at Google. In case of fired engineer, it backfired.
Delivery start-up Schlep & Fetch runs out of cash, shuts down and pays drivers fraction of what they're owed
Inside the business of entertainment
The Wide Shot brings you news, analysis and insights on everything from streaming wars to production — and what it all means for the future.
You may occasionally receive promotional content from the Los Angeles Times.