Even in second place, NBC says Jimmy Fallon's 'Tonight' is all right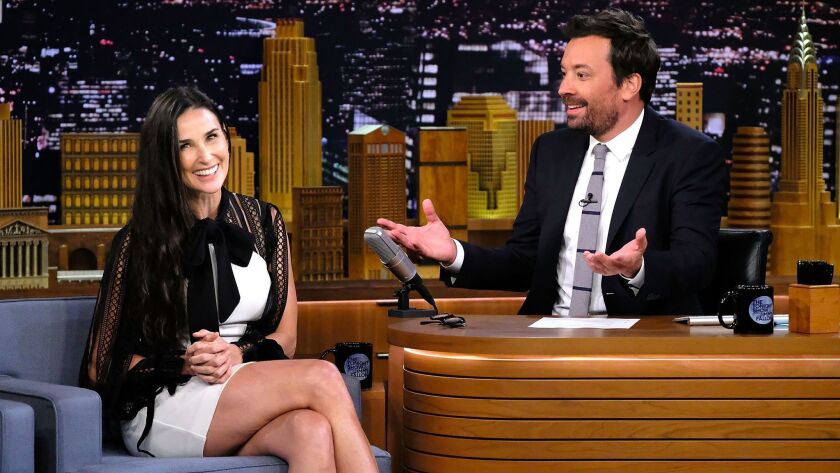 'The Tonight Show Starring Jimmy Fallon" isn't getting the Trump ratings bump that other late-night shows are experiencing.
But that doesn't worry NBC Entertainment Chairman Bob Greenblatt, who told the Television Critics Assn. press tour Thursday that he remains happy with Fallon's performance on the franchise even though CBS rival Stephen Colbert has passed him in the Nielsen ratings.
"I have no concern about it whatsoever," Greenblatt said. "Jimmy's the greatest at what he does. He's the most multitalented entertainer for late night. Clearly we're in a news cycle that everyday tops itself from the day before. I think that will even itself out."
Colbert's ratings have surged this year as the host found his comedic voice since President Trump entered the White House. His stinging commentaries on the administration have made the show appointment viewing for the anti-Trump audience.
According to Nielsen data, NBC's "Tonight" averaged 3.173 million viewers during the 2016-17 TV season, a decline of 15% over the previous year. "The Late Show With Stephen Colbert averaged 3.195 million viewers, a year-to-year gain of 11%.
Political jabs have never been a specialty for Fallon, and as a result he has not seen the ratings surge that Colbert and other late-night hosts who take on the president have experienced.
Greenblatt noted that Fallon remains the leader among viewers in the 18-to-49 age group that most advertisers seek in late night. Advertiser demand in general has been strong for late-night programming, and Fallon's broadcast is benefiting from that.
"Advertiser demand for him has been higher than it's ever been," Greenblatt said.
NBC executives have said privately that Fallon's less politically charged comedy appeals to advertisers who don't want their spots to run amid content that is too political and could alienate some viewers.
Twitter: @SteveBattaglio
---
Get our daily Entertainment newsletter
Get the day's top stories on Hollywood, film, television, music, arts, culture and more.
You may occasionally receive promotional content from the Los Angeles Times.