NBC News Chairman Andy Lack fights back against criticism of its handling of Harvey Weinstein story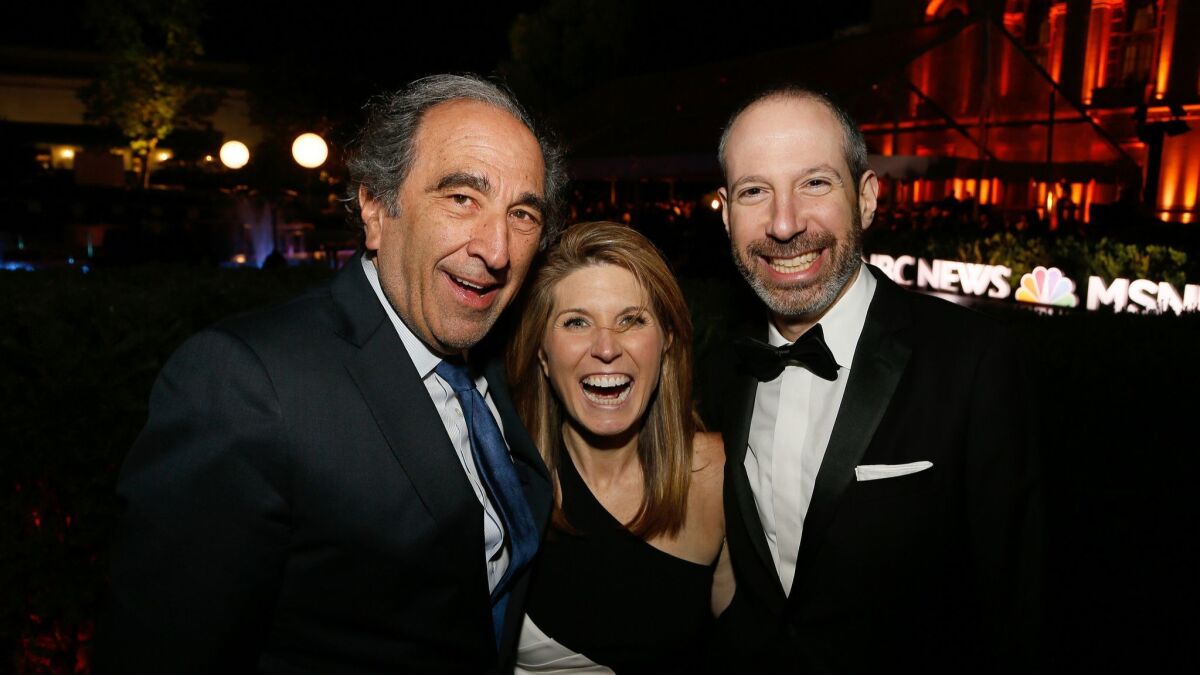 The decision by NBC News not to air Ronan Farrow's investigation of alleged sexual misdeeds by movie mogul Harvey Weinstein is turning into a public spat with the journalist.
NBC News Chairman Andy Lack issued a memo to staff on Monday defending the division's actions and disputing assertions by Farrow and his former producer that the network suppressed the story, which was published by the New Yorker in October and earned a Pulitzer Prize. Farrow fought back in a late-night tweet that disputed a document NBC News released that detailed its handling of the story.
Lack said in a memo obtained by the Los Angeles Times that "we've watched with disappointment as unfounded intimations and accusations have traveled through media circles" over NBC News' decision to pass on the story.
NBC News has been adamant in stating why it did not air Farrow's investigation, which helped launch the #MeToo movement. The network said Farrow did not have a single Weinstein accuser speaking on the record or on camera, with the exception of actress Rose McGowan, who withdrew her cooperation through her lawyer. McGowan had never mentioned Weinstein by name in her February 2017 interview with Farrow, who was working under a freelance contract for NBC News at the time.
The news division's decision to not air Farrow's work on TV and to allow him to take it elsewhere has become a source of embarrassment for the network, which over the last year had to deal with its own sexual harassment scandal involving fired "Today" co-anchor Matt Lauer.
Lack's memo led to an exchange of barbs between Farrow and NBC News. It also elicited a call by NBC News host Megyn Kelly for an outside investigation into how the story was handled.
The squabble over the network's handling of Farrow's reporting became public Thursday, when his former producer, Rich McHugh, said in a statement that "at a critical juncture in our reporting on Harvey Weinstein, as we were about to interview a woman with a credible allegation of rape against him, I was told not to do the interview and ordered to stand down, thus effectively killing the story."
McHugh added that "those orders came to me from the highest levels of NBC."
In his memo, Lack disputed the allegation that the crew had been canceled as a way to obstruct Farrow's reporting.
"Immediately after Farrow had parted ways with us, he asked for NBC cameras to record another anonymous Weinstein victim," he said. "Farrow conducted the interview, but we declined the request for a crew because we believed filming another anonymous interview would not get us any closer to clearing the threshold to broadcast, and because he had already informed us he was pursuing the story for another outlet."
Lack also said his interactions with Weinstein or his attorneys during Farrow's reporting had no effect on the decision by NBC News not to run the story.
Repeated attempts by Weinstein and his legal counsel to contact Lack, NBC News President Noah Oppenheim, or other network executives from April to October 2017 "were either completely ignored or met with a boilerplate commitment to allow them to comment if and when something was ready for broadcast," Lack said. "None of this was kept secret from Farrow. None of it was any different from the calls we receive on every other difficult story our investigative unit regularly breaks. And none of it played any role in our decision-making."
An internal report from NBC News that details its handling of the story said the division took "an extra step" in trying to vet Farrow's work so that it could get on the air. In August 2017, a team of three NBC News veteran journalists examined Farrow's draft script and the underlying reporting.
"They are ultimately unanimous in their view that NBC News does not have a story that is ready for broadcast," the report said. "Their review also reveals that some of Farrow's claims and sourcing throughout the draft script are not consistent with his reporting."
None of the seven women named in Farrow's story for the New Yorker — including Asia Argento, Mira Sorvino and Rosanna Arquette — were willing to speak on camera for NBC News.
Farrow responded on Twitter to Lack's memo and the news division's internal report on his work, saying the document "contains numerous false or misleading statements."
Farrow said the report's list of sources he spoke to for the story is "incomplete and omits women who were either identified in the NBC story or offered to be."
Emily Nestor, a temporary assistant for Weinstein who was allegedly told by the executive that she could advance her career by having sex with him, issued a statement to the Hollywood Reporter that she was willing to have her name used in Farrow's story, but NBC was not interested. She had done a previous interview with Farrow in silhouette.
An NBC News representative said Tuesday that Nestor is referred to in the document and was contacted during the editorial review process by an investigative producer. "At no time then or since did Nestor tell NBC News she was willing to be named," the representative said.
Farrow maintained his story was "'reportable" by legal and professional standards and that he was "blocked by executives who refused to allow us to seek comment from Harvey Weinstein."
Twitter: @SteveBattaglio
---
UPDATES:
7:33 a.m. Sept. 4: This article was updated with a statement from NBC News.
10:15 p.m. Sept. 3: This article was updated with a statement from Emily Nestor, who accused Harvey Weinstein of sexual harassment.
9:15 p.m. Sept. 3: This article was updated with Ronan Farrow's response to the NBC News account of his reporting on Harvey Weinstein.
This article was originally published at 7:25 p.m. Sept. 3.
---
Inside the business of entertainment
The Wide Shot brings you news, analysis and insights on everything from streaming wars to production — and what it all means for the future.
You may occasionally receive promotional content from the Los Angeles Times.