'Darkest Hour' and other Golden Globe winners find box office success in a sea of franchises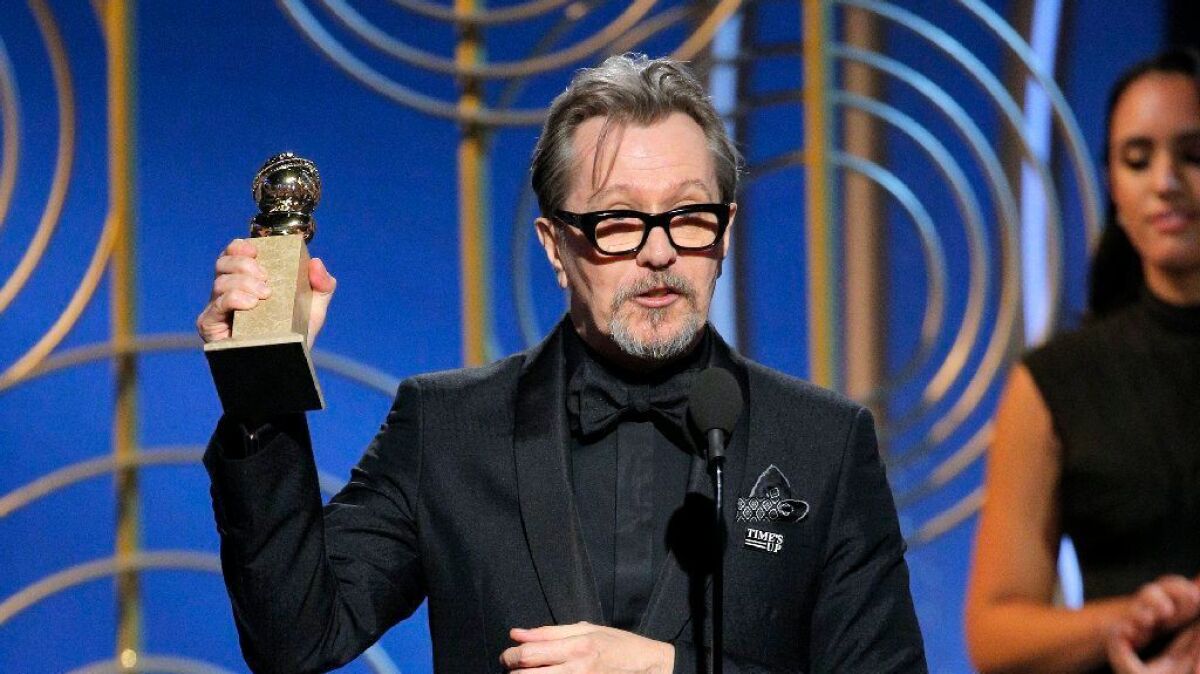 In a film industry dominated by superheroes and Jedi warriors, a character drama about Winston Churchill doesn't scream box-office potential. Neither does a romance about a mute woman and an amphibious creature, or a quiet mother-and-daughter coming-of-age tale.
But despite the odds, dramas like "Darkest Hour," "The Shape of Water" and "Lady Bird," which all won awards at Sunday's Golden Globe Awards, are drawing impressive audiences at the multiplex. Last weekend, indie movies made up nine of the top 20 films at the box-office, up from the roughly five that have cracked the charts during comparable weekends in the previous few years, according to Box Office Mojo.
"Lady Bird," which took the best picture prize for comedy or musical, has topped $34 million at the box office so far. "The Shape of Water," which won best director for Guillermo del Toro, has crossed the $20 million mark. Focus Features' "Darkest Hour," starring best actor winner Gary Oldman as Churchill, has taken in more than $28 million and ranked No. 8 in the U.S. and Canada last weekend. And "Three Billboards Outside Ebbing, Missouri," the dark comedy that walked away with the top drama film prize, has grossed about $25 million.
GOLDEN GLOBES 2018: Full coverage | Winners | Red carpet photos
The strong results — especially for movies that typically cost less than $20 million to make — have been heartening for indie distributors and producers. They say the numbers are evidence that there's still a big audience for prestigious adult dramas, as long as they are critically acclaimed and distinctive while also appealing to a broad audience.
"For films that tick off all the boxes, it's pretty clear there's real audience interest right now, which is exciting," said David Linde, chief executive of production company Participant Media, which helped produce the Lionsgate hit "Wonder" and Steven Spielberg's awards contender "The Post." "All of these movies are not just beautifully made but very distinct."
The string of successful films has driven gains for specialized movie theaters even as larger circuits struggle from admissions declines. L.A.-based Landmark Theatres, which owns 54 locations with 260 screens specializing in indie and art house films, enjoyed a roughly 2% rise in box office sales last year while the broader industry dipped 2%.
"There are definitely films this period drawing a wider range of viewers," said Landmark Theatres CEO Ted Mundorff. "The product and the stories have more of an appeal to all the demos, instead of just one particular demo."
Indie producers and theater owners are sounding an upbeat note at a time when much of the industry is down on adult dramas. Major studios have pulled back on such mid-budget movies in favor of tent pole franchises with characters moviegoers already know and love. Mid-budget movies have become increasingly risky for studios. When they misfire, word spreads quickly on social media and the box office damage can be severe. Paramount's "Downsizing," which cost a reported $68 million to make, grossed only $23 million.
But as the majors have shunned smaller movies that has created more room for indie distributors and specialty film powerhouses such as Fox Searchlight, A24 and Focus Features to build an audience for their most commercially viable films.
Distributors have adapted to the changing marketplace by becoming more selective about the movies they back, and picking titles that are more likely to draw audiences beyond the cinephile niche. "The Shape of Water," for example, may have a quirky premise about a woman who falls in love with a mysterious water monster. However, its themes are broad and easy to understand, with echos of Disney's "Beauty and the Beast."
"These are intelligent, thoughtful films that are not made for five people," said producer Mark Gordon, who produced the Aaron Sorkin drama "Molly's Game." "They're reaching a broad audience because they're accessible."
"I, Tonya," about figure skater Tonya Harding, has all the hallmarks of an artsy prestige drama. But it also has a story that many people are already familiar with from news reports, and a big star in Margot Robbie, who could bring the picture to a wider audience. The film grossed $2.4 million from 242 theaters last weekend.
"That's a movie they're talking about in prestige circles, and they're talking about it on ESPN," said Nick Meyer, chief executive of Sierra/Affinity, which helped finance "I, Tonya."
Some of the films have succeeded by courting a younger, more diverse crowd than the typical art house drama. For "The Shape of Water," more than 50% of the audience is under 35 years old, and 60% is female. "Lady Bird," the directorial debut of Greta Gerwig, and "The Disaster Artist," about the making of the cult flick "The Room," have both succeeded by courting younger audiences.
Older crowds have also responded to certain films. "Darkest Hour," which debuted in four theaters Nov. 22, has had a strong draw among men age 50 and over. It scored $6.3 million last weekend after increasing its theater count to 1,700.
"There's a lot of room for intelligent original adult dramas to work around the country, and I think 'The Darkest Hour' is a perfect example of that," said Lisa Bunnell, head of distribution for Focus Features, which is owned by NBCUniversal.
Indie film remains a challenging and crowded business. More than ever, a smaller movie's success depends on the critical response as reflected on Rotten Tomatoes. Netflix and Amazon have disrupted the market by making $10-million deals for movies at film festivals, leaving traditional distributors in a difficult competitive position.
But distributors are adapting to the digital disruption, too. Fox Searchlight, for example, is making its own movies, rather than buying completed films at festivals.
"We really have to take our chances developing our own stuff," said Frank Rodriguez, head of distribution for Fox Searchlight. "Not everyone's interested in getting into a bidding war."
The question remains whether more art house movies such as "Call Me by Your Name," a gay romance set in Italy; or "Phantom Thread," which brings Paul Thomas Anderson back together with actor Daniel Day-Lewis, can find a wider audience.
And so far there hasn't been a late breakout hit among the awards contenders the way "La La Land" and "Hidden Figures" won over crowds a year ago. But Linde said the preponderance of smaller movies attracting a wide range of moviegoers is a positive sign for the business.
"That kind of audience response is fuel for a dynamic business, and is very encouraging," he said.
On Now
Video: What can be done to help with inequality?
2:50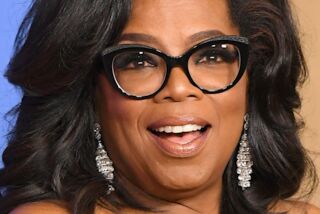 On Now
Video: Oprah Winfrey, a look back at her career
1:14
On Now
Video: Why did you wear black to the Golden Globes?
3:23
On Now
Video: William H. Macy thinks the world would be a better place if women ran it
0:46
On Now
Video: Lena Waithe is on a mission with 'Master of None' and 'The Chi'
0:26
On Now
Video: Milo Ventimiglia says he doesn't see gay, black, white, woman, man: 'I see an artist'
1:26
On Now
Video: Ann Dowd on the exposure of predators in Hollywood
0:49
On Now
Video: 'The Square's' Ruben Östlund and Terry Notary on sexual harassment in Hollywood
0:56
On Now
Video: Raphael Saadiq on how to behave with women, with a little help from Dave Chappelle
1:49
On Now
Video: Director Nora Twomey on wearing black at the Golden Globes
2:06
---
Inside the business of entertainment
The Wide Shot brings you news, analysis and insights on everything from streaming wars to production — and what it all means for the future.
You may occasionally receive promotional content from the Los Angeles Times.