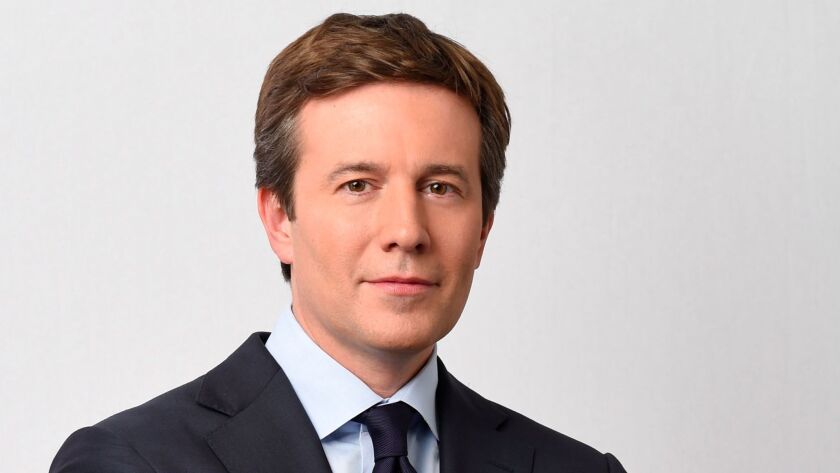 Veteran correspondent Jeff Glor will be the next anchor of "CBS Evening News."
Glor, 42, was named to the post Wednesday by CBS News President David Rhodes. He has been with the news division for 10 years in various capacities, including as lead anchor for CBSN, the division's streaming video service.
Glor was a bit of a stealth candidate for the job. He was considered a rising star at CBS News in 2011, when he held the weekend evening news anchor chair and served as a co-anchor on "The Early Show" before the program was renamed "CBS This Morning" and built around Charlie Rose in 2012.
He has not had a regular anchor job on the broadcast network since 2016. In recent years, he has been the lead correspondent on major breaking stories, including the mass shooting in Las Vegas earlier this month.
Glor was assigned to be anchor of CBSN in 2014, when online news programming was still considered an experimental backwater. But the service is now profitable, as streaming video has become the first stop for many young viewers.
Rhodes told the Los Angeles Times that he appreciated how Glor provided CBSN with "credible talent" to support the launch of the venture in its early days. Rhodes noted that Glor had built his stature within CBS News by taking on every major story given to him after he no longer had a regular anchor role on the broadcast network.
"He ended up working with every executive producer internally and took all those assignments," Rhodes said. "The time that many people might have used to raise their profile, he spent doing the work."
Glor will continue to have a presence on CBSN as the network uses the service to draw more younger viewers to its news programming.
Glor's emergence from CBSN to what has traditionally been the flagship broadcast of CBS News is further evidence that networks believe they can go with home-grown talent for their evening news programs.
Brian Williams was replaced with the lower-profile Lester Holt on "NBC Nightly News" in 2015, but the program has held its lead among viewers ages 25 to 54, the demographic advertisers seek most with news programming.
After David Muir replaced TV legend Diane Sawyer on "ABC World News Tonight," the broadcast finished the 2016-17 season with the most network evening news viewers for the first time in 20 years.
Glor will take over the chair from Anthony Mason, who has served as interim anchor since June. Mason — who took over after Scott Pelley vacated the chair to return to the newsmagazine "60 Minutes" full-time — remains with CBS News as a senior national correspondent and co-host of the Saturday edition of "CBS This Morning."
All three evening newscasts have been losing viewers as more people turn to cable and the internet for news, but they still draw substantial audiences. In the current TV season, "ABC World News Tonight" draws an average of 8.5 million viewers, up 2% from a year ago. "NBC Nightly News" has 8 million viewers, down 1%. "CBS Evening News" has 6.2 million viewers, down 5%.
Morning programs have supplanted the evening as the marquee franchises for broadcast news, as they bring in the most revenue. "CBS This Morning" co-anchor Norah O'Donnell was initially believed to be a strong candidate for the evening news chair, but management did not want to disrupt the morning program's on-air chemistry. O'Donnell, Rose and Gayle King have brought CBS its best ratings in the morning in 29 years.
Twitter: @SteveBattaglio
---
UPDATES:
12:10 p.m.: This article was updated with comments from David Rhodes and with background on ratings for evening news shows.
This article was originally published at 9:05 a.m.
---