Will animation legend John Lasseter return to Disney-Pixar after a six-month leave?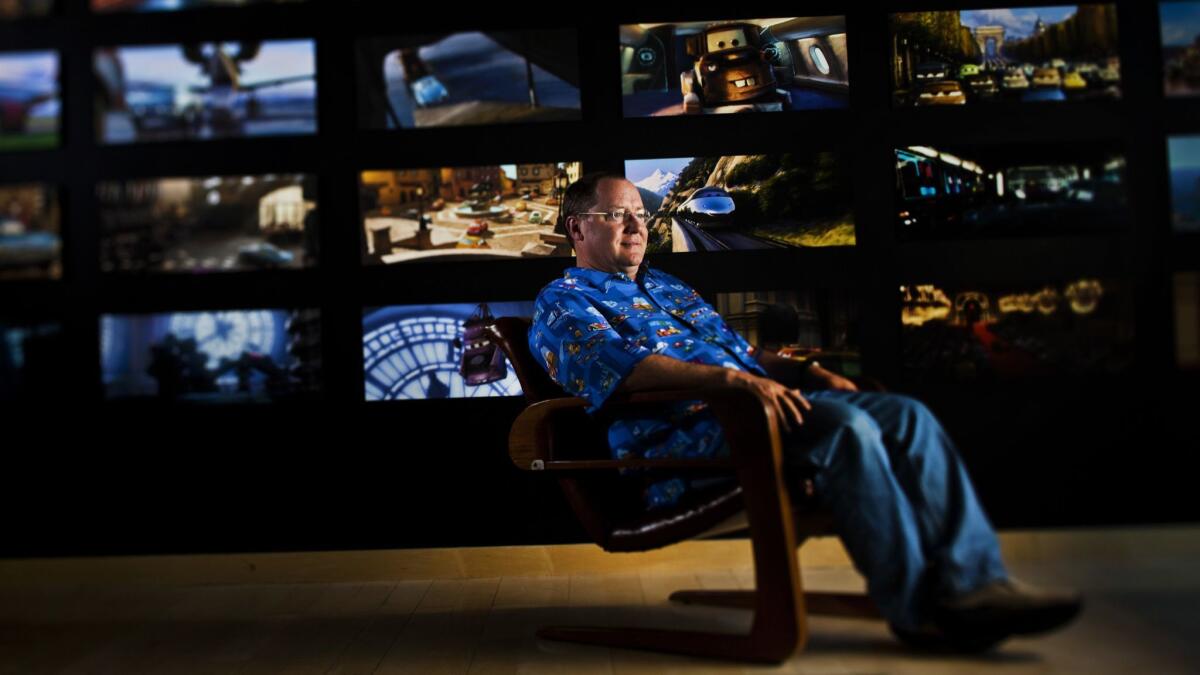 Does John Lasseter still have a friend in Disney?
The Pixar Animation Studios executive who took a six-month leave of absence in November will soon know the answer when his corporate bosses decide whether he will return after he admitted to inappropriate workplace hugging and other "missteps."
Walt Disney Co., which acquired Pixar in 2006, is expected to render its verdict on Lasseter in the next few weeks. Some in the industry believe it would be unlikely for Lasseter to resume his roles as chief creative officer of Pixar and Disney Animation Studios given the current climate in Hollywood, where tensions are still high after sexual harassment scandals toppled several entertainment and media figures.
For Disney leaders, the Lasseter situation represents an exceptionally thorny dilemma. In many ways, Lasseter is synonymous with Pixar and is credited with having transformed the Emeryville, Calif., studio into a digital animation juggernaut. Under his creative leadership, the studio pumped out box-office and critical hits including the "Toy Story" movies, "Finding Nemo," "Inside Out" and last year's "Coco."
Now their former golden boy faces accusations that he presided over a rowdy fraternity environment where female employees found themselves looking from the outside in, unable to succeed or ascend the corporate hierarchy due to what some say is a systemic bias that extends beyond Lasseter.
READ MORE: Disney, Pixar Animation executive John Lasseter to take a leave of absence, citing 'missteps' »
In interviews with The Times, nine former Pixar employees described an ingrained culture that makes it difficult for female employees to thrive, in addition to being a place where crude remarks about women and inappropriate touching occurred. They said the studio has perpetuated a system in which the company's creative leaders, who are mainly men, are treated as royalty and are protected at all costs. The former female employees were animators, story managers, storyboard artists, directors' assistants and others who worked at Pixar over the last decade and who asked not to be identified for fear of reprisals.
Disney and Lasseter declined to comment on Lasseter's future or allegations by former female employees about his conduct.
"We are committed to maintaining an environment in which all employees are respected and empowered to do their best work," a Disney spokesman said in November. "We appreciate John's candor and sincere apology and fully support his sabbatical."
In a memo to staff in November, Lasseter apologized to "anyone who has ever been on the receiving end of an unwanted hug or any other gesture they felt crossed the line in any way, shape or form. No matter how benign my intent, everyone has the right to set their own boundaries and have them respected."
Disney executives are said to be considering an orderly transition of power.
"I know that Pixar and Disney are at a point now where they're starting to think of the second generation," said Tom Sito, a Disney animation veteran who is now a professor at USC's School of Cinematic Arts, where he teaches animation.
"The first generation of filmmakers who had developed computer animation and created 'Toy Story' and 'The Incredibles' are now in their 60s. They have to start thinking about what they're going to do next."
Lasseter turned 61 this year, while his colleague Ed Catmull, the president of Pixar and Disney Animation, is 73.
"It seems like the perfect time to part ways. At some point, they need to be looking forward anyway," said Jason Moser, senior analyst at Motley Fool.
One factor that could complicate Disney's search to replace Lasseter is the fact that he has been actively involved in other areas of the Burbank company, most notably Walt Disney Imagineering, where he oversaw some of Disney's theme park attractions such as Cars Land at Disney California Adventure Park. Disney this summer plans to add characters from Pixar movies to the park's Paradise Pier.
Disney is likely to look within to find a group of successors who could split the responsibilities once held by Lasseter. Among the names being mentioned are Jennifer Lee, co-director of "Frozen," for a leadership role at Disney Animation; and Pete Docter, the co-director of "Up" and "Inside Out," for a larger position at Pixar. Both are in their 40s.
Rich Moore, who directed "Wreck-It-Ralph," is believed to have taken over some of Lasseter's duties at Disney Animation during his absence and could also be in contention for a promotion.
Few observers are worried about Disney's or Pixar's future, even without Lasseter.
Disney has a deep bullpen of talented executives to keep making hits without Lasseter, said Dan Sarto, publisher of Animation World Network, an online animation resource.
"The depth of talent, experience and know-how at the company is tremendous," Sarto said. "Lasseter has time and again proven himself to be a creative visionary. If indeed his tenure at the studio is over, Disney will move ahead with their best foot forward."
In the days since Lasseter took his leave of absence, Disney has made an effort to listen to employee concerns. Disney Animation held a "day of listening" in early February to enable its workers to talk back to management, according to one person with knowledge of the event. It remains unclear if Pixar held a similar session.
The revelations about Pixar have shaken the close-knit animation industry. Pixar was known for promoting corporate values of inclusion and meritocratic advancement — the notion that, as one character in "Ratatouille" put it, "a great artist can come from anywhere."
"It's hugely disappointing," said Karen C. Johnson, president of the Animation Guild, which represents hundreds of animation artists around the country, including those at Disney. (Pixar animators aren't unionized.) "I am really glad though that more women are speaking out about their experiences — it's the only way things will change, and I hope they do."
Johnson said she took issue with Lasseter's statement in November, in which he apologized for his past behavior and appeared to explain his inappropriate contact as "benign" in intent.
The guild sent a letter in October to the major and independent studios demanding that they do more to stop sexual harassment and discrimination in animation, which has historically been dominated by men.
Because animators at Pixar aren't unionized, some former employees felt they didn't have an advocate for their concerns. Their sense of isolation was compounded by Pixar being the only major animation company in Silicon Valley, so there was no other local employer where they could find work.
As a result, several women said they found themselves trapped in an intolerable atmosphere that at times resembled a fraternity house. Alcohol is frequently consumed during work hours and lecherous behavior was pervasive, especially at company parties and premieres, according to former employees.
"Work and play must be integrated — to stop that would stop the creativity," said a former female staffer who worked at Pixar for more than six years. "But lines are easily crossed when play and work are just so intermingled."
Women frequently had their butts grabbed by male colleagues, she added. "It happened so often you don't even think about it."
Women make up an estimated 20% to 30% of Pixar's approximately 1,000 employees. But women are clustered in the production management side of the company — essentially, project oversight — while the more glamorous, creative side that deals with the actual animation process is overwhelmingly male.
One notable exception was Brenda Chapman, who spearheaded 2012's "Brave," the first Pixar movie with a female protagonist. But Chapman was fired from the movie after what she described as "creative differences."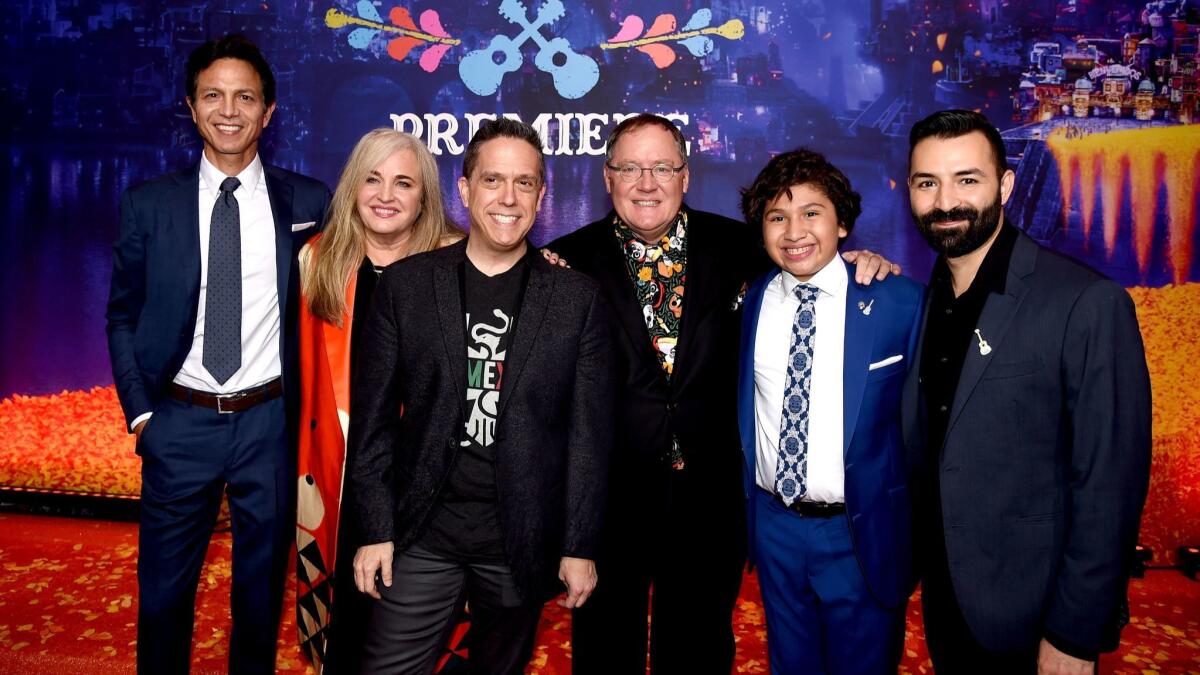 READ MORE: As John Lasseter takes a leave, Disney and Pixar face an uncertain road ahead »
Since Lasseter took his leave of absence, Pixar has seen at least one other prominent departure. Darla K. Anderson, a recent Oscar winner for her work on "Coco," was a high-ranking Pixar producer who worked closely with Lasseter. Anderson resigned from the company just four days after winning the Oscar. The circumstances around her departure remain unclear but one person with knowledge of the situation said the decision was made well before the Oscars. Anderson could not be reached for comment.
Lasseter's behavior toward young women was so well-known that female employees knew not to sit near the door during meetings because that was where he liked to sit, according to two former staffers. While Lasseter frequently gave affectionate bear hugs to male and female staffers, his physical contact sometimes crossed the line and upper management worked diligently to protect the director from his own behavior, several former employees said.
A former story manager recalled an instance in 2013 when she recommended a woman for a job in production only to be told by her boss, who was also a woman, that although the candidate was a good fit, she couldn't be hired because Lasseter would find her physically attractive.
"Production's function is to serve the creator as a genius and to protect him from being aware of his flaws," she said.
Another former employee who worked in production recounted that she was instructed by a female manager in 2009 or 2010 not to attend meetings where Lasseter was present because he wasn't able to control himself around young, pretty women.
With or without Lasseter, Disney appears poised to continue its strong track record in the animation business. Pixar's "Incredibles 2" is set to open next month and is one of the most anticipated movies of the summer, while "Ralph Breaks the Internet: Wreck-It Ralph 2" also is poised for a strong premiere in November.
"He's [Lasseter's] an important part of Disney's business, but [he's] not the breadwinner for the business," Moser said. "One executive is not going to make or break the company."
Times staff writer Ryan Faughnder contributed to this report.
Inside the business of entertainment
The Wide Shot brings you news, analysis and insights on everything from streaming wars to production — and what it all means for the future.
You may occasionally receive promotional content from the Los Angeles Times.