Disney, Pixar Animation executive John Lasseter to take a leave of absence, citing 'missteps'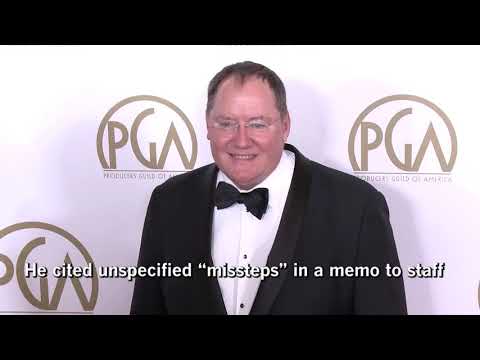 John Lasseter, the chief creative officer of Pixar and Walt Disney Animation Studios, is taking a six-month leave of absence, citing unspecified "missteps."
John Lasseter, the chief creative officer of Pixar and Walt Disney Animation Studios, is taking a six-month leave of absence, citing unspecified "missteps," a stunning reversal of fortune for a figure so influential in Hollywood he has often been compared to Walt Disney.
Lasseter, the pioneering executive who built Emeryville, Calif.-based Pixar Animation Studios into an entertainment juggernaut and helped revive Disney's once-struggling animation business, said in a memo to staff Tuesday that the decision followed a "number of difficult conversations that have been very painful for me."
He added: "It's never easy to face your missteps, but it's the only way to learn from them. ... It's been brought to my attention that I have made some of you feel disrespected or uncomfortable. That was never my intent."
People close to the studio who requested anonymity to protect their relationships said several female employees had complained internally about their interactions with the executive.
Lasseter expressed remorse over his conduct.
"I especially want to apologize to anyone who has ever been on the receiving end of an unwanted hug or any other gesture they felt crossed the line in any way, shape, or form. No matter how benign my intent, everyone has the right to set their own boundaries and have them respected," Lasseter wrote in the memo obtained by The Times.
In the letter, first reported by the Hollywood Reporter, Lasseter described his absence as a six-month sabbatical. He has served as chief creative officer of Walt Disney Animation Studios since 2006.
"We are committed to maintaining an environment in which all employees are respected and empowered to do their best work," a Disney spokesman said in a statement. "We appreciate John's candor and sincere apology and fully support his sabbatical."
In his role overseeing creative aspects of Disney's animation business, Lasseter executive-produced recent hit Disney family movies, including Oscar winners "Frozen" and "Zootopia," which both grossed more than $1 billion at the box office. Since Lasseter took over, the studio's hits have included "Tangled," "Wreck-It Ralph" and "Moana."
The move comes at an important time for Lasseter, Pixar and Disney. Pixar is releasing its Dia de Los Muertos-themed movie "Coco" this weekend, and the well-reviewed film is expected to perform well in its domestic opening during Thanksgiving weekend after a record-setting run in Mexico.Lasseter in July stepped down as co-director of the upcoming "Toy Story 4," leaving Josh Cooley in charge of the film.
Lasseter, 60, has been a key player in Disney Chief Executive Robert Iger's strategy for the company's film studio business, led by Walt Disney Studios Chairman Alan Horn. Along with "Star Wars" franchise producer and Lucasfilm President Kathleen Kennedy and Marvel Studios President Kevin Feige, Lasseter has served as a pillar of Disney's move toward blockbuster "event" films based on well-known brands.
"He's been instrumental in the turnaround they've seen at the animation studio," said Robin Diedrich, an analyst at Edward Jones. "The big issue would be long-term, whether Lasseter comes back, or whether there is additional fallout at the company."
Six former female employees described in interviews with The Times a boys' club culture at Pixar where women were often degraded, insulted for their looks and sometimes paid less than their male counterparts. Some women said they left because of the way women were treated there.
Lasseter is known for his big-kid personality and penchant for Hawaiian shirts and bear hugs. Two women told The Times that Lasseter's hugs sometimes went too far, crossing the line into unwanted physical contact. They and others declined to reveal their identities, saying they had signed nondisclosure agreements and feared reprisals for speaking out.
The two women said the behavior was so well known among Pixar staffers that some young women were barred by their superiors from attending meetings with Lasseter. "I didn't get opportunities to pitch or articulate my ideas," said one of the women who worked in production at Pixar for about five years.
A Disney spokesman did not respond to a request for comment on complaints made by women.
Actress Rashida Jones and her writing partner Will McCormack, who parted ways with Pixar and "Toy Story 4," said they left because of creative and philosophical differences — and not because of an unwanted advance by Lasseter as stated by the Hollywood Reporter.
They described Pixar as "a culture where women and people of color do not have an equal creative voice…. We encourage Pixar to be leaders in bolstering, hiring and promoting more diverse and female storytellers and leaders."
The animation business has long been viewed as a difficult, and sometimes hostile, work environment for women. Last month, 217 animation professionals signed a letter addressed to film and TV studios decrying what they called a pervasive problem of sexism in their business. The women and gender nonconforming people who signed the letter, who mostly work in television, said that they are frequently subjected to crude sexual remarks and unwanted romantic overtures in the workplace.
A number of powerful men in Hollywood, including comedian Louis C.K., writer-director James Toback and producer-director Brett Ratner, have been accused of mistreating women in the wake of the Harvey Weinstein sex scandal that surfaced last month in a report in the New York Times. Ratner and Toback have disputed claims of sexual misconduct. Weinstein has denied allegations of nonconsensual sex.
Earlier this month, the Walt Disney Family Museum honored Lasseter with a lifetime achievement award at a gala in San Francisco.
Lasseter's Pixar career began in 1986 when Steve Jobs bought the computer graphics division of Lucasfilm, where Lasseter was working at the time. Jobs turned the Lucasfilm offshoot into Pixar with Lasseter, President Edwin Catmull and other executives.
Lasseter made his directorial debut in 1995 with Pixar's first feature-length movie, "Toy Story," for which the filmmaker took home a special achievement Oscar for the movie's advances in animation. He previously won an Oscar for best animated short in 1989 for the movie "Tin Toy." Since "Toy Story," he has directed Pixar hits such as "A Bug's Life," "Cars" and "Toy Story 2."
Pixar quickly became the envy of Hollywood for its unprecedented streak of successes, especially as Disney faltered with duds such as "Atlantis: The Lost Empire" and "Treasure Planet," nearly losing its place as the king of animated films.
Lasseter, who is married and has five sons, took on the Disney job after the company bought Pixar for $7.4 billion in 2006. The acquisition followed a lucrative 15-year partnership between the two studios in which Disney released Pixar blockbusters such as "The Incredibles," "Finding Nemo" and the "Toy Story" movies.
The purchase of Pixar and the elevation of Lasseter into a broader role were seen as key to regaining the company's dominance amid rising competition from DreamWorks Animation and Pixar itself. Catmull helped oversee the studio's animation division as president, continuing his collaboration with Lasseter.
But Pixar's record in recent years has not been as spotless as it was previously, prompting some speculation that Lasseter was stretched too thin.
While last year's sequel "Finding Dory" was a $1-billion hit, disappointments such as "Cars 3" and "The Good Dinosaur" led some film critics to question whether the once-unassailable brand had lost a step. Recent Pixar movies have all cost upward of $175 million to produce, plus tens of millions to market.
Pixar has also sometimes come under criticism for its lack of inclusion of female characters in its movies. Until "Brave" in 2012, the company had not made a movie with a female lead character. The director of that movie, Brenda Chapman, was ousted from the project in 2010 after reportedly clashing with Lasseter.
"I think it's a really sad state. We're in the 21st century and there are so few stories geared towards girls, told from a female point of view," Chapman told The Times in a 2011 story. She spent six years on "Brave" — which was inspired by her relationship with her daughter. She blamed her firing on what she called "creative differences."
Lasseter, who grew up in Whittier, was connected to Disney long before his Pixar career began. After attending the California Institute of the Arts, long considered a Disney feeder school, he joined Disney in 1979. There, he worked on films such as 1981's "The Fox and the Hound" and 1984's "Mickey's Christmas Carol." However, Lasseter left the company in 1983 after management showed little interest in the potential of computer animation, which was then in its infancy.
He helped establish Pixar's relationship with Disney in 1991, which started off with supplying the elder studio with modern animation technology. Pixar technology was used for the ballroom scene in "Beauty and the Beast."
Times Staff Writer Daniel Miller contributed to this report.
ALSO
Charlie Rose fired by CBS, and PBS drops his talk show over sexual harassment allegations
DreamWorks' Glendale campus sold to South Korean investors for $290 million
Investors unfazed by suit to block AT&T-Time Warner deal as Justice Department faces tough battle
---
UPDATES:
8:10 p.m.: This article was updated with a comment from actress Rashida Jones.
6:20 p.m.: This article was updated to include more background on Lasseter's career.
1 p.m.: This article was updated to include a comment from Walt Disney Co.
This article was originally published at 12:30 p.m.
Inside the business of entertainment
The Wide Shot brings you news, analysis and insights on everything from streaming wars to production — and what it all means for the future.
You may occasionally receive promotional content from the Los Angeles Times.