Megyn Kelly's interview with conspiracy theorist Alex Jones becomes a headache for NBC News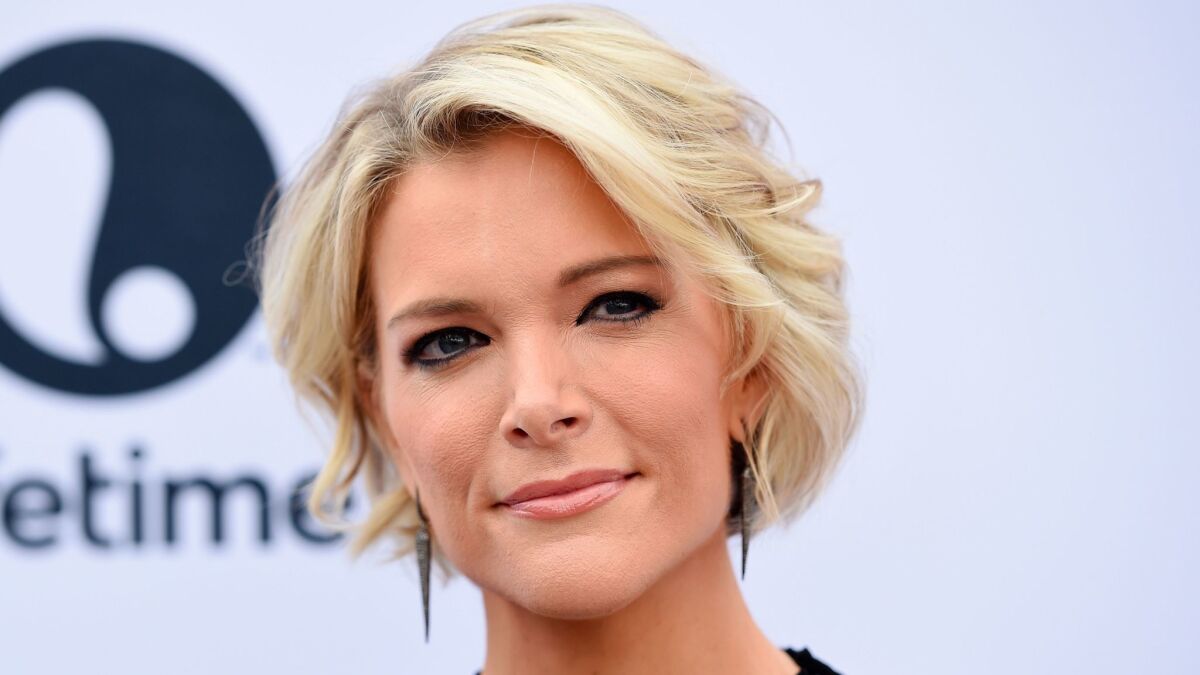 The social media backlash against Megyn Kelly's NBC News interview with far-right conspiracy theorist Alex Jones is showing how the transition from cable to broadcast news can be a tricky one.
Kelly, who joined NBC after 12 years at Fox News, is the highest-profile cable star to cross over to broadcast news. While controversy often drives viewers to cable news personalities, it's generally eschewed in the more buttoned-down environment of a broadcast network news division.

For the record:
12:02 a.m. Jan. 31, 2023An earlier version of this story incorrectly spelled the last name of Sandy Hook gunman Adam Lanza as Danza.
NBC News poached Kelly from Fox News with the hope of making her a bigger star. But many TV news industry observers believe the negative publicity over an interview with a subject who isn't considered a big TV "get" is not the formula for turning her new show into a hit.
The network is feeling the heat in only the second week of its new newsmagazine "Sunday Night With Megyn Kelly," the prime-time platform for the anchor reportedly earning $17 million a year.
As a Fox News anchor, Kelly regularly received criticism from liberal media watchdogs and occasionally the ire of conservatives who grew disdainful of her tough coverage of President Donald Trump. Provocative political talk is what drives viewers to watch cable news every night as minute-to-minute ratings are often broken down to measure audience interest in every segment.
But broadcast news programs — even with their diminished ratings — still have a level of stature that isn't appropriate for a fringe figure such as Jones, said Joe Peyronnin, former network news executive and journalism professor at Hofstra University.
"There is no journalistic reason to give him a prime-time network platform," Peyronnin said. "While the controversy around the Alex Jones interview may draw higher viewer tune in, it will not benefit the American people, and has opened NBC News and Megyn Kelly to enormous criticism."
In its second week on the air, "Sunday Night With Megyn Kelly" averaged 3.608 million viewers — down 2.5 million viewers from its June 4 debut.
Jones — head of Infowars, a Web-based radio and video network that has relentlessly pushed conspiracy theories — has repeatedly suggested the shooting that killed 26 people at Sandy Hook Elementary School in Newtown, Conn., in 2012 was a hoax staged to alter the country's gun laws. He has made similar suggestions about the mass shooting at a movie theater in Aurora, Colo., the same year.
After NBC aired a lengthy teaser Sunday that showed Kelly interviewing Jones for a segment scheduled to air this coming weekend on her program "Sunday Night," hundreds of angry messages appeared on social media.
"A new low," Dianne Sherman posted on Twitter with a photo of the 20 children killed by gunman Adam Lanza in the shooting. "Have u no integrity or shame @megynkelly @NBC?"
The negative response led JPMorgan Chase to pull back its local TV advertising on "Sunday Night" and other NBC News programming until after the Jones segment airs. NBC News did not respond to an inquiry on whether other advertisers are opting out of the episode.
Kelly was also dropped as the host of a gala sponsored by Sandy Hook Promise, an anti-gun violence organization founded by the parents of children killed in the school shooting. The organizers cited the interview as a reason for dumping Kelly from the event scheduled for Wednesday.
Kelly responded with a statement posted on her Twitter account that said she is disappointed with the organization's decision. But she defended the interview, which is still scheduled to air.
"I find Alex Jones' suggestion that Sandy Hook was 'a hoax' as personally revolting as every other rational person does," she said.
Kelly's statement went on to say that her interview is aimed at learning how Jones, "who traffics in these outrageous conspiracy theories, has the respect of the president of the United States and a growing audience of millions…. Our goal in sitting down with him was to shine a light — as journalists are supposed to do — on this influential figure, and yes — to discuss the considerable falsehoods he has promoted with near impunity."
. President Trump and his former national security advisor, Michael T. Flynn, have been open enthusiasts of Jones' Infowars.
Kelly was also defended Monday night by Liz Cole, an executive producer for NBC News, in an interview with CNN. "Viewers will see Megyn do a strong interview where she challenges [Jones] appropriately," Cole said. "That's the benefit of putting him out there. When someone actually sits down and asks him questions and he has to come up with answers — there's value to that."
Twitter: @SteveBattaglio
ALSO
NBC has high hopes for Megyn Kelly. But can she compete with '60 Minutes'?
Sandy Hook group dumps Megyn Kelly as event host over Alex Jones interview
Review: Megyn Kelly gets outmaneuvered by Vladimir Putin on her NBC premiere 'Sunday Night'
---
UPDATES:
4:10 p.m.: This article has been updated with additional reaction.
This article was originally published at 8:35 a.m.
---
Inside the business of entertainment
The Wide Shot brings you news, analysis and insights on everything from streaming wars to production — and what it all means for the future.
You may occasionally receive promotional content from the Los Angeles Times.