Harvey Weinstein loses key supporters, including advisor Lisa Bloom, who came under pressure to quit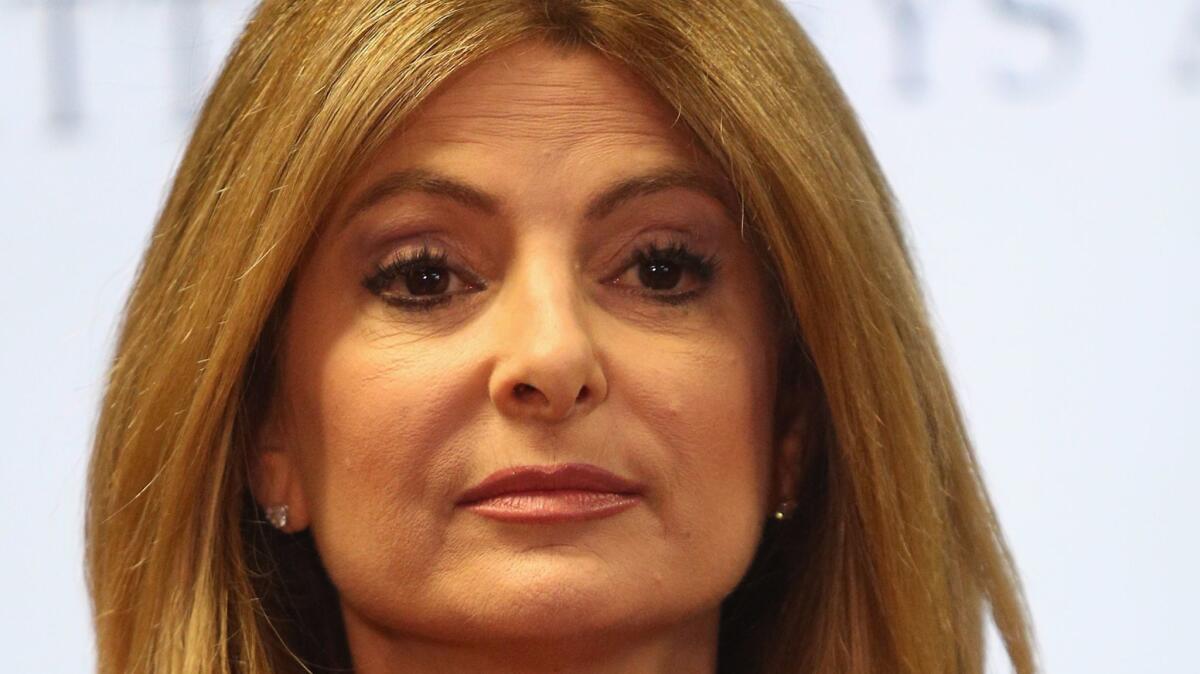 Harvey Weinstein continued to lose key support over the weekend from people within his close circle of associates and in the larger media industry as the disgraced film executive moved to contain the fallout from his sexual-harassment scandal.
Two important members of his crisis team quit Saturday, including Los Angeles attorney Lisa Bloom, who had been criticized for representing Weinstein.
"I have resigned as an advisor to Harvey Weinstein," Bloom wrote on Twitter on Saturday. "My understanding is that Mr. Weinstein and his board are moving toward an agreement."
Bloom didn't elaborate and didn't respond to a request for comment.
Weinstein could not be reached for comment.
In addition, crisis manager Lanny Davis stepped down from Weinstein's team and will no longer be serving him as an advisor, according to sources familiar with the situation.
Davis declined to comment through his office. The Washington-based attorney is a former special counsel to President Clinton and has been a longtime friend to Hillary Clinton.
Weinstein was a major supporter for Hillary Clinton's failed run for the presidency, donating tens of thousands of dollars to her campaign and throwing celebrity fundraisers for the Democratic nominee.
On Saturday, President Trump was asked by a reporter what he thought about the Weinstein scandal. The president said he has known Weinstein a long time, adding, "I'm not at all surprised to see it."
Democrats have come under attack for their connections to Weinstein, and The Times reported Friday that several senators are giving away money donated to them by Weinstein as they seek to distance themselves from the scandal.
The departures come after at least three Weinstein Co. board members resigned their positions in the wake of allegations published in the New York Times that the Oscar-winning movie and TV producer had sexually harassed numerous actresses and employees over a span of more than 20 years.
The board members who resigned include billionaire Dirk Ziff, a managing partner at Ziff Capital Partners, as well as Marc Lasry and Tim Sarnoff.
The remaining board members said Friday they have hired a law firm to investigate the sexual harassment allegations against the indie film boss, who is taking a leave of absence from the company.
On Saturday, MSNBC host Mika Brzezinski threatened to pull out of her book deal with Weinstein's publishing imprint unless he resigns.
"Harvey Weinstein needs to resign from his companies, face his sickness, and go into a long, self-imposed exile," Brzezinski wrote on Twitter.
"Authors, actors and moviemakers should not work for any Weinstein company until he resigns. Not a close call. I have a three-book deal with Weinstein Books, through Hachette. I can't go forward with those books unless Harvey resigns."
Brzezinski hosts MSNBC's "Morning Joe" along with Joe Scarborough and Willie Geist.
The latest resignations also come after a new report surfaced late Friday in the Huffington Post claiming that Weinstein had made unwanted sexual advances toward a TV journalist, Lauren Sivan, a decade ago in New York, including cornering Sivan at a restaurant and masturbating in front of her.
On Saturday, Sivan tweeted that she was only able to come forward now about the incident "because of women far braver than me."
Sivan's claims were not previously reported in the New York Times, whose bombshell article Thursday cited actresses Ashley Judd and Rose McGowan as among those whom Weinstein allegedly preyed upon.
The report also stated that Weinstein had reached at least eight settlements with women who had claims against him.
When the scandal broke Thursday, some of the public criticism against Weinstein was also directed at Bloom for her decision to advise the producer.
Bloom has been known for her legal work defending women, including those who have brought various accusations against former Fox News host Bill O'Reilly and Bill Cosby.
Some of the criticism pointed out that in April, Bloom announced a development deal with Weinstein and the rapper Jay-Z to turn her book "Suspicion Nation," about the death of Trayvon Martin, into a miniseries.
Bloom said in her announcement Thursday that "Harvey has asked me to do a comprehensive review of his company's policies and practices regarding women in the workplace."
Bloom has also stated that she has advised Weinstein in the last year on matters of gender and power relations in the workplace. On Friday, on "Good Morning America," she said that "I think he has changed in the year I've known him."
Among her most vocal critics has been her own mother, Gloria Allred, the L.A. attorney famous for her media savvy in representing women who have alleged sexual harassment and assault.
"Had I been asked by Mr. Weinstein to represent him, I would have declined, because I do not represent individuals accused of sex harassment," Allred said in a statement this week.
Bloom had recently boosted her public profile by representing Kathy Griffin following the comedian's firing from CNN after she posed for a photograph that showed her holding a fake severed head resembling Trump.
In the days since the Weinstein scandal broke, the 65-year-old producer has sent a series of mixed messages in response to the lurid allegations.
While Weinstein expressed contrition for his past behavior — saying that he realizes "the way I've behaved with colleagues in the past has caused a lot of pain, and I sincerely apologize for it" — his lawyer, Charles Harder, has said Weinstein is planning on suing the New York Times over the report.
The New York Times has stated that it stands behind its story.
ALSO
Jennifer Siebel Newsom speaks out about her experience with Harvey Weinstein: 'Similar things happened to me'
On anniversary of 'Access Hollywood' tape's release, Trump criticizes Harvey Weinstein
Gretchen Carlson's lawsuit and Cosby's accusers paved the way for Weinstein allegations to go public
---
UPDATES:
6:55 p.m.: This article was updated with reaction from President Trump.
5:40 p.m: This article was updated with more details on Lauren Sivan's accusations and Harvey Weinstein's response to the scandal.
1:55 p.m.: This article was updated throughout with more details.
This article was originally published at 12:05 p.m.
Inside the business of entertainment
The Wide Shot brings you news, analysis and insights on everything from streaming wars to production — and what it all means for the future.
You may occasionally receive promotional content from the Los Angeles Times.