A TV station just made a first-of-its-kind sports streaming deal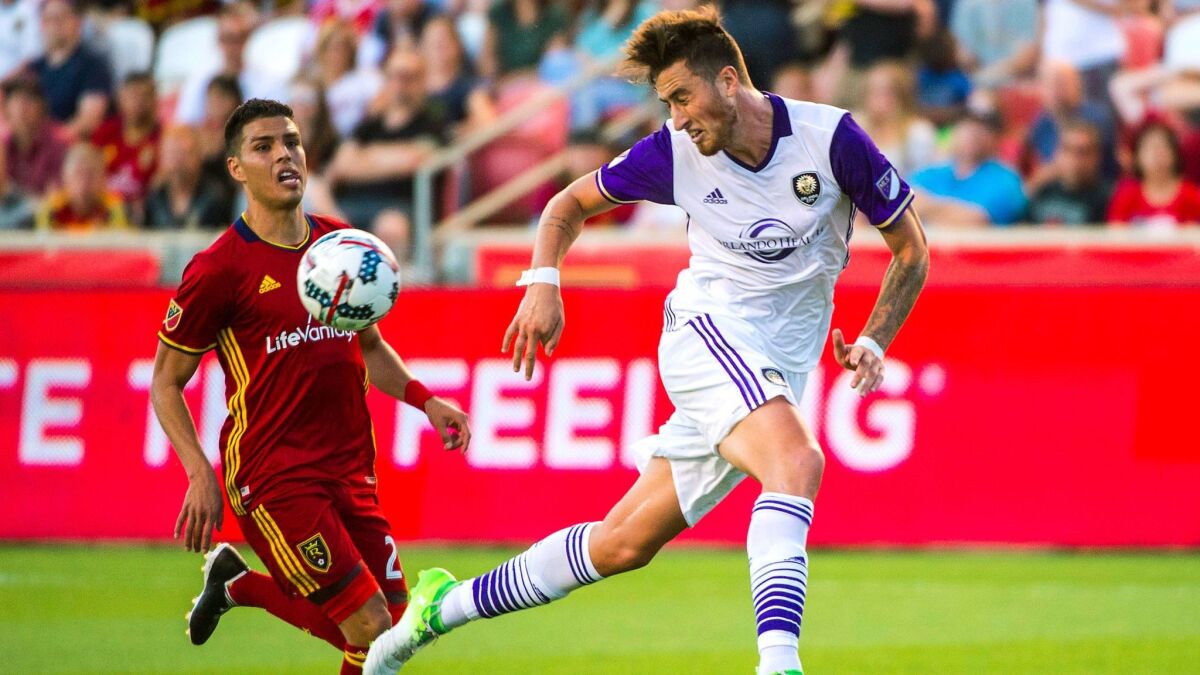 A television station in Salt Lake City has struck a first-of-its-kind deal: It is going to livestream a professional sports team's games without also carrying them over the air.
KSL, an NBC affiliate, is charging into the digital future by securing the local rights to livestream the games of Major League Soccer franchise Real Salt Lake to viewers in the Salt Lake City area. The deal announced Tuesday is the first such agreement between a U.S. local TV station and a pro sports team.
The agreement reflects how viewers — who have increasingly made a habit of watching shows and live sporting events on their digital devices — are changing the way broadcasters are looking at their business. And it could pave the way for other local broadcasters to strike similar deals.
Real Salt Lake already has an over-the-air TV outlet: Its games are shown on Sinclair Broadcasting's KYMU. But KSL — owned by Bonneville International Corp., which itself is owned by the Church of Jesus Christ of Latter-day Saints — pursued the streaming rights separately as it looks for local content to reach audiences who have migrated to digital devices.
Another MLS team, the Los Angeles Football Club, has an exclusive deal with a streaming service, bypassing local TV completely. The team sold the rights for 18 games to Alphabet Inc.'s YouTubeTV, which will make them available to subscribers of the over-the-top streaming service in Southern California for an additional fee.
On a national basis, Walt Disney Co.'s ESPN is launching a subscription streaming service, offering live events not shown on its cable channels. It's a way to reach — and get revenue from — people who don't want to pay for cable or satellite TV.
Salt Lake City's KSL can still draw big TV audiences with sports. In recent years, the station has delivered the highest rating of any NBC affiliate during the network's Olympics coverage. Nearly 30% of the market's 948,000 TV households watched the opening ceremony of the Winter Games in Pyeongchang, South Korea, on Friday — twice the U.S. average.
But like other broadcasters, the station has seen its audience levels fall as streaming and video-on-demand choices multiply. In November, KSL's 10 p.m. newscast averaged 54,000 viewers, half of what it pulled 10 years earlier, according to Nielsen data.
The streaming trend has motivated the station to reinvest its profits from its still-healthy TV business to create more local content for digital viewers.
"We're going where the viewers are going," KSL general manager Tanya Vea said. "We can fight that trend and lose, or transition with them."
The digital disruption that has upended the TV business has been particularly pronounced in Salt Lake City because of the market's demographics.
According to Nielsen data, 36% of homes with a television in the market use streaming devices such as Roku or AppleTV to watch programs, the highest percentage in the U.S.
Young viewers tend to stream more video content than older viewers, and Salt Lake City residents have a median age of 31.1, compared with 37.9 nationally.
KSL noted that Utah is home to many large families, meaning large potential audiences for commercial-free children's programming on Netflix or PBS Kids.
Salt Lake City was also ripe for video streaming as it has traditionally been a market with a lot of "cord-nevers." One-fifth of the market's households do not have pay-TV subscriptions.
Since mid-2016, KSL has pushed to reach those online viewers with three livestreaming channels. One shows continuous weather forecasts. One simulcasts the station's local TV newscasts. The station has put cameras in its all-news radio station, a low-cost way of offering a 24-hour video news service. KSL also offers more than 65 podcasts, most of them video podcasts, using locally produced content.
KSL says roughly one-third of Utah's 3 million residents use its weather app. The station also offered a streaming-video Yule log during the holiday season in 2016; it was popular enough that year to get sponsorship for the next.
Viewers of KSL's livestream won't have to pay to watch Real Salt Lake matches — the stream will be supported by ads. Typically, professional sports programming rights cost broadcasters too much for them to be able to profit that way. But instead of paying a rights fee, KSL is splitting the livestream's ad revenue with the team.
When the new MLS season begins next month, the station will launch an "RSL on KSL" app that will livestream coverage of Real Salt Lake as well as its affiliated teams, the Utah Royals in the United Women's Soccer League and the Real Monarchs in the United Soccer League. Along with 200 hours of live games, the app will offer pre-game, post-game and highlight shows. The free ad-supported stream will be available only in Salt Lake City and its surrounding communities.
Lee Berke, a sports media consultant, believes it will be awhile before a top-tier attraction such as a Major League Baseball or National Basketball Assn. team will turn to streaming exclusively for local audiences. The Los Angeles Clippers considered putting its games on an over-the-top service three years ago, but instead the team signed a new deal with regional sports channel Fox Sports Prime Ticket, where fans have been watching the Clippers for more than 20 years.
But Berke said the MLS, whose TV audience has a median age of 40, could be an effective way to target younger viewers who are growing up with streaming video.
"It's the next generation of fans you're looking for," Berke said. "As the audience grows, you're going to see more teams doing it."
Twitter: @SteveBattaglio
---
Inside the business of entertainment
The Wide Shot brings you news, analysis and insights on everything from streaming wars to production — and what it all means for the future.
You may occasionally receive promotional content from the Los Angeles Times.