CBS investigators interview Phyllis Golden-Gottlieb, who accused Leslie Moonves of sexual assault
For more than 30 years, Phyllis Golden-Gottlieb has been unable to erase the memories of encounters with Leslie Moonves, the once-powerful chief executive of CBS Corp.
Golden-Gottlieb was a TV show development executive in the mid-1980s when she worked with Moonves at Lorimar Productions, the Culver City studio behind such shows as "Dallas" and "Knots Landing." Moonves was an up-and-coming executive in charge of TV movies, and he invited her to lunch. Instead of driving her to a restaurant, he parked on a side street, Golden-Gottlieb said, and forcibly grabbed her head and slammed it into his crotch, then ejaculated into her mouth.
"I wanted him to be accountable," Golden-Gottlieb, now 82, told The Times in an interview this week. "This has been with me the whole time. I don't think it was every day, but many days."
Golden-Gottlieb's allegations have become a key piece in CBS' high-profile investigation into the conduct of Moonves, who resigned under pressure from CBS on Sunday amid a widening sexual harassment scandal. Late Tuesday, Golden-Gottlieb recounted her experience to lawyers who are investigating the allegations that brought down one of Hollywood's most successful executives.
The investigators' conclusions will help CBS decide whether to pay Moonves a $120-million severance package. Leaders of the Time's Up movement have demanded that CBS make public the results of the investigation and refuse to pay any money to Moonves.
"The full amount reserved for Mr. Moonves' severance [should] be contributed to organizations that address sexual harassment and workplace safety," the Time's Up group said in an open letter to CBS' board late Tuesday.
Moonves was unavailable for comment. A representative for the former CEO declined to comment.
Golden-Gottlieb is among at least a dozen women who have publicly accused Moonves of sexual misconduct. Her account stands out because she first went to police in November at a time when dozens of women were sharing stories of alleged assaults by Harvey Weinstein, the disgraced movie mogul, and other powerful men in Hollywood.
Police investigators found Golden-Gottlieb's account to be credible, according to law enforcement sources. But on Feb. 23, Los Angeles County prosecutors declined to bring charges because the statute of limitations had expired.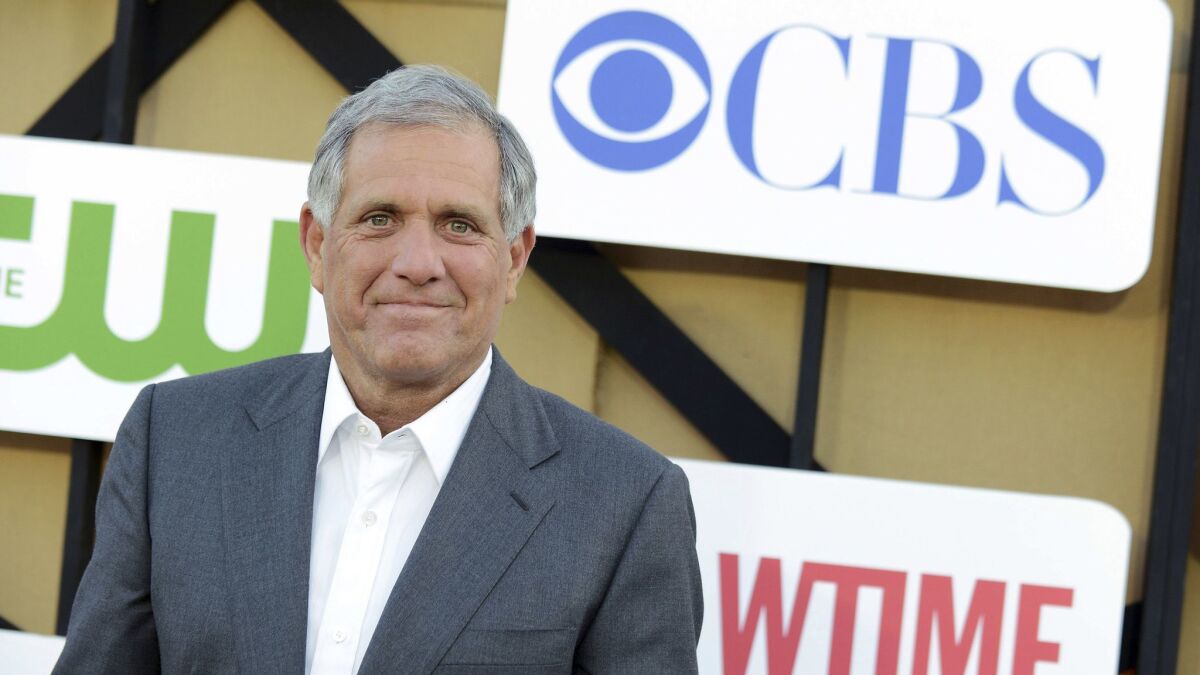 Moonves, 68, became aware of Golden-Gottlieb's report to investigators by early January. He informed CBS board members, who then hired an outside firm to review the matter. This year, the firm determined that "no further investigation was warranted," according to one person familiar with the situation but not authorized to discuss it.
Months went by before Golden-Gottlieb described her experiences publicly, first to the New Yorker magazine, which has detailed 12 women's allegations of sexual harassment. Most of the alleged incidents date to decades ago and involve allegations that Moonves forcibly kissed them and, when they rebuffed his advances, used his clout to damage their careers. Moonves previously has denied that he forced himself on women — or harmed their careers. He has labeled some of the encounters as "consensual."
CBS said it would deposit $120 million into a trust account until the investigation is complete. If the board determines Moonves violated company policies, he won't be entitled to any severance. CBS already has deducted $20 million that it plans to donate to groups that support equality in the workplace.
Investigators face a challenging task, said Diane Doolittle, a former sex crimes prosecutor who is now an attorney with the Los Angeles firm Quinn Emanuel.
"Investigating allegations, particularly ones from decades ago, can be difficult," Doolittle said. "Documents are gone, people's memories have faded, and some have moved on and don't want to participate."
Golden-Gottlieb, a native of the Boston suburb of Sharon, moved to L.A. in 1958. Over the years, she worked at KTTV Channel 11, NBC, Metro-Goldwyn-Mayer and Walt Disney Co. She joined Lorimar around 1985 and became a vice president in program development, working on such shows as "She's the Sheriff," a short-lived ABC comedy starring Suzanne Somers.
Moonves also joined Lorimar in 1985. In July 1986, he suggested that the two go to lunch.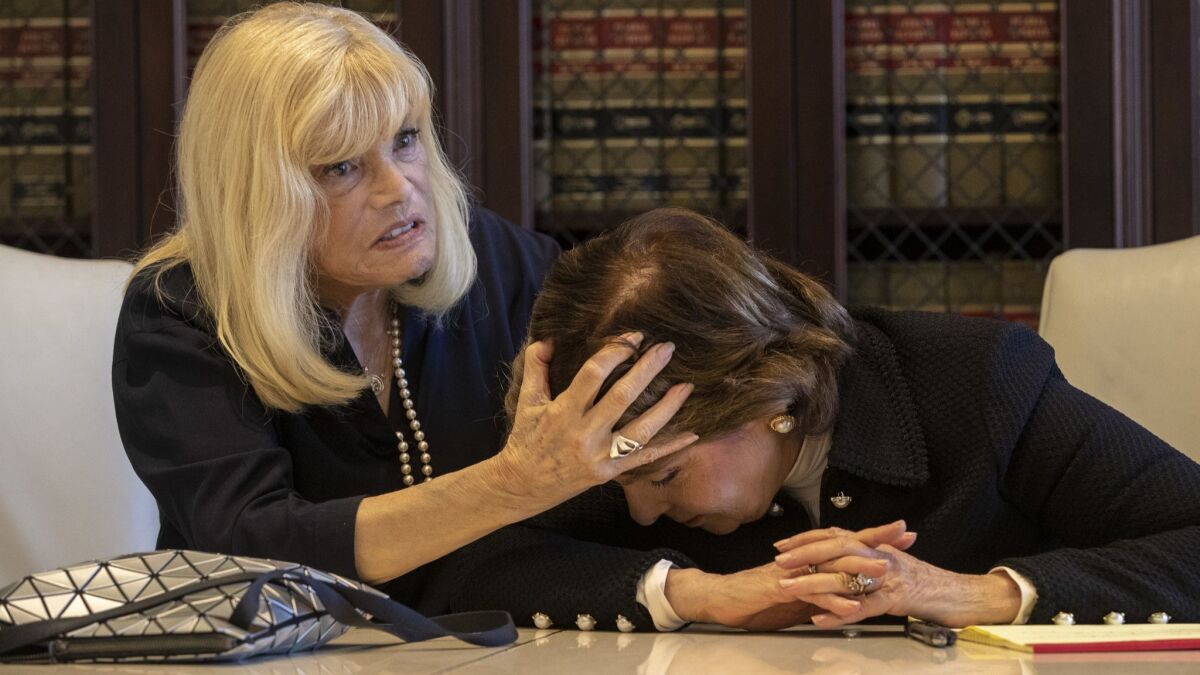 "He started driving to the Pico area, and he is driving and driving," Golden-Gottlieb recalled during an interview in the Los Angeles office of her attorney, Gloria Allred.
"I turned to see where we were, at which time he grabbed my head and pushed it all the way down … with his already extended penis," she said, tears welling in her eyes. "He pushed his penis in my mouth and he came very quickly. Then he said, 'Don't you want me to do this to you?' and I said, 'Take me back.' "
Golden-Gottlieb said she was stunned by the incident but chose not to report it to Lorimar's human resources department. As a single mother with two children to support, she feared she could lose her job if she complained about someone who was a rising star.
"And, at a certain point, he became my boss," she said.
Eventually her job duties shifted and she said she had a production deal with Lorimar. In January 1988, she pitched a show concept to CBS executives, who gave her encouraging feedback. She drove back to Lorimar's offices around 6 p.m., where she shared the news with Moonves. He invited her to his office.
He told her to sit on the couch, saying he was going to get a bottle of wine to celebrate. Eventually he returned to the room. "I don't even know what [clothes] he had on top, but he didn't have anything on the bottom," she said. His penis "was already extended," she said. "I felt like a 12-year-old, and I turned and ran, and I just ran down the hall to my office."
The next day, she said, Moonves came into her office and asked why she hadn't filed a memo about her CBS meeting. "He turned red, and he reached over, and pulled me up and threw me against the wall," she said. "I mean really hard. I was on the floor, crying. I didn't know what to do…. But I thought about it all those years."
Decades later, she told others. "I had really kept it quiet for quite a long time," she said. "I didn't know how to talk about it."
One longtime director and friend of Golden-Gottlieb told The Times on Wednesday that he remembered her sharing some details with him during a dinner several years ago. "She told me that many years ago when working with Les, she walked into his office and he was exposed," said the director, who asked not to be identified for fear of retribution. "I was very surprised."
After the incidents, Golden-Gottlieb said, Moonves began retaliating against her. She lost her beautiful office. "He started changing my office, like every few days," she said, "It just got worse each time, and finally I was left with just two chairs."
Golden-Gottlieb said she believes that her experience with Moonves ruined her career in Hollywood. He went on to more important jobs, and she left the entertainment industry, working for several years as a substitute teacher.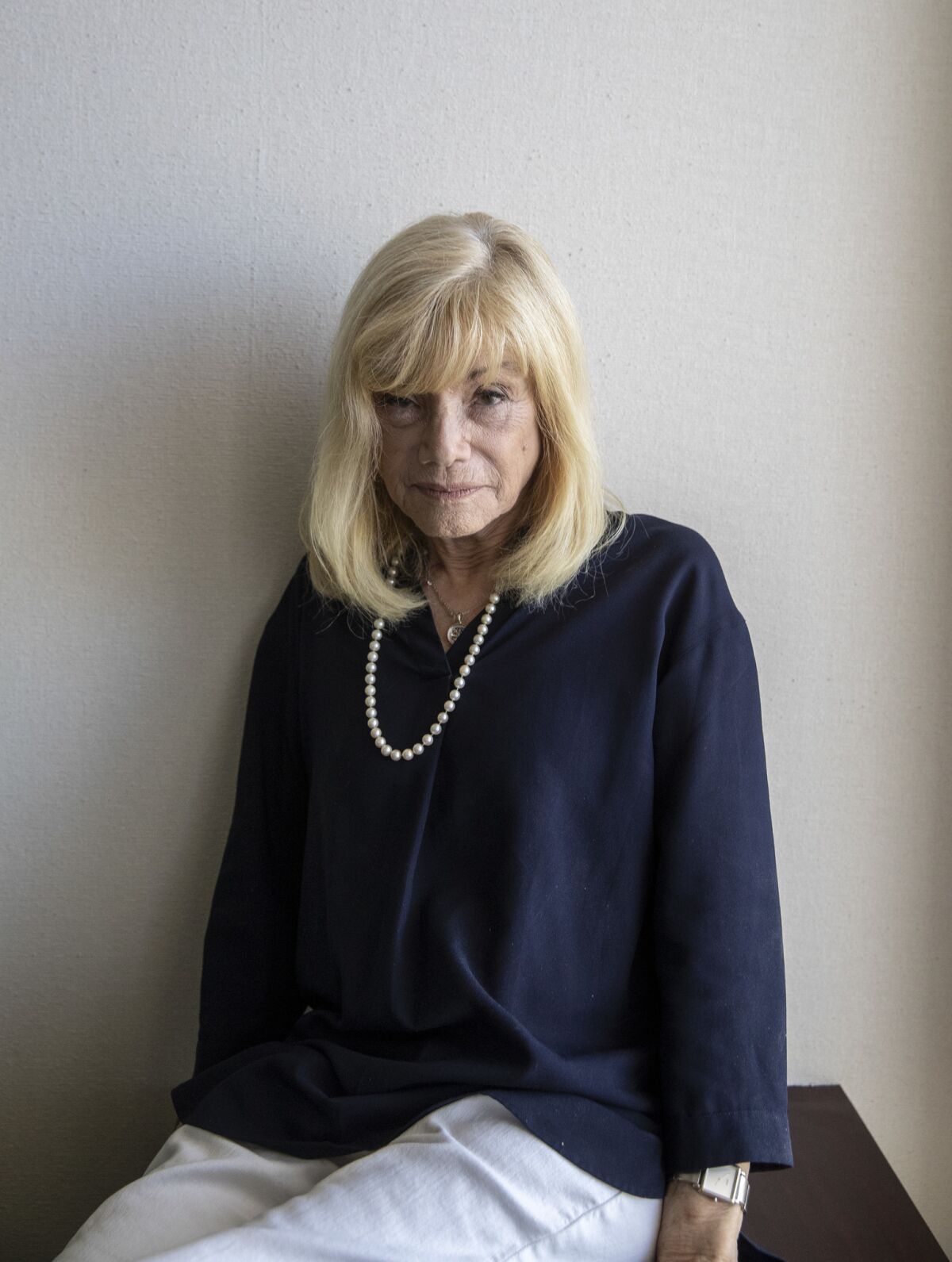 In November, amid headlines about sexual harassment in Hollywood, Golden-Gottlieb said, she drove to the Hollywood police station to file a report about Moonves. "People [were] coming out, it just hit me: 'I'm going to do this.' "
Detectives with the Los Angeles Police Department's Robbery-Homicide Division interviewed her and spoke to others she discussed some of the allegations with prior to making the police report. According to two sources familiar with the investigation, LAPD detectives believed her allegations were credible.
Detectives, however, had no physical evidence of the assaults or letters, emails or other documents to confirm her account.
Now it is up to CBS investigators to determine whether the accounts of Golden-Gottlieb and other women have merit and whether Moonves should be fired and denied his severance package.
"Many of these allegations — while disturbing — are older, they took place some time ago," said Ann Marie Painter, the chair of the labor practice group at the Perkins Coie law firm in Dallas. "The investigators also need to hear from CBS' workforce to find out what's going on now."
Judy Muller, a former ABC News correspondent, has known Golden-Gottlieb for perhaps 20 years and vouched for her integrity. "I once used her for a 'Nightline' story about online dating," Muller said. "She is honest. You can trust what she says."
But not everyone is buying her account, particularly after Golden-Gottlieb touted her upcoming media appearances on Facebook on Sunday, saying she was having "my #metoo moment."
"I have no idea if the assault happened or not," former executive Marcia Zwilling, who now lives in Texas, told The Times. "Leslie Moonves didn't have the ability to change her offices — he had nothing to do with her career ending. He had no real power back then — he was a nobody."
Allred said her client stands by her view that Moonves hurt her career. "This is how she feels," the attorney said.
ALSO:
Hollywood and Wall Street wonder how the show will go on at CBS without Leslie Moonves
With Leslie Moonves out, Shari Redstone emerges winner in fight over control of CBS
Twitter: @MegJamesLAT
Inside the business of entertainment
The Wide Shot brings you news, analysis and insights on everything from streaming wars to production — and what it all means for the future.
You may occasionally receive promotional content from the Los Angeles Times.