'Black Panther' is a powerful force at the box office everywhere — including Africa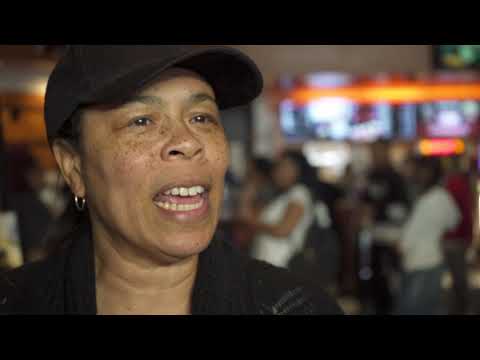 The Times spoke to fans who attended opening day screenings of "Black Panther" in Los Angeles to discuss what the film meant to them.
Marvel Studios and Ryan Coogler's blockbuster superhero movie "Black Panther" has become a legitimate global juggernaut, grossing a jaw-dropping $427 million in global ticket sales and defying movie business assumptions. It's also showing strength in the continent where the film mostly takes place — Africa.
Released by Walt Disney Co., "Black Panther" scored the largest box office debuts ever in West Africa and East Africa, generating about $400,000 and $300,000, respectively. In South Africa, "Black Panther" had the third-highest opening ($1.4 million), coming in behind the two most recent "Fast and Furious" movies. Big-screen company Imax Corp. said its theaters in Kenya and Nigeria had their biggest results ever this weekend.
The $200-million film, starring Chadwick Boseman as the titular comic book hero, is benefiting from its overwhelmingly positive representation of Africa and pan-African cultures, analysts said.
Hollywood movies set in Africa often depict the continent as a war-torn environment filled with poverty and suffering. The film's release also comes less than two months after President Trump was quoted using vulgar language to disparage immigrants from African countries.
"Black Panther" centers on a fictional African nation of Wakanda, which outsiders wrongly believe to be an impoverished country but is a staggeringly wealthy society with the most advanced technology in the world. "Black Panther," which also features Michael B. Jordan, Lupita Nyong'o and a breakout performance by Letitia Wright, is the first global superhero blockbuster with a mostly black cast and a black director.
FULL COVERAGE: 'Black Panther' reviews and interviews »
"It's a positive representation of Africa, and we normally don't see portrayals like that," said Paul Dergarabedian, senior analyst at box office data firm ComScore. "'Black Panther' is so important because it's obliterating these stereotypes."
Disney declined to comment.
To be sure, Africa remains a tiny market for films, compared to other parts of the world, and the African grosses for "Black Panther" are a blip in the movie's overall total, accounting for less than $3 million in ticket sales for opening weekend. West Africa, a region that includes Nigeria and Ghana, had 32 theaters in 2016, according to data from the National Assn. of Theatre Owners. Major international theater chains lack a presence there.
By contrast, in the United States and Canada alone, "Black Panther" collected about $202 million in its first three days, representing the second-largest debut ever for a Marvel Studios film. Its massive rollout continued during the Presidents Day holiday, with $40.2 million in the U.S. and Canada, marking the biggest Monday result ever, not adjusted for inflation. Domestically, it has grossed $242 million.
Though small, analysts say there's potential for growth in the African box office, driven by the rising middle class in some African countries. The total number of tickets sold in West Africa in 2017 was projected to grow to 4 million, up 15% from 2016, for example, according to National Assn. of Theatre Owners.
One problem is that Hollywood doesn't make many movies that cater to African audiences. "Black Panther" is a prime exception.
African theater chains — including Lagos, Nigeria-based Filmhouse Cinemas and South African chains Nu Metro Cinemas and Ster-Kinekor Theatres — have been heavily promoting "Black Panther" on their Twitter accounts. As they did in the U.S. and other countries, moviegoers tweeted their enthusiasm before and after attending the screenings. One Twitter user in Pretoria, South Africa, posted a photo of her "Black Panther" ticket with the caption, "I'm ready."
"The movie Black Panther is amazing because it does not play into destructive stereotypes of black people as well as showing richness of African culture," Filmhouse Cinemas wrote on its Twitter page.
Greg Foster, chief executive of Imax Entertainment, said "Black Panther" could help expand the film market in Africa, and elsewhere.
"It's brought in people who traditionally haven't gone to movies, because there's a message in 'Black Panther' that says this is a movie to support," Foster said.
That enthusiasm goes well beyond the African continent. Foster said the film posted big numbers in unexpected countries, including Poland, Bulgaria, Portugal, Israel and Pakistan. The largest international box-office results for "Black Panther," so far, came from South Korea, which generated $27.1 million in box office receipts for the film.
"This is clearly a global phenomenon," Foster said. "For every Angola and Kenya, there's also a Bulgaria and an Israel."
The industry is still waiting to see how it does in some of the world's largest box office markets. "Black Panther" opens in Russia next weekend, followed by Japan and China, the world's second-largest country for movies, in March.
The film is expected to continue to post powerful numbers in the U.S. and Canada this weekend. Analysts said it could grow an additional $100 million domestically this weekend, driven by repeat business. It will likely be the No. 1 movie domestically Friday through Sunday, easily beating new arrivals, Paramount's science fiction thriller "Annihilation" and Warner Bros.' R-rated comedy "Game Night."
"Black Panther" is on track to gross about $500 million in North America through the end of its run, analysts said, putting a $1-billion global release within its reach. In its opening weekend, the domestic audience demographic for "Black Panther" was 37% black and 35% white, according to analysis by ComScore.
The movie has already shattered preconceived movie business assumptions about whether films with predominantly black casts can succeed abroad, with $185 million in overseas box office so far.
"It's just unbelievable," Dergarabedian said. "The long-term playability is going to be bolstered even more by the cultural conversation it's sparking and will continue to inspire."
Twitter: @rfaughnder
Inside the business of entertainment
The Wide Shot brings you news, analysis and insights on everything from streaming wars to production — and what it all means for the future.
You may occasionally receive promotional content from the Los Angeles Times.