MoviePass shook up the film industry. Now it looks like the end is near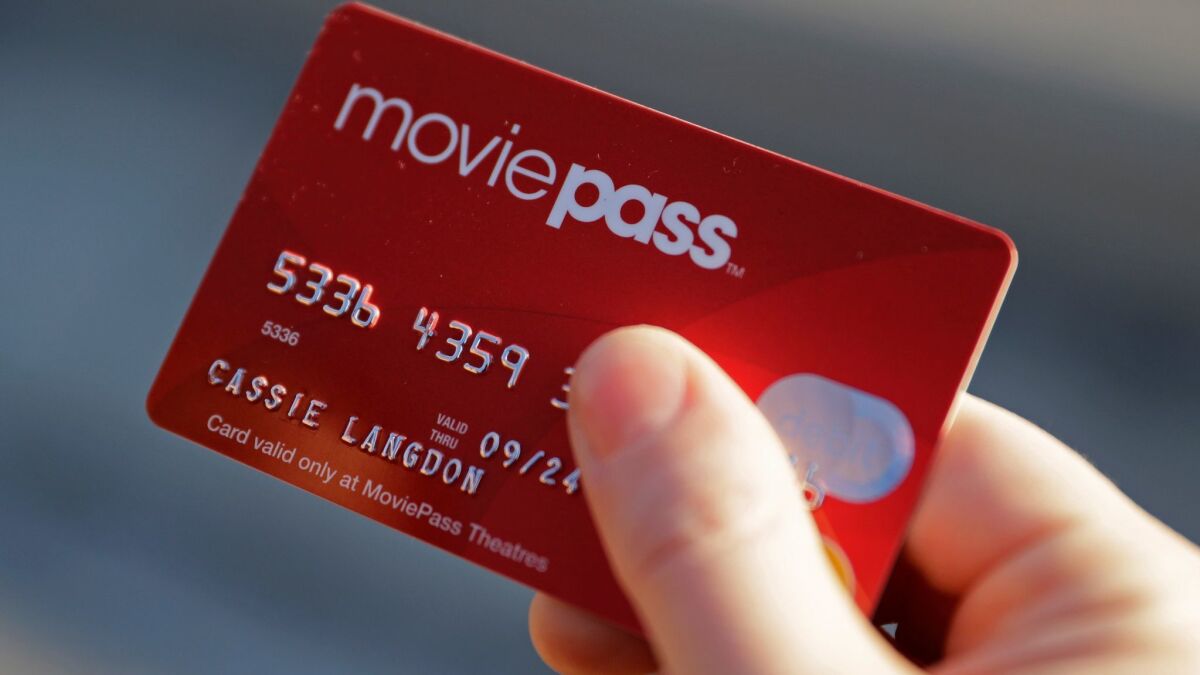 MoviePass was once the fastest rising star in Hollywood.
The New York-based service promised to revolutionize the cinema business by offering something multiplexes have long resisted: steep discounts on the price of movie tickets.
Consumers could watch a movie a day for about $10 a month — less than the average price of a movie ticket in Los Angeles.
But there are growing signs that the end is near for the popular movie ticket service that billed itself as the Netflix for cinema.
MoviePass bet on what many view as a wildly flawed business model: it pays the full price for each ticket its customers buy. But major theater chains blasted the plan as unrealistic and refused to share lucrative concession revenue. And the goal of selling consumer data to major studios and distributors never panned out.
Those challenges came to roost on Tuesday when MoviePass' parent company, data firm Helios and Matheson Analytics Inc., announced a series of major changes to keep the service afloat. The firm said the monthly subscription fee for MoviePass would increase to $14.95 from $9.95 in the next 30 days, representing a 50% price hike.
The company also said it would cut access to popular new films. New wide releases — those released in 1,000 locations or more — will no longer be available on the MoviePass app for their first two weeks in theaters, Helios said. The company said the moves were aimed at cutting its cash-burn rate by 60%.
"These changes are meant to protect the longevity of our company and prevent abuse of the service," said MoviePass Chief Executive Mitch Lowe, in a statement. "While no one likes change, these are essential steps to continue providing the most attractive subscription service in the industry."
In reality, the changes signify a stunning retreat, analysts said.
"Clearly this is not the service that consumers signed up for over the last year," said Eric Wold, an analyst with B. Riley FBR.
The changes announced Tuesday follow mounting troubles for MoviePass.
Customers receive a red debit card in the mail. When close to a theater, they use an app to select a showtime, and the company loads the full price of the ticket onto the card for the customer to swipe at the box office.
But customers who tried to reserve tickets on the company's mobile app this week found that showtimes were suddenly unavailable for their local theaters. Those who tried to use the app were greeted with a message saying there were "no more screenings" available.
"Well it appears MoviePass is melting down in real time as we speak," wrote New York-based podcast host Greg Young on his Twitter account Monday, posting screenshots of the MoviePass app. "All theaters here in Brooklyn have been locked out. The end is here."
The struggles have unnerved investors. Helios and Matheson's stock fell 75% in the last two days as the company faced a cash crunch, ending Tuesday trading at 50 cents a share. The stock has lost nearly 100% of its value this year.
"It's been a wild ride, albeit a short one," said Jeff Bock, an analyst with Exhibitor Relations. "The only question for customers is, do they pull out now or risk paying the $10 dollars to cover August?"
MoviePass and Helios declined to comment beyond their press release.
Supporters see MoviePass as a badly needed response to long-term trends in an industry experiencing deteriorating attendance and rising prices. The average ticket price hit another record in the second quarter of 2018, reaching $9.38, according to the National Assn. of Theatre Owners.
Founded in 2011, MoviePass previously cost $30 to $50 a month, a deal that only attracted 20,000 users. Its customer count quickly ballooned to 3 million people after Helios bought the company a year ago for $27 million and slashed the fee. Executives predicted it would surpass 5 million users by the end of this year.
The phenomenon gave rise to a new pop culture term: the "MoviePass movie," often a mediocre film certain people would only be willing to see in theaters because they have MoviePass.
But analysts had long warned that MoviePass' bargain was too good to last, and critics argued it would devalue the cinematic experience by getting millions of people accustomed to very cheap movies. MoviePass quickly drew the ire of Leawood, Kan.-based AMC Theatres, the world's largest cinema circuit, which called the $9.95 price point "unsustainable."
AMC, led by its outspoken CEO Adam Aron, blasted MoviePass for making what it called "false statements" about the service's contributions to AMC's profit. Some theaters accused the company of using hardball tactics, including blocking theaters from its app, to get chains to strike revenue sharing agreements.
And the question remained, how would it make money? Lowe (who clashed with studios as a Redbox and Netflix executive) and Helios and Matheson CEO Ted Farnsworth have offered various explanations for how the company will turn a profit. Lowe, for example, predicted users would use it like a gym membership and not go that often.
Executives hoped to convince theater chains to share a cut of ticket sales and concessions revenue. Though the company secured deals with a handful of small chains, including Studio Movie Grill and Landmark Theatres, others balked.
The company also hoped its user data would prove attractive to studios and distributors. It even branched into film distribution and marketing, investing in pictures such as "American Animals" and John Travolta's "Gotti," which flopped at the box office. In another surprise move, Helios bought showtime listing service Moviefone for $8.6 million.
"It was all over the map, pretty much from the get-go," analyst Bock said. "There never seemed to be a real game plan."
MoviePass sometimes irked customers by changing its service without explanation. In April, it quietly eliminated its movie-a-day offering, instead allowing new users to watch four movies a month. The service returned to normal after a burst of online outrage. Attempts at "surge pricing" for popular screenings and a ticket verification system to combat scalping also annoyed customers.
The problems appeared to reach a tipping point in the last week. In a last-ditch move to boost its stock price and avoid getting booted from the Nasdaq stock exchange, Helios and Matheson performed a reverse stock split, replacing every 250 shares with a single share. Companies on the Nasdaq risk being delisted from the exchange if their stock trades below $1 for 30 days.
The stock's slide accelerated as investors smelled trouble.
Helios secured a financial lifeline by borrowing $5 million from hedge fund Hudson Bay to revive the service after customers complained of outages.
Even if it disappears, MoviePass is expected to have a lasting influence on the movie business. Multiple theater chains, including AMC, Cinemark Theatres and Alamo Drafthouse, have introduced their own versions of a subscription plan in the wake of MoviePass' ascent.
AMC in June unveiled its AMC Stubs A-List, allowing subscribers to see as many as three movies a week for $19.95 a month. The program drew 175,000 subscribers in its first five weeks, surpassing internal expectations, the chain said Tuesday.
"The benefit of MoviePass was, it opened consumers' eyes to subscription offerings," said Wold. "It may have been to the detriment of MoviePass investors, but the first person to do something doesn't always win."
---
UPDATES:
4:00 p.m.: This article was updated to include analyst comments on MoviePass' struggles.
This article was originally published at 8:35 a.m.
Inside the business of entertainment
The Wide Shot brings you news, analysis and insights on everything from streaming wars to production — and what it all means for the future.
You may occasionally receive promotional content from the Los Angeles Times.