Internal review says NBC News didn't know of any sexual harassment involving Matt Lauer before his firing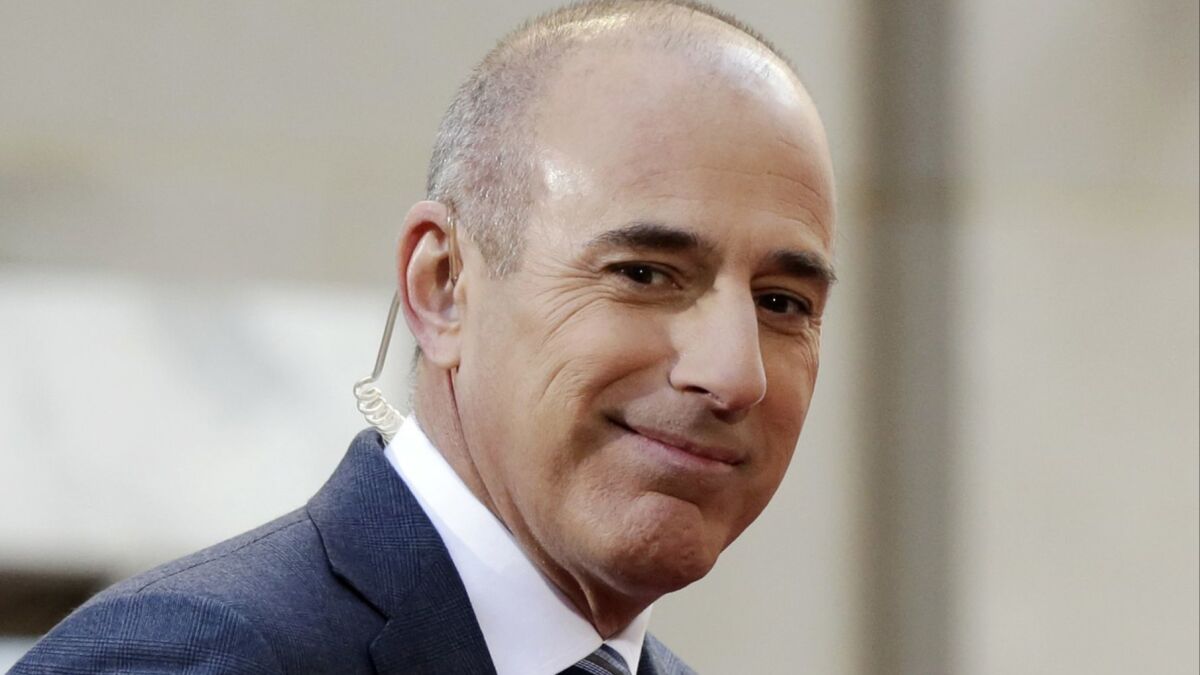 NBC News management was unaware of any incidents involving former "Today" co-anchor Matt Lauer before four women came forward with accusations of sexual harassment against him in November, according to an internal review whose findings were released Wednesday.
Lauer was fired Nov. 29 after a female employee complained to NBC's human resources department that the NBC News star had engaged in inappropriate sexual behavior in the workplace with her on several occasions in 2014.
After his firing, three other women came forward with allegations about incidents involving Lauer that they said occurred between 2000 and 2007.
But the review, conducted by legal counsel at NBCUniversal with the assistance of two outside law firms, determined that before November, there had never been a complaint to management or human resources regarding the former anchor, who had worked at the network for 23 years.
Two of the four women who complained about Lauer said his former bosses at NBC News were aware of his behavior. Those executives and producers, who are not named in the investigation, denied any such knowledge, and investigators were unable to substantiate the claims, the report said.
"We were also unable to establish that any of those interviewed, including NBC News and 'Today' leadership, News HR and others in the position of authority in the news division, knew that Lauer had engaged in sexual activity with other employees," the report stated. "Every such individual credibly responded that they had no such knowledge."
The investigation included reviews of the email accounts and texts of Lauer and managers at NBC News and "Today." Former and current "Today" and NBC News executives were interviewed as well.
According to the report, most witnesses said they had heard or read rumors about Lauer's personal life, including tabloid stories about troubles in his marriage and extramarital affairs.
One of those reports said Lauer had an extramarital affair with a colleague at NBC News. But the colleague, who is not identified in the report, told investigators the relationship never happened.
Some of those interviewed speculated about other women in the company who may have had a sexual relationship with Lauer. But investigators were unable to corroborate those statements.
Former "Today" co-anchor Ann Curry recently told the Washington Post that she alerted NBC News management in 2012 that it should be concerned about Lauer's behavior toward women. Curry said she gave the warning after a woman came to her with a claim that Lauer had harassed her.
But Curry told investigators she never told management that she received a specific complaint. Curry also declined to name the woman who complained to her or the member of NBC News management team she spoke to about Lauer.
Investigators did find that Lauer engaged in sexual banter or joking in the presence of other employees, which created the perception that any inappropriate behavior by him was ignored by management.
"While the nature and frequency of that conduct did not rise to the level of creating a hostile work environment … it may have contributed to an atmosphere where some employees who may have had concerns assumed nothing would be done to address them, particularly given Lauer's perceived importance to the news division," the report stated.
While the report did not cite any failure by management to deal with harassment issues related to Lauer, the investigators said a number of employees interviewed said they had concerns about reporting inappropriate workplace conduct to human resources, a fear of retaliation and a belief that their complaints would not be kept confidential.
NBC News Chairman Andy Lack told employees the company is taking measures to make it easier for employees to raise concerns about behavior in the workplace.
"We are going to inject more immediacy and measurable transparency into the process of raising and resolving concerns," Lack said in a memo sent Wednesday to his staff.
Lauer acknowledged engaging in sexual activity with the woman who filed the complaint that led to his dismissal. But he has denied other allegations of predatory sexual behavior toward female employees during his run at NBC, including a lengthy Washington Post article in which 12 women interviewed said they were sexually harassed by Lauer but did not report it.
"I fully acknowledge that I acted inappropriately as a husband, father and principal at NBC," Lauer told the Post in a statement. "However I want to make it perfectly clear that any allegations or reports of coercive, aggressive or abusive actions on my part, at any time, are absolutely false."
Twitter: @SteveBattaglio
---
UPDATES:
12:15 p.m.: This article was updated with additional details from the report, including interviews with Ann Curry, and comments from Andy Lack.
This article was originally published at 8:20 a.m.
Inside the business of entertainment
The Wide Shot brings you news, analysis and insights on everything from streaming wars to production — and what it all means for the future.
You may occasionally receive promotional content from the Los Angeles Times.