Netflix is on the hook for $20 billion. Can it keep spending its way to success?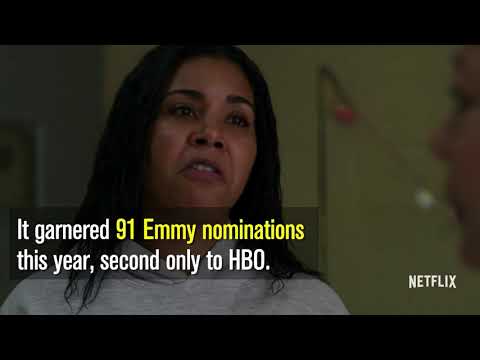 Netflix's net cash outflow this year is forecast to reach $2.5 billion. It was $1.7 billion last year. (July 31, 2017) (Sign up for our free video newsletter here http://bit.ly/2n6VKPR)
When Netflix was founded, the Internet was young, DVDs were popular and no one considered watching a movie streamed online.
Twenty years later, Netflix's transformation from an underdog DVD-by-mail service to Hollywood powerhouse — one that has redefined how TV and movies are produced and consumed — has been remarkable.

For the record:
2:24 p.m. Aug. 18, 2019An earlier version of this story referred to $15.7 billion in short-term debt. That figure represents financial obligations related to streaming content. Netflix says this does not constitute short-term debt.
The global streaming giant today boasts some impressive stats: 104 million subscribers worldwide, up 25% from last year and almost quadruple from five years ago. Its series and movies account for more than a third of all prime-time download Internet traffic in North America. Its more than 50 original shows garnered 91 Emmy Award nominations this year, second only to premium cable service HBO.
But there's another set of numbers that could spell trouble for the company's breakneck growth. Netflix has accumulated a hefty $20.54 billion in long-term debt and obligations in its effort to produce more original content. The Los Gatos, Calif.-based company hopes more new shows will capture more subscribers, its primary revenue driver. It's also under pressure to keep spending on new shows as streaming rivals such as Amazon and Hulu expand their own slates of original programming.
The result is that Netflix is burning through cash at a growing clip. The company is pouring money into expensive prestige projects and expects to spend at least $6 billion in content this year. Its net cash outflow this year is forecast to grow to as much as $2.5 billion, up from $1.7 billion last year. Reflecting its growth, Netflix recently moved its Southern California headquarters into a 14-story building in Hollywood.
So far, investors have expressed approval of Netflix's spendthrift ways. They are betting that debt financing in the near term will create growth and yield big results down the road on the theory that you have to spend money to make money.
Netflix shares surged more than 10% this month after it reported better-than-expected subscriber growth. For the year, the stock is up nearly 50%. It closed Friday at $184.04, up $1.36 or 0.74%.
But some industry experts are warning of a Netflix bubble that may burst if the company fails to produce enough hit series to keep attracting new subscribers.
"Nobody is ever the dominant player forever," said Mike Vorhaus, president of Magid Advisors, a media and digital video consultancy. "I think they're going to need some luck in not drowning in debt in the ultimate slowdown of growth."
Still, Netflix isn't expected to dial down spending any time soon. The company's strategy is to invest more and more on self-produced original series such as the '80s-themed "Stranger Things" and the kid-centric "A Series of Unfortunate Events."
The goal, executives say, is to increase the portion of self-produced originals to 50% of its slate in an effort to own more of the shows on its platform.
"That's a lot of capital up front, and then you get a payout over many years," Chief Executive Reed Hastings said in a recent investor call. "The irony is the faster that we grow and the faster we grow the owned originals, the more drawn on free cash flow that we'll be."
As a result, Netflix said it expects "to be free-cash-flow negative for many years," meaning it will continue bleeding cash for the foreseeable future.
I think they're going to need some luck in not drowning in debt in the ultimate slowdown of growth.
— Mike Vorhaus, president of Magid Advisors
A big chunk of Netflix's expenses goes to licensing TV series and movies. Many of Netflix's most popular and acclaimed shows are licensed from other studios despite being marketed as "Netflix Originals."
In fact, some of the best-known shows on Netflix aren't made by Netflix. "Orange Is the New Black" is produced by Lionsgate, and "House of Cards" comes from Media Rights Capital, an independent film and TV studio. "The Crown" is a Sony Pictures Television production, while "Iron Fist" is a Marvel creation.
Netflix pays undisclosed licensing fees for the exclusive rights to stream these shows. And many of those fees are expected to rise over time as TV networks — which have grown increasingly wary of Netflix — look to protect their business from further erosion. A growing number of consumers are bypassing linear TV in favor of streaming services like Netflix.
Netflix is investing more money into self-produced originals in hopes of becoming less dependent on outside studios.
But bearish experts say building a catalog of must-see titles can take years, even decades, and requires an enormous cash outlay. HBO has created numerous hit shows, including "Game of Thrones," but more than half of the content consumed by the cable giant's subscribers is still licensed from its content partners.
Netflix is still fairly low on the learning curve compared with HBO, and its self-produced original series have had mixed success. Whereas "Stranger Things" quickly became a popular and critical hit, shows like "Santa Clarita Diet" and "The Ranch" have so far failed to generate much buzz.
"I don't believe Netflix is going to get this right at a better rate than anyone else," said Michael Pachter, a Wedbush analyst who has long been pessimistic about the company. He said his "underperform" rating on Netflix shares has been wrong in the past but believes the company's lavish spending will eventually catch up to it.
"I think it is kicking the can down the road and a looming write-down is coming," he said.
Netflix, which declined to comment, has been canceling more shows in recent months, including expensive series such as "The Get Down" and "Sense8." But the company said it has renewed 93% of its shows and it continues to greenlight new shows at a rapid pace, with a growing emphasis on foreign titles to cater to its overseas markets.
For the first time, Netflix counts more overseas subscribers than domestic ones, with 52 million subscribers outside the U.S. Titles such as the movie "Okja" from South Korea and the series "3%" from Brazil are designed to appeal to both local audiences and viewers worldwide.
Wall Street treats Netflix's subscriber growth as the key indicator of future health, and as the U.S. market gets closer to saturation, executives will be under greater pressure to seek new viewers elsewhere. But foreign subscribers are more expensive to acquire than domestic ones.
Netflix is excluded from China because of regulatory challenges, so it is looking to other Asian countries.
"With Asia, we've got a lot more to learn. We're really expanding a lot in India, Japan. We're figuring it out market by market," Hastings told investors.
Netflix has so far chosen debt as its preferred method of financing its global ambitions. In the last year, the long-term debt level has more than doubled to $4.84 billion. Four years ago, the level was at just half a billion dollars.
Netflix believes that favorable interest rates make debt an attractive option and it is looking increasingly to foreign capital markets to fund its growth. In May, the company issued the equivalent of $1.84 billion in notes on the European market, due in ten years.
Company executives have downplayed the reliance on debt, saying that Netflix's ratio of debt to total stockholder value is lower compared to peers. But that measure could be misleading in some ways.
Some analysts believe Netflix shares are overvalued and could be due for a correction. "Unless growth suddenly picks up, we could see the stock trending sideways or even downward in the next few years," Clement Thibault, a senior analyst at Investing.com, wrote in a recent report.
Additionally, more than half of the $15.7 billion in Netflix's streaming content obligations -- including commitments to license content — isn't reflected on its balance sheets. In its most recent quarterly filing, the company said it has $8.2 billion in off-balance-sheet obligations. The practice is a common accounting technique but it is also a way for companies to paint a rosier financial picture than may be the case.
Amazon, whose Prime Video and studio divisions are a major competitor, also holds billions in long-term debt, but its online retail operations generate ample free cash flow.
While Netflix continues to outspend competitors, industry watchers debate what type of content Netflix should be splurging on — prestige projects or blockbuster movies? Thought-provoking documentaries or more Adam Sandler comedies?
As overseas subscribers play a growing role in shaping how Netflix spends money, the company is figuring out how to maximize the global appeal of its programming.
Netflix's multi-project deal with Sandler is one way it is achieving that goal, since his brand of lowbrow comedy travels well overseas. The actor is Netflix's biggest global star — his comedy movies "The Ridiculous 6" and "The Do-Over" have been the platform's biggest movie releases in terms of views.
Meanwhile, Netflix is spending big bucks on courting A-list Hollywood talent, including new projects with Martin Scorsese, Sandra Bullock and Will Smith. "The Irishman," which Scorsese will direct, comes with an estimated price tag of $100 million. The science fiction movie "Bright," starring Smith as a cop in a dystopian Los Angeles, reportedly costs at least $90 million.
Scott Stuber, a former Universal executive, recently joined to beef up Netflix's movie slate and to produce and acquire projects that rival those of the major studios. Netflix is also spending big at festivals, especially Sundance, where it emerged this year as a major buyer along with Amazon.
But some believe that making blockbuster action movies on a scale of Disney's Marvel would be the smartest use of money.
"One of the best examples of global content are big budget feature films," said Michael Nathanson, senior research analyst at MoffettNathanson, where he covers the media industry.
"I wonder if Netflix realizes that the best bang for its buck is to emulate what Disney and DC Comics are doing. Prestige films are not the best use of capital if you're trying to build a global brand."
So far, Netflix appears wedded to its little-bit-of-everything approach.
"Some of them work out great, some of them work out not so great, and we can learn from every single one of them," said Ted Sarandos, chief content officer, in an investor call this month.
He said Netflix will continue to cater to as many demographics and market niches as possible. "I think about it more like a super network," he said.
ALSO
Wanda sell-off of massive Chinese movie studio is latest retreat from Hollywood
Elon Musk hands over first 30 Tesla Model 3s, but warns of 'production hell' ahead
Wells Fargo charged customers for unneeded auto insurance — then repossessed their cars
---
UPDATES:
6:30 p.m.: This article was updated to clarify Netflix's financial obligations.
This article was originally published on July 29 at 3:00 a.m.
Inside the business of entertainment
The Wide Shot brings you news, analysis and insights on everything from streaming wars to production — and what it all means for the future.
You may occasionally receive promotional content from the Los Angeles Times.