Peak TV hits another peak with 495 original scripted shows; streaming services produce more than broadcast and basic cable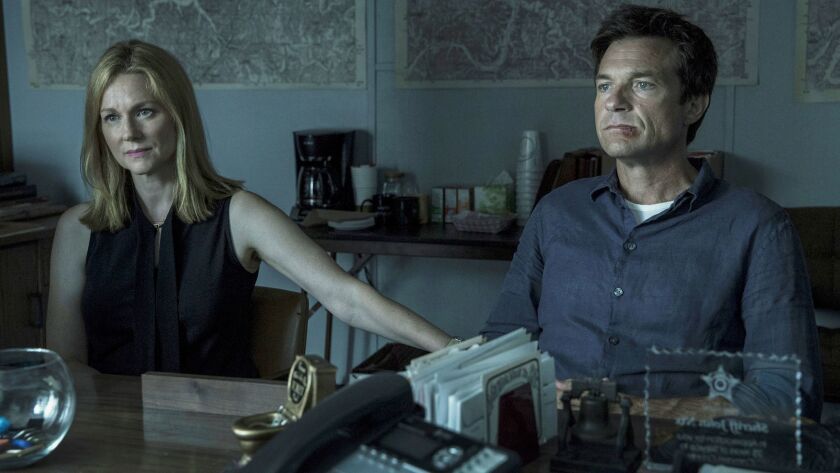 Once again, so-called "peak TV" has reached a new peak.
The entertainment industry this year produced a record 495 original scripted TV shows, fueled by a surge in programming from Netflix and other streaming services that for the first time made up the largest category of programming, according to an industry report.
There were 160 original scripted programs (not counting reality shows or kids programs) produced this year for digital services, including Netflix, Hulu and Amazon Prime. That compared with 146 shows for the broadcast networks — ABC, CBS, NBC, Fox and the CW — according to a survey released Thursday by FX Networks Research.
The number of shows produced for the streaming services increased 37% from 2017, up from 117 in 2017. The amount stands in sharp contrast to 2011, when streaming services offered just six original shows. The study did not break down totals for individual streaming services.
"People didn't realize that the growth would be so fast," said Deana Myers, a television analyst with research firm Kagan, a unit of S&P Global Market Intelligence.
But there was one notable drop. The number of shows created for ad-supported basic cable channels — such as AMC, USA, Bravo, TNT and FX — declined 18% to 144. Last year, basic cable channels ran 175 original scripted shows, according to the FX survey. That was down slightly from a high-water mark of 186 in 2015.
Meanwhile, premium pay channels such as HBO, Showtime and Starz slightly increased their appetite for original productions in 2018, creating 45 original shows, up from 42 last year.
Despite setting a record in 2018, the boom in TV production appears to be slowing down. The number of originals increased just 1.6% compared with 2017, when there were 487 original scripted shows. The study did not include reality shows or kids programs.
Before this year, the year-over-year increase in shows ranged from about 7% to 21% as new entrants experimented with original shows. However, a dramatic jump in the cost of producing television episodes and lower television ratings are coming into play.
"We are entering a period of slower growth," said John Landgraf, chief executive of FX Networks. "It's kind of a Darwinian market where only the strong will, and can, survive."
Landgraf said he expects there to be a shakeout in the next couple of years — and a redistribution of market share.
"I don't think we have reached the peak in scripted programming made for the streaming services," he added.
He noted that Walt Disney Co. and AT&T's WarnerMedia both plan to launch direct-to-consumer streaming services and will need more shows to feed them.
Landgraf coined the term "peak TV" about three years ago, when the longtime television executive became convinced that the explosion in television production was growing at an unsustainable rate.
FX's report highlights how streaming services have dramatically altered the television industry while creating new opportunities for show producers and big-name stars. It also reflects the glut of programming, which contributes to consumers' sense of feeling overwhelmed by so many choices.
For example, the 495 total scripted shows is more than double the number of shows created in 2002, before streaming services existed. That year, 182 shows were produced industrywide and three-quarters of those were for the broadcast networks.
"We are reaching a point where there's too much programming," Myers said. "And there's also a lot of mediocre programming — and niche programming that the streaming services can do. But you can't do that on a broadcast network, or even on a cable channel, because their shows have to reach a critical mass."
Already, some producers are leaving the space. Others, such as Facebook Watch, are retooling their strategy.
One problem for television producers is the rising competition for top-tier talent, including actors and writers. Streaming services also are spending lavishly to create motion-picture-quality productions.
The British monarchy drama "The Crown," which is produced by Sony Pictures Television for Netflix, costs about $8 million to $10 million an episode to create, according to industry estimates. The second season of Netflix's "Stranger Things" cost about $7 million an episode, and HBO's "Game of Thrones" is one of the most expensive, at about $15 million an episode. Broadcast networks and cable channels also are shelling out more to keep up.
By contrast, dramas produced for broadcast and cable TV can cost $4 million to $10 million an episode.
"The costs have just skyrocketed," Myers said. "At these costs, I don't think the industry can sustain this level of production."
Twitter: @MegJamesLAT
---
Inside the business of entertainment
The Wide Shot brings you news, analysis and insights on everything from streaming wars to production — and what it all means for the future.
You may occasionally receive promotional content from the Los Angeles Times.