NFL pregame shows tackling players' response to Trump get a ratings boost
President Trump's call for NFL owners to "fire or suspend" players who kneel during the national anthem injected a heavy dose of politics into — and, according to preliminary ratings, new interest in — America's pastime Sunday.
Pregame shows on CBS and Fox Broadcasting, which delved into the controversy, scored significantly higher ratings than comparable weeks when the programs were focused on team matchups, statistics and injury reports.
However, the controversy failed to lift ratings for the actual games on Fox and NBC.
Both networks grappled with less-than-competitive matchups, contributing to the lower audiences compared with last year — continuing a trend of lower overall NFL ratings this season.
CBS, meanwhile, benefited from the Green Bay Packers' thrilling overtime victory over the Cincinnati Bengals. On Monday, CBS said its NFL ratings grew 4% from the third week of the 2016 season.
CBS' "The NFL Today" program Sunday scored its highest ratings since 2010. The pregame show was up 33% to a household rating of 3.2 compared with last year's 2.4 rating. Fox's two pregame shows also captured bigger audiences. Each rating point represents a percentage of the TV households in a market.
"Fox NFL Kickoff," delivered a 1.3 rating, which was 30% higher than the show in Week 3 of 2016. The second-hour program, "Fox NFL Sunday," which runs immediately before the regional games, generated a 3.7 rating, which was 9% higher than last year.
All of the networks aired shots of NFL players, owners and coaches linking arms in solidarity as numerous players knelt during the national anthem. The unity appeared intended as a protest against Trump's comments and tweets, which had reopened a festering controversy.
Before ESPN's "Monday Night Football" game in Glendale, Ariz., the entire Dallas Cowboys team, coaching staff and owner Jerry Jones formed a long line, locked arms and knelt for nearly a minute. After they finished, military members and stadium crew unfurled a huge American flag that covered the entire playing field, while the teams stood shoulder to shoulder, arms interlaced, for the singing of "The Star Spangled Banner." Some boos were heard from the crowd.
Then-San Francisco quarterback Colin Kaepernick quietly began the protest last year to draw attention to racism, social injustice and police shootings of black men. He first sat on the team bench as the anthem played before a preseason game. A few players joined in, but the protests had slowed considerably this season until Trump kicked a hornet's nest.
Trump's inflammatory comments came Friday night at a political rally before a nearly all-white crowd in Alabama in which he challenged NFL owners to fire players who refuse to stand for the anthem. Most of the protesting players are black. Trump continued the criticism with several tweets over the weekend and Monday.
He encouraged Americans to boycott NFL games, and Brent Bozell, president of the conservative Media Research Center, on Monday suggested that Americans skip NFL football next weekend, calling for "a week without football." Some critics contend the ratings for football are lower because of the national anthem protests.
"All [Trump] did was galvanize the NFL to come together, from ownership to the players," Fox football analyst Tony Gonzalez said during Sunday's coverage.
The refrain was similar at NBC, which aired a lopsided contest between the Washington Redskins and the Oakland Raiders. Early results showed NBC's "Sunday Night Football" contest averaged about a 11.6 rating, about 11% lower than a year ago.
"People were beginning to listen to each other, it was calming down a little bit, and then a match got thrown into the gas tank," NBC's longtime sports announcer Al Michaels said Sunday night. "And the one thing that I came away with today after watching these games is it's galvanized the league — players, coaches, everybody. It's inadvertently created a new level of unity."
Fox experienced the steepest drop in its regional action — which included the New York Giants' loss to the Philadelphia Eagles. The networks' five games produced a 10.3 rating, which was 15% lower than the comparable week in 2016. Industrywide, NFL ratings have been down in the first three weeks of the season.
Viewership totals, as well as audience figures for ESPN's highly anticipated "Monday Night Football" game pitting the Dallas Cowboys against the Arizona Cardinals, are expected to be released Tuesday.
The NFL, for its part, said it was pleased with how the weekend unfolded. Individual teams came up with their own strategies for responding to the criticism after discussions in their locker rooms. In one game, neither team — the Seattle Seahawks and the Tennessee Titans — came onto the field for the playing of the anthem.
"It was incredibly thoughtful conversation about difficult issues," Joe Lockhart, the NFL's executive vice president of communications, said in a conference call with reporters. "This is what real locker room talk is."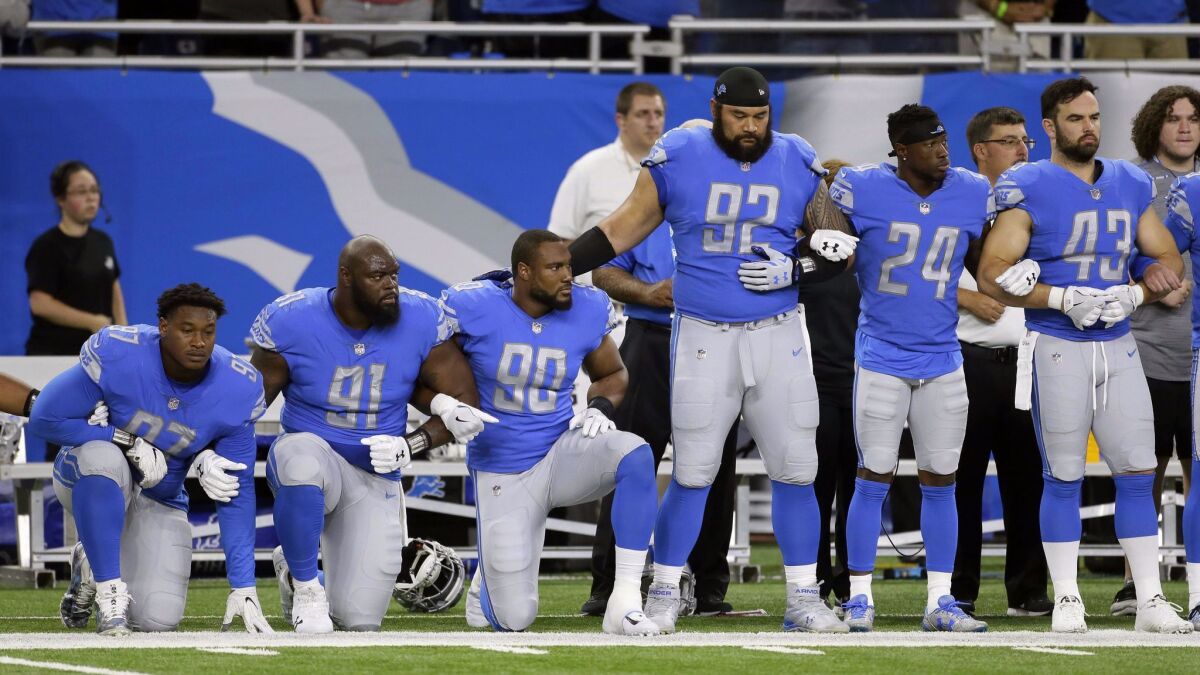 Times staff writer Sam Farmer contributed to this report.
---
UPDATES:
5:45 p.m.: This article has been updated to include a description of "Monday Night Football's" pre-game demonstration.
4:20 p.m.: This article has been updated with additional commentary.
The article was originally published at 11:30 a.m.
---
Inside the business of entertainment
The Wide Shot brings you news, analysis and insights on everything from streaming wars to production — and what it all means for the future.
You may occasionally receive promotional content from the Los Angeles Times.