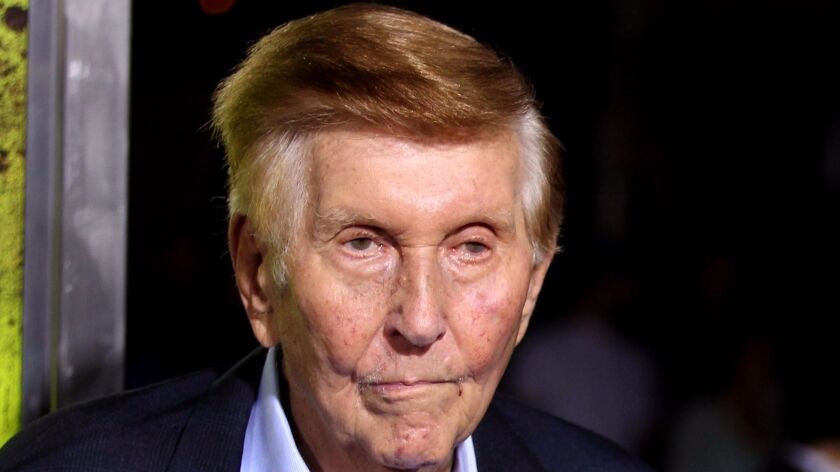 Media mogul Sumner Redstone will no longer hold a voting role on Viacom Inc.'s board of directors after the company's annual meeting in February, according to a regulatory filing.
Redstone will still serve as chairman emeritus, but will step down from the Viacom board. Redstone, who has been in deteriorating health, is 93.
The Redstone family still controls nearly 80% of the voting interest in Viacom through its movie theater chain and investment vehicle, National Amusements Inc.
In a filing Friday morning, Viacom said that "following our Annual Meeting, Mr. Redstone will continue to participate in meetings of the Board in a non-voting role."
The New York media company said in a statement that it "is indebted to Sumner Redstone for his decades of extraordinary leadership. Our directors are grateful for his continued dedication to the company and his contributions as Chairman Emeritus."
Redstone assumed the role of chairman emeritus in February after serving as Viacom's executive chairman since 2006. Redstone acquired Viacom in the late 1980s after a takeover battle with a management-led investor group. At the time, Viacom owned five television and eight radio stations, as well as a number of cable networks such as Nickelodeon and MTV networks. In 2000, Redstone merged the company with CBS to build a media empire. The two companies split in 2006.
Disclosure of the board shift comes one day after Redstone's former girlfriend Sydney Holland filed a lawsuit against Redstone's daughter Shari and some of his nursing staff, alleging that Shari recruited nurses to spy on the couple and report back to her on their activities.
The lawsuit alleges that Shari Redstone "sought to gain an advantage in her plan to oust Sydney (and her daughter) from Redstone's life and will," and to "entrench herself in a position to succeed him in his businesses."
Holland's lawsuit is similar to that of another former Redstone girlfriend, Manuela Herzer, who alleged that Shari Redstone tried to push Herzer away from Redstone.
For more business news, follow me @smasunaga
ALSO
Redstones scrap proposed CBS-Viacom merger, unnerving investors
Sumner Redstone ex-girlfriend Sydney Holland seeks half interest in $20-million mansion
Fox News hires a new human resources chief in response to sexual harassment claims
---