After CBS fires Charlie Rose, what's next for its popular morning show?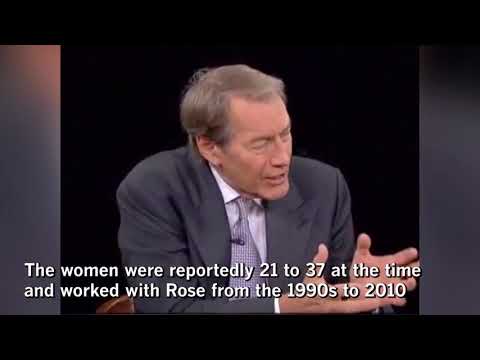 Charlie Rose's CBS News career came to an unceremonious end Tuesday when the network fired him over allegations of sexual harassment.
The esteemed TV journalism career of Charlie Rose collapsed under the weight of sexual harassment allegations Tuesday, leaving a void in "CBS This Morning," the lucrative morning franchise that has flourished since he joined as co-anchor in 2012.
CBS dismissed Rose less than 24 hours after the Washington Post published a report detailing the account of eight women who worked at PBS, alleging that Rose subjected them to unwanted sexual advances, appeared nude in their presence or groped them. On Tuesday, three additional women reported incidents at CBS News. One woman said Rose whispered a sexual innuendo in her ear while touching her inappropriately during a company event, the network reported on its evening news program.
CBS News President David Rhodes' decisive — and rapid — action reflects heightened responsiveness from companies as more women come forward with allegations against prominent media and entertainment industry figures in the wake of the Harvey Weinstein scandal.
"Despite Charlie's important journalistic contribution to our news division, there is absolutely nothing more important, in this or any organization, than ensuring a safe, professional workplace — a supportive environment where people feel they can do their best work. We need to be such a place," Rhodes said in a memo to employees announcing Rose's departure.
PBS and Bloomberg also said they would no longer carry Rose's nightly talk show.
Rose made no statements Tuesday after the firing but issued an apology Monday on Twitter.
"I am greatly embarrassed. I have behaved insensitively at times, and I accept responsibility for that, though I do not believe that all of these allegations are accurate," he said. "I always felt that I pursued shared feelings though I now realize that I was mistaken."
For CBS, jettisoning its star host thrusts the morning program into an uncertain future in its competition with ABC's "Good Morning America" and NBC's "Today."
Since Rose joined "CBS This Morning" with co-anchors Gayle King and Norah O'Donnell, the network has enjoyed steady ratings growth in the morning, turning the program into a significant profit center for CBS News after decades of futility in the time slot.
Before the Rose-led trio arrived, CBS averaged 2.44 million viewers in the morning during the 2011-12 TV season, according to Nielsen. By 2016-17, 3.56 million viewers were tuning in. That growth has come even as its network rivals lost viewers — some of it to "CBS This Morning" and some to increasing competition from morning shows on cable news channels.
ABC's "Good Morning America" is the ratings leader with 4.4 million viewers but lost nearly 1 million over that period. NBC's "Today" has 4.26 million viewers, down from 5 million in the 2011-12 TV season.
Jonathan Klein, a former executive for CBS News and CNN, said Rose provided the first real solution to CBS' longtime inability to master morning television, which has been largely dominated by NBC and ABC for decades. Replacing the stature he provided won't be easy.
"Charlie Rose filled a huge hole for CBS News," Klein said. "He embodied their rebooted brand, providing weight, experience, intelligence and trust, not to mention the world's best Rolodex. He not only could get anyone in front of the camera but he was a master of the interview once he got it. Now that hole is back and it's a gaping one. "
The show was bringing in money too — racking up $106 million in ad revenue through September, up 14% over the same period last year, according to Standard Media Index. That's a faster pace than "Today," up 4% to $334 million, and "Good Morning America" which is holding even at $276 million.
Part of the premium that CBS was getting for its ad time on "CBS This Morning" can be credited to Rose. His PBS talk show, serious demeanor and ability to engage a wide range of personalities in politics, the arts and business earned him respect and global recognition. He frequently jetted off to land interviews with world leaders.
"There is not a single person of note on the planet who does not know who he is," said one CBS News executive who spoke on condition of anonymity. "His talent was so in the stratosphere."
Rose gave "CBS This Morning" a patina of sophistication that distinguished it from the other morning competition, which tend to depend on softer news and features after their first half-hour. Viewers could say they watched Charlie Rose in the morning, giving them the kind of cachet they would have from carrying a PBS tote bag or umbrella.
As CBS News employees absorbed the shock and suddenness of his firing, some wondered how that prestige that Rose provided will be replaced. The shake-up of any TV morning team usually results in a shift in the audience, which grows used to waking up to the same faces every day.
"While Gayle and Norah have developed a great relationship with each other, their chemistry on set was calibrated in connection to Charlie," said one veteran in the news division who spoke on the condition of anonymity. "When you don't have an immediate solution for that, how much momentum do you lose until you figure out what are you going to do and how do you fix it?"
On the Tuesday morning "CBS This Morning" broadcast, King and O'Donnell weighed in about their colleague.
"There is no excuse for this alleged behavior," O'Donnell said. "It is systematic and pervasive, and I've been doing a lot of listening and I'm going to continue to do that. This I know is true: Women cannot achieve equality in the workplace or in society until there is a reckoning and a taking of responsibility."
King said she was "reeling" from the revelations about Rose and got little sleep before Tuesday's episode of the show.
"We are all rocked by this," said King, a longtime TV personality who has emerged as a network news star. "I really applaud the women that speak up despite the friendship. He doesn't get a pass because I can't stop thinking about the anguish of these women, what happened to their dignity, what happened to their bodies, what happened maybe to even their careers."
CBS did not name a replacement for Rose on "CBS This Morning."
One possible successor is Anthony Mason, a versatile veteran correspondent at CBS News who anchors the Saturday edition of "CBS This Morning" and regularly contributes to "CBS Sunday Morning." Mason, who recently served as interim anchor for the "CBS Evening News," filled in for Rose earlier this year when he underwent heart surgery and there was no decline in the ratings.
"Anthony approximates a lot of Charlie's skills," Klein said. "He's just not a household name."
Twitter: @SteveBattaglio
ALSO
'CBS This Morning' co-anchor Gayle King on Charlie Rose's suspension: 'We are all rocked by this'
Russell Simmons and Brett Ratner face new allegations of sexual misconduct
Jane Curtin, Laraine Newman and other 'SNL' women stick up for Al Franken
As sexual harassment in politics investigations widen, California Assemblyman accused by six new women
---
UPDATES:
5 p.m.: This article was updated throughout with additional comments and detail.
11:50 a.m.: This article was updated with Bloomberg's announcement that it will no longer carry Charlie Rose's talk show.
10:40 a.m.: This article was updated with a statement on PBS that the service has dropped Charlie Rose's talk show.
9:35 a.m.: This article was updated with a statement from CBS News President David Rhodes.
This article was originally published at 9:25 a.m.
Inside the business of entertainment
The Wide Shot brings you news, analysis and insights on everything from streaming wars to production — and what it all means for the future.
You may occasionally receive promotional content from the Los Angeles Times.