Rose McGowan implores Jeff Bezos to 'stop funding rapists.' Meanwhile, Amazon suspends studio head amid harassment claim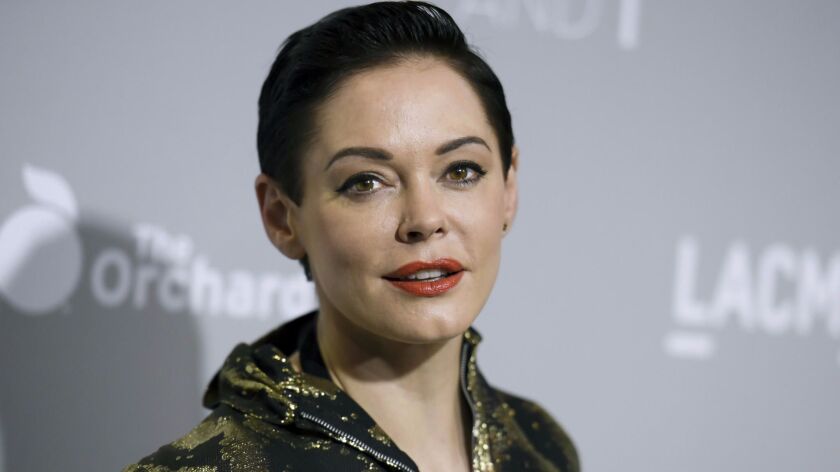 The scandal enveloping Hollywood grew wider Thursday when actress Rose McGowan accused movie producer Harvey Weinstein of raping her, and then pleaded with one of America's most powerful business titans — Amazon.com founder Jeff Bezos — to end his company's alleged involvement in a culture of exploitation and abuse.
"@jeffbezos I am calling on you to stop funding rapists, alleged pedo[philes] and sexual harassers," McGowan said in a Twitter message directed to the Amazon billionaire.
"I love @amazon but there is rot in Hollywood," McGowan wrote, just hours after Twitter lifted a 12-hour suspension that temporarily blocked the actress from posting.
In a separate development on Thursday, Amazon suspended Roy Price, the head of its studios, after "The Man in the High Castle" producer Isa Hackett told the Hollywood Reporter that he had repeatedly propositioned her and made lewd comments.
"Roy Price is on leave of absence effective immediately," an Amazon spokesperson said. "We are reviewing our options for the projects we have with The Weinstein Co."
McGowan is one of a number of Hollywood stars, including Gwyneth Paltrow, Angelina Jolie and Ashley Judd, who have said they were victimized by Weinstein. Last week, the New York Times reported that McGowan reached a $100,000 settlement with Weinstein in 1997 after an incident at the Sundance Film Festival. As part of the settlement, McGowan was not supposed to discuss the incident but she has become increasingly vocal as more women have announced that they also were victims of the co-founder of Miramax and Weinstein Co.
"We are just seeing the tip of the iceberg," said Caroline Heldman, a college professor who has worked with sexual assault victims. "This is going to touch every major studio in Hollywood."
McGowan, 44, previously has suggested on Twitter that she had been victimized and has used the social media platform to call out men, including Weinstein's brother, Bob Weinstein, and actors Ben Affleck, his brother Casey Affleck, and Matt Damon for enabling the misconduct.
Harvey Weinstein gave Ben Affleck and Damon their big break, acquiring their breakout movie "Good Will Hunting," which won the Oscar in 1998 for best original screenplay.
McGowan is best known for starring in the now-defunct WB network hit "Charmed," but also appeared in Wes Craven's 1996 slasher "Scream" — distributed by Dimension Films, the film label owned by the Weinstein Co.
In 1998 she starred opposite Ben Affleck in the horror film "Phantoms," produced by Dimension and distributed by Miramax. She played dual roles in 2007's "Grindhouse," starring in both of the film's two segments for Quentin Tarantino ("Death Proof") and Robert Rodriguez ("Planet Terror"). The film was also distributed by Dimension.
Last year, using the hashtag #WhyWomenDontReport, she vented on Twitter, saying: "My ex sold our movie to my rapist for distribution." She did not spell out who she meant as her "rapist," but some Hollywood insiders speculated that it was Weinstein.
Weinstein's spokesperson, Sallie Hofmeister, said in a statement: "Any allegations of non-consensual sex are unequivocally denied by Mr. Weinstein."
Then, last September at an IFP Film Week event in New York, McGowan announced that she had sold a show she had written to Amazon Studios. Some speculated that the project may have been inspired by McGowan's own childhood spent in the Children of God cult, which she fled with her family at the age of 9 after her father feared she might be subjected to child sexual abuse by cult members.
But a formal announcement from Amazon never materialized. On Thursday, McGowan shed more light on the project, tweeting: "I called my attorney & said I want to get my script back, but before I could #2 @amazonstudios called to say my show was dead."
Her Twitter barrage included her — now very public claim — that Weinstein had raped her.
"@jeffbezos I told the head of your studio that HW raped me. Over & Over I said it. He said it hadn't been proven. I said I was the proof," she wrote.
"@jeffbezos I forcefully begged studio head to do the right thing. I was ignored. Deal was done. Amazon won a dirty Oscar," she wrote, an apparent reference to Amazon's movie, "Manchester by the Sea," and its star Casey Affleck, who was accused of sexually assaulting a woman. Casey Affleck has denied the allegation.
Heldman, the women's advocate, praised McGowan's courage.
"Once again, Rose has been taking a lead in taking this to the next level — and holding to account other powerful men who have been complicit in covering up sexual violence," Heldman said.
McGowan's new accusations add another dimension to the controversy because it suggests that she took her allegations to other powerful players in Hollywood.
Ann Fromholz, a Pasadena attorney who has handled sexual harassment cases, said she believes McGowan's latest salvo is part of a growing storm that will make it easier for sexual harassment victims in Hollywood and other industries to speak out.
"I expect that because of the publicity this is getting, because of the support the victims are getting, people likely will be more willing to complain when something like this happens in the future, with Weinstein or anybody else," Fromholz said.
In addition to McGowan's challenge to Bezos, Amazon is also facing other allegations.
Hackett, a producer for "The Man in the High Castle," told the Hollywood Reporter that Price repeatedly propositioned her. She reported the incident to Amazon executives, who hired an outside investigator to look into her allegations.
Hackett's legal representative, Christopher Tricarico, on Thursday confirmed that the statements attributed to Hackett in the Hollywood Reporter were accurate.
However, Hackett, he said, did not wish to comment further.
Tricarico said Hackett participated in the internal investigation at Amazon Studios but was never told if it was concluded or how it was resolved. She followed up with Amazon's Human Resources department, but was told the findings were confidential, the attorney said.
"It was basically the company line, that they were doing what they needed to do internally but were not at liberty to give any details," Tricarico said.
Amazon said in a statement to the Hollywood Reporter that they "looked closely at this specific concern and addressed it directly with those involved."
Times staff writers Victoria Kim and Jen Yamato contributed to this report.
ALSO
In Hollywood, what should've been scandal was long met with a shrug. A new outcry has changed that
Jane Fonda 'ashamed' she didn't speak up about Harvey Weinstein sooner
Harvey Weinstein went from power player to pariah in less than a week. Here's how it happened
---
Inside the business of entertainment
The Wide Shot brings you news, analysis and insights on everything from streaming wars to production — and what it all means for the future.
You may occasionally receive promotional content from the Los Angeles Times.