ABC would consider a reboot of 'Roseanne' without Roseanne, sources say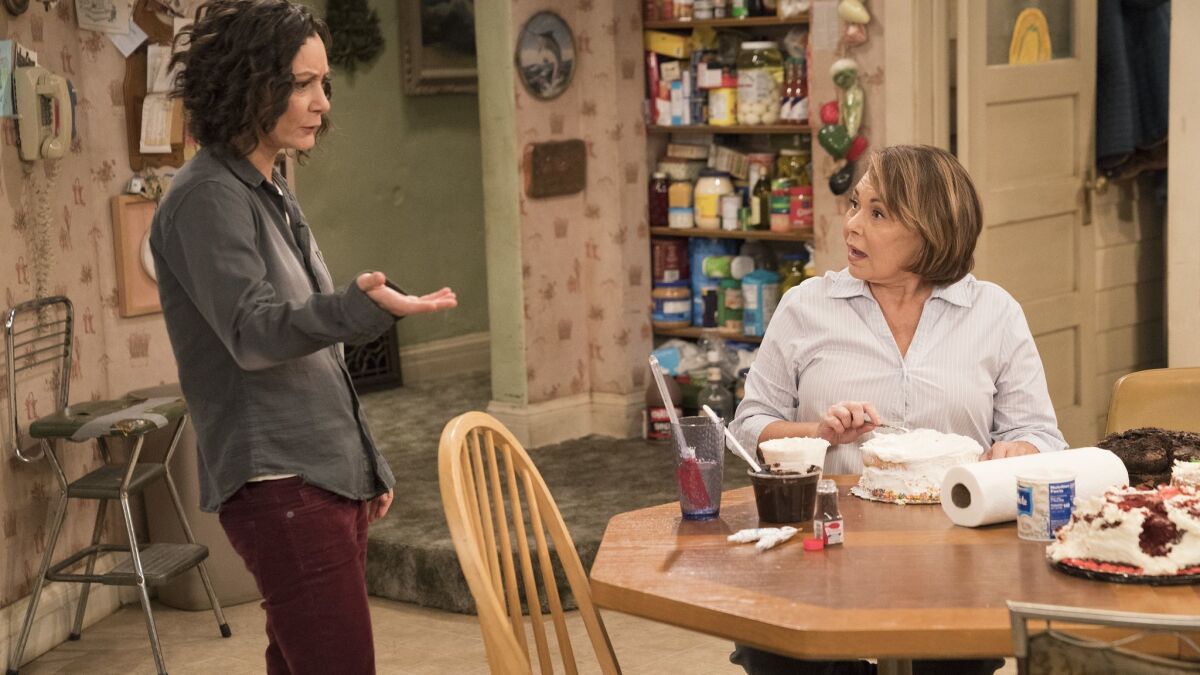 ABC executives are willing to consider carrying on "Roseanne" without its star Roseanne Barr, according to people familiar with the matter who were not authorized to comment.
The rebooted 1990s sitcom was canceled Tuesday despite being the top-rated program of the 2017-18 TV season after Barr tweeted a racist joke about former Obama administration official Valerie Jarrett.
The call to kill the series was made by ABC Entertainment President Channing Dungey. Dungey is said to be open to the possibility of continuing the series with the rest of the cast intact, but Barr cannot be involved or benefit financially in any way.
Dungey took a major public stand on Barr's behavior with the cancellation, and there is no chance she will consider any program that involves the comedian, who was already on a short leash because of her past inflammatory statements on social media.
Such a condition would make it extremely difficult for the show's production company Carsey-Werner to come up with an alternative. Barr is a profit participant in the series, which is based on the character she created in her standup comedy act.
Barr said in a recently deleted tweet that she begged ABC not to cancel the show. "I told them I was willing to do anything & asked 4 help in making things right," the tweet reads. Whether that means signing away her rights to the series she helped create remains to be seen.
Carsey-Werner probably would also have to be willing to accept a lower license fee from ABC, another hurdle as the other "Roseanne" stars, John Goodman, Laurie Metcalf and Sara Gilbert, have deals that pay them well into the six figures per episode.
TMZ reported Friday that there have been discussions about putting together a version of the series without Barr. But a person aware of the talks who could not comment on them publicly said there have been no communications on the matter with ABC beyond the network letting Carsey-Werner know that it would be willing to listen to spinoff ideas. No actual plan has come to the network and there have been no meetings with the network's entertainment division.
ABC obviously would welcome a spinoff that meets Dungey's condition. "Roseanne" was the anchor of its Tuesday night lineup, bringing a sizable audience to flow into the rest of its schedule. The network now finds itself one program short and has to pick among the comedy pilots it passed on and expedite the production of one of its mid-season shows.
Even if Carsey-Werner is able to come up with a plan acceptable to ABC, the new series would be challenged to approach the ratings the network expected from "Roseanne." But the notoriety surrounding its creation would help it get sampled.
The record of continuing shows after a signature character leaves is dubious. In the mid-1980s, Valerie Harper left her NBC series "Valerie" after two seasons following a dispute with the show's producers. Her character was written out of the show, which continued with the names "Valerie's Family" and "The Hogan Family." It hung around for three more seasons in an era when viewers had far fewer programs to choose from.
Representatives of ABC and Casey-Werner did not respond to requests for comment.
Twitter: @SteveBattaglio
Times staff writer Yvonne Villarreal contributed to this report.
Inside the business of entertainment
The Wide Shot brings you news, analysis and insights on everything from streaming wars to production — and what it all means for the future.
You may occasionally receive promotional content from the Los Angeles Times.