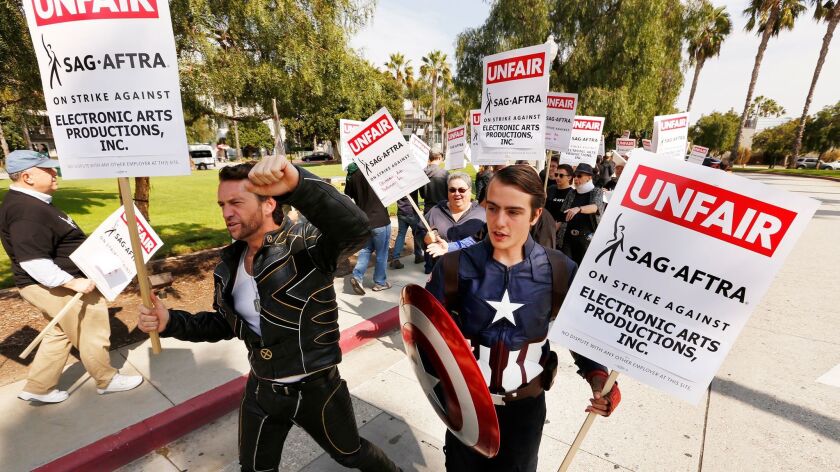 After nearly a year, the fight between prominent video game companies and Hollywood's largest labor union could soon be over.
SAG-AFTRA said Monday that it has reached a tentative deal to end its strike against 11 video game companies after agreeing to a bargain that includes a new bonus compensation structure for actors who perform voice and motion-capture work in the game industry.
In addition, the video game companies — which include divisions of Activision, Electronic Arts, and Take Two Interactive — have agreed to greater transparency in areas including performer safety.
SAG-AFTRA said the tentative deal was reached Saturday and that the contract will be reviewed by its national board in October.
"This is an important advance in this critical industry space. We secured a number of gains including for the first time, a secondary payment structure which was one of the members' key concerns," SAG-AFTRA President Gabrielle Carteris said in a statement.
The union called the strike on Oct. 21 last year, after talks broke down for a new contract that would replace the previous contract known as the Interactive Media Agreement, which expired in late 2014.
Other companies targeted by the SAG-AFTRA strike include divisions of Warner Bros., Walt Disney Co., Insomniac Games and Formosa Interactive.
The details of the agreement haven't been announced, but the actors' union said Monday that the agreement features a new bonus structure that is based on the number of sessions worked on each game, beginning with a $75 payment on the first session and totaling $2,100 after 10 sessions worked.
During the strike, SAG-AFTRA had been fighting for secondary compensation for its members that would be tied to a title's sales.
The video games companies said in a separate announcement that the new contract provides a "substantial pay increase" for performers through increases in session fees as well as additional compensation "tied to a performer's contribution to the videogame."
Under the new agreement, video game companies would have to disclose the code name of a project, its genre, whether the game is based on previously published intellectual property and whether the performer is reprising a prior role.
SAG-AFTRA said the deal also contains an employer commitment to continue working with the guild on the issue of vocal stress during the term of the agreement.
"We want to thank our counterparts at SAG-AFTRA for their efforts to conclude this labor dispute and reach a deal that will bring SAG-AFTRA members back to work on upcoming videogame projects," Scott Witlin, the chief negotiator representing the video game companies, said in a statement.
Twitter: @DavidNgLAT
---