Prominent anchor Maria Elena Salinas steps down from Univision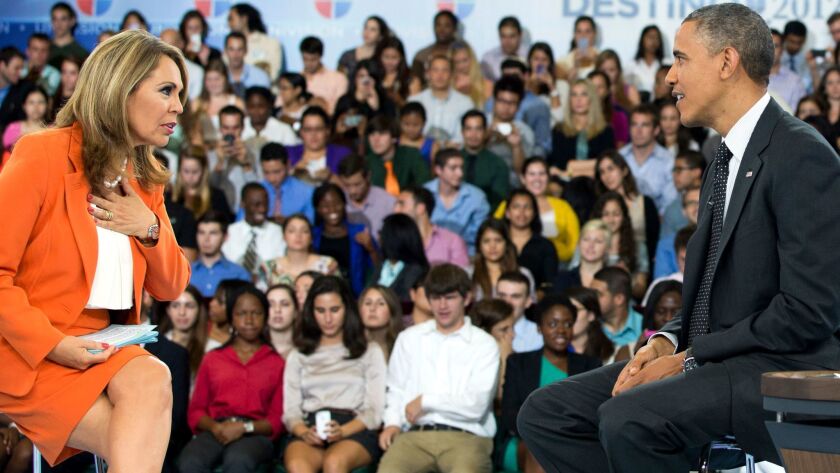 Univision News anchor Maria Elena Salinas — one of the most recognizable and respected journalists in Spanish-language media — is stepping down.
Salinas told viewers Thursday night that she would leave Univision at the end of the year.
Her departure will mark the end of an era: For more than 30 years, millions of immigrants in the U.S. have faithfully turned to Salinas and co-anchor Jorge Ramos to learn the news of the day on Univision.
Salinas serves as co-anchor of "Noticiero Univision," the highly rated evening news broadcast on the nation's largest Spanish-language network, and as co-host of the news magazine program "Aqui y Ahora."
"I was one of the students who looked up to her when I was young, watching her on TV," said Brandon Benavides, 36, president of the National Assn. of Hispanic Journalists and the executive producer of morning show "Good Morning San Antonio," which runs on that city's ABC affiliate station.
"Growing up, there were very few Latina and Latino journalists on TV," Benavides said. "And both of my grandmothers … would watch her on 'Noticiero Univision.'"
The Los Angeles native, the daughter of working-class Mexican immigrants, began her career in 1981 at the Los Angeles station KMEX-TV Channel 34. Six years later, she became the co-anchor of the national newscast at a time when few women in TV news were taken seriously.
When CBS hired Katie Couric to be its evening news anchor amid much hype in 2006, Salinas just smiled politely. She had blazed a similar trail with much less fanfare nearly 20 years earlier. And Salinas has thrived in the role, connecting with viewers by delivering the news in a straightforward and rapid-fire style.
She has won many awards, including an Emmy and a Peabody Award. She has interviewed every U.S. president since Jimmy Carter, with the exception of Donald Trump.
It was not clear what triggered Salinas' decision, but Salinas, 62, said in a Facebook post that she wanted to start "a new chapter in my career as an independent journalist and producer."
The company, in a statement, said it would announce a new co-anchor for its flagship news program in the coming months.
Salinas and co-anchor Ramos in May appeared before advertisers to defend the network's aggressive reporting on such issues as immigration reform. Unlike their English-language journalist counterparts, Salinas and Ramos have long viewed their roles not as dispassionate observers but as advocates to provide a strong voice for Univision's audience, including its immigrant viewers who struggle to speak English.
Salinas drew controversy — and loud boos — when she discussed Univision's coverage of Trump, who was then a candidate, during a commencement address last year at Cal State Fullerton. When she spoke briefly in Spanish, some in the crowd shouted for her to get off the stage. She later attributed the dust-up to political divisions in the country.
"I am grateful for having had the privilege to inform and empower the Latino community through the work my colleagues and I do with such passion at Univision every day," Salinas said in a statement Thursday night. "I thank our audience for their trust and loyalty through the years, and want them to know that as long as I have a voice, I will always use it to speak on their behalf."
Salinas was one of the founders of NAHJ, the journalist group, and she established a scholarship in her name to support young Latinos who wanted to pursue a career in news, Benavides said.
The news division, headquartered near Miami, is part of the nation's largest Spanish-language media company, Univision Communications, which has been taking steps to boost prime-time ratings with edgier shows as the company prepares for a public offering of its shares, likely early next year.
But even as Univision's prime-time lineup struggled in the ratings, the evening newscast held its audience of about 2 million viewers each night, underscoring the influence and appeal of Salinas and Ramos.
"She has been a trailblazer," Benavides said. "She has touched a lot of people in the 36 years that she has been on Univision."
---
UPDATES:
10:35 a.m. Aug. 4: This article was updated with comments from the president of the National Assn. of Hispanic Journalists.
7:50 p.m. Aug. 3: This article was updated with more information and a statement from Salinas.
This article was first published on Aug. 3 at 6:35 p.m.
---
Inside the business of entertainment
The Wide Shot brings you news, analysis and insights on everything from streaming wars to production — and what it all means for the future.
You may occasionally receive promotional content from the Los Angeles Times.