Spanish-language Univision touts its rebound from ratings struggles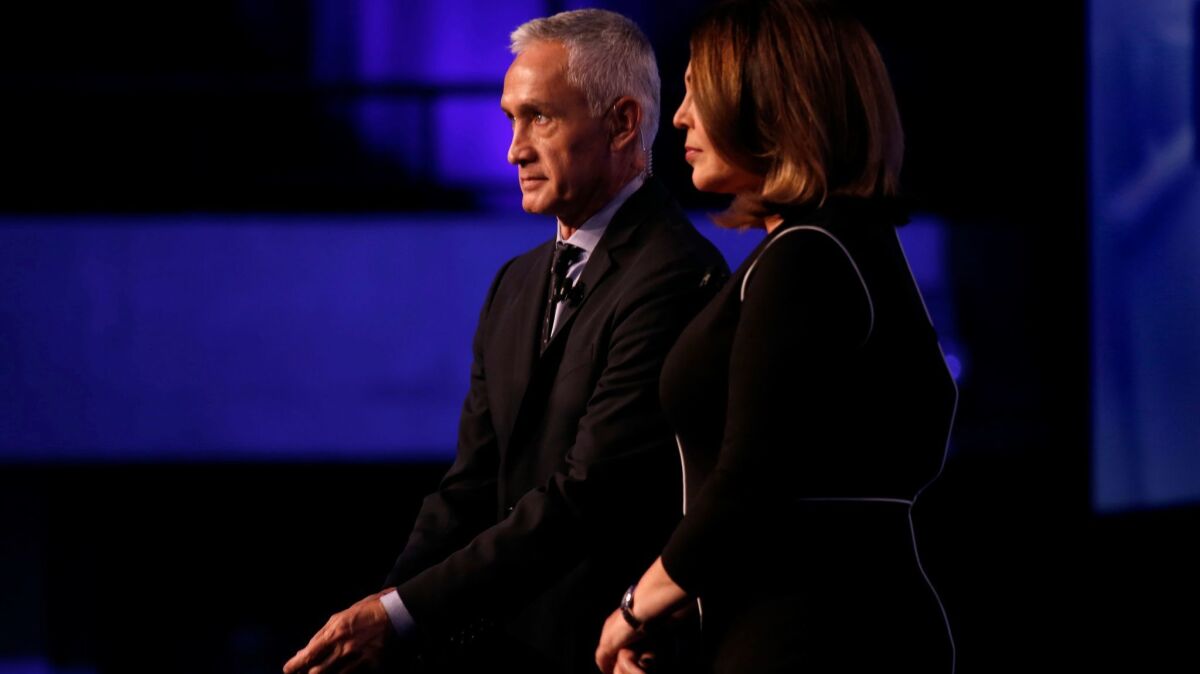 Univision Communications on Tuesday touted plans to boost prime-time ratings with a slate of edgier shows, including a second season of its "El Chapo" drug-thug drama.
The nation's leading Spanish-language media company on Tuesday pitched new shows to advertisers in New York in a bid to win a bigger slice of the estimated $18-billion television advertising pie that is up for grabs during the industry's springtime ad sales auction called the upfront.
In the past, New York-based Univision shied away from shows about drug lords, called narco-dramas, because its minority-owner and programming partner Grupo Televisa of Mexico did not want to offend the Mexican government — or glorify drug traffickers.
But with rival Telemundo cutting into Univision's lead with its own version of popular dramas, the company reversed course and began experimenting with the red-hot formula.
The second season of "El Chapo," produced by Univision in conjunction with Story House Entertainment, explores the reign of the real-life Mexican drug kingpin, Joaquin Guzman, who was extradited to the U.S. this year to face drug charges.
Univision also plans a bio series about popular singer Luis Miguel and revamped faster-pace telenovelas, including Televisa's "Mi Marido Tiene Familia" (My Husband Has a Family) and "Papá a Toda Madre" (The Mother of All Dads).
But Univision has its work cut out. Its flagship network has lost more than 40% of its prime-time audience since 2013, and its private equity owners, including Los Angeles billionaire Haim Saban, would like to begin to make their exit after 10 years with a public offering of Univision shares. Improving the performance of the flagship Univision broadcast network is high on management's list of priorities.
"We definitely had some makeup work to do," Steve Mandala, Univision's executive vice president of advertising sales, told advertisers. "And we did it."
The Univision network has improved its position against Telemundo in 2017. For the current TV season, Univision has attracted an average 1.8 million viewers in prime time compared with Telemundo's average of 1.5 million, according to Nielsen data.
But Telemundo, which is owned by NBCUniversal, remains a feisty and well-resourced competitor. The network, which produces most of its own shows, unlike Univision, this month announced the return of several narco-dramas, including another installment of its blockbuster tale of a fierce female drug trafficker on the lam, "La Reina del Sur" (Queen of the South). The show stars actress Kate del Castillo, who was the fascination of the real-life El Chapo.
Telemundo, based in the Miami-area, on Monday presented its huge slate of new programs, including a miniseries about the 1995 murder of beloved Mexican-American singer Selena Quintanilla and a Latino-themed show with Snapchat. Telemundo also said its contemporary dramas have led to a shift in viewing patterns among Spanish-speaking Latinos — away from Univision.
But Mandala pushed back, pointing to Univision's surge in the ratings.
Telemundo is banking on a lift from its coverage of the FIFA World Cup of soccer, which is the biggest sporting event among Spanish-speaking viewers. Telemundo in 2011 outbid Univision for the rights to the tournament in 2018 and 2022, and Telemundo now plans more than 700 hours of soccer coverage from Russia.
The switch of World Cup action to Telemundo after more than 30 years on Univision could help determine which network can claim the hearts of Spanish-speaking viewers.
Univision also touted its eclectic portfolio of English-language websites that it has acquired in recent years, including technology news site Gizmodo and the satirical news outlet the Onion.
Its bona fide Univision News division, based near Miami, remains immensely popular with viewers. Co-anchors Jorge Ramos and Maria Elena Salinas appeared before advertisers Tuesday, and Ramos defended the network's aggressive reporting. Some critics contend Univision correspondents cross a line in journalism because they take sides in various issues, including immigration reform.
Ramos defended his style.
"We are advocates for our community. We believe that part of our responsibility is to give voice to our audience," Ramos said. "Journalism has a purpose, to question and to challenge."
Inside the business of entertainment
The Wide Shot brings you news, analysis and insights on everything from streaming wars to production — and what it all means for the future.
You may occasionally receive promotional content from the Los Angeles Times.