Q&A: Parents of 'Midnight Rider' crew member killed by train decry 'safety bubble' mentality on sets
In the three years since camera assistant Sarah Jones was killed on the Georgia set of the movie "Midnight Rider," her parents have worked to raise awareness about safety on film and TV shoots nationwide. They have also pursued the company and individuals involved in the train accident that took their daughter's life and injured eight others.
A jury in Georgia decided Monday that the family should be awarded $11.2 million in damages and that CSX, the operator of the train, was primarily liable for the accident and should pay 35% of the total judgment.
Jones, 27, was killed when a train crashed into the crew that was filming a scene on a railroad trestle near Savannah.
In the months following the accident, Richard and Elizabeth Jones spearheaded the nonprofit group Safety for Sarah, which focuses on production safety issues in Hollywood. They spoke with The Times by phone from Savannah.
You've spent three years trying to honor your daughter's memory. What does this $11.2-million verdict against CSX mean to you?
Richard Jones: This might sound strange, but the verdict wasn't the primary objective. The primary objective was to find out the facts – what happened that day and the days leading up to the incident that resulted in the death of our daughter. And hopefully from keeping it from happening again. That is what we wanted to accomplish. We feel that we did accomplish it.
Why was it important to pursue this case?
Richard Jones: The one thing is that our daughter is gone and we can't get her back. Her life still matters and we want her life to make a difference. All this was necessary to influence or force the people and companies involved to have to take a careful look at what happened — how in the world could this have happened? — and to keep this from happening again.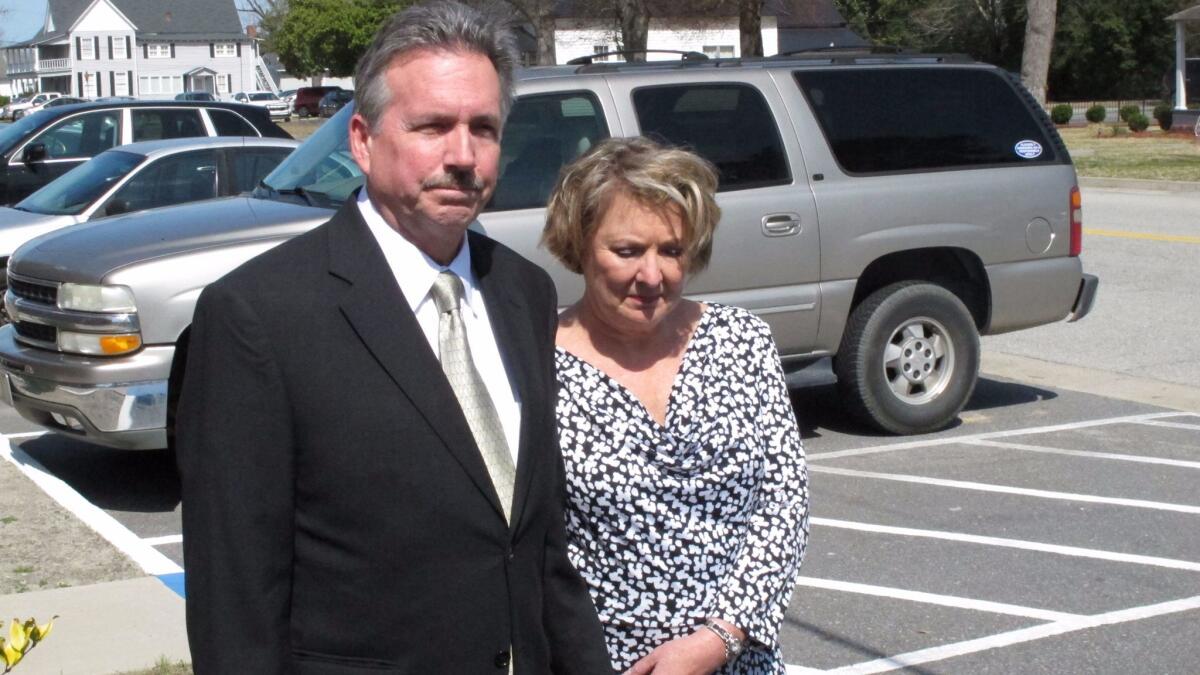 You indicated the trial revealed systemic issues that need to be corrected when it comes to safety protocols. What are some of those issues?
Richard Jones: Clearly, if the two trains that passed the crew prior to the striking train — if either one of them had notified the dispatcher that there were people present … it almost would have surely avoided the accident.…
The engineer didn't touch any brakes until several seconds after impact. Clearly, if they had started any kind of braking at any point prior to impact, it would have extended the time when crew members might have possibly gotten off the track.
You've led a campaign to raise awareness about safety issues on film sets. How much progress has been made to make sets safer? What still needs to be done?
Richard Jones: Shortly after her death, we were approached by a number of crew members asking us to be their voice. They indicated numerous safety issues and situations where they did not feel safe in. But they also didn't feel they could speak up without the possibility of being, I guess, blacklisted. They wanted us to speak up – to let Sarah be the voice.
It's hard to say how effective it's been, but we do hear a lot of feedback and even particular instances where it has made a difference. Like having proper and thorough safety meetings. They help remind everyone about what happened to Sarah. She has become the voice for many in the industry.
The recent death of a stuntman on the set of "The Walking Dead" is a reminder that this remains a pressing issue for the industry. Any thoughts on that?
Richard Jones: We're certainly very sad about what happened. Our prayers go out to family members. We can only imagine the way they feel. In some ways, we can relate…. We know there is much work to be done for more set safety.
What's next for you?
Richard Jones: After three-plus years, I think we have come to the conclusion with the legal battles. There's a little more work that needs to be done. But our efforts are pretty much complete. We feel content.
Elizabeth Jones: We're certainly ready to move ahead. As far as where we go from here, we look forward to doing what we can to change the mentality of the industry.
Richard Jones: One thing I want to explore more is the notion of the cinematic community — that somehow they have a safety bubble that exists around them. It's a dangerous belief or notion to have. That's something that we really need to focus on.
Inside the business of entertainment
The Wide Shot brings you news, analysis and insights on everything from streaming wars to production — and what it all means for the future.
You may occasionally receive promotional content from the Los Angeles Times.