Backlash grows over Sinclair Broadcast Group's 'must-run' conservative content on local TV stations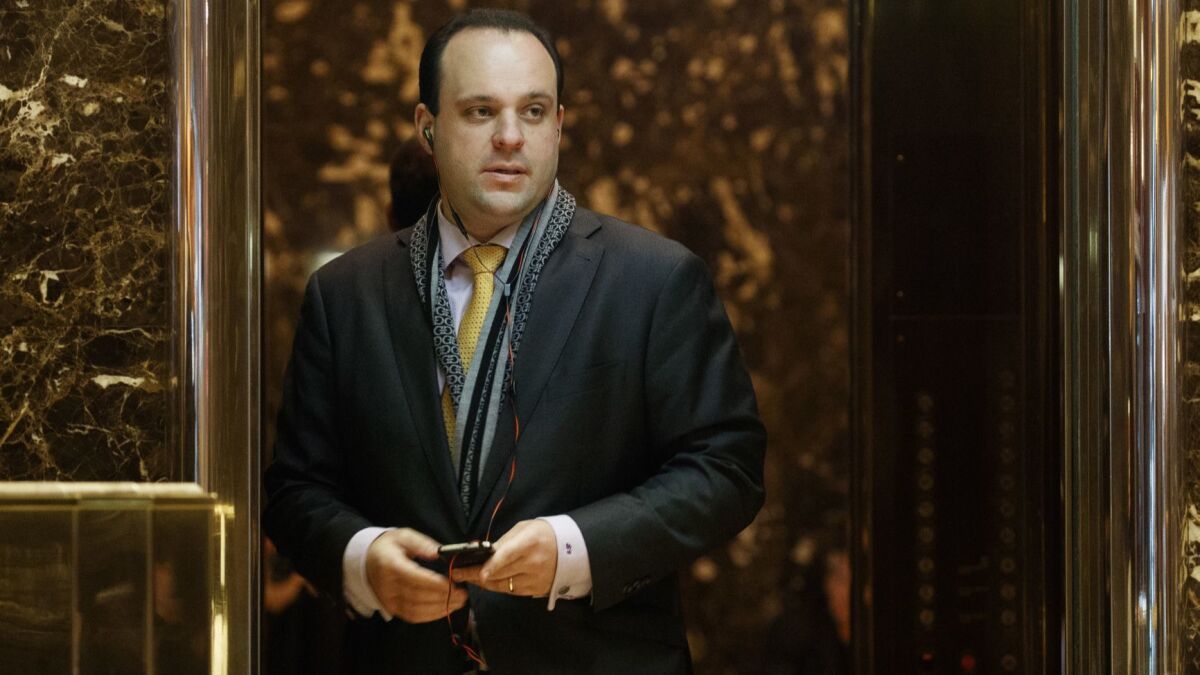 Even in the politically polarizing age of President Trump, local TV news has tried to remain a source for viewers who want to know what's going on in their backyards.
But the viral video posted Saturday showing local TV anchors at Sinclair Broadcast Group reciting the same promotional announcement about combating "fake news" sources has revealed that not all local news is local.
Stitched together by the website Deadspin, anchors at Sinclair stations across the country were seen in promos eerily reciting identical scripts with phrases often used by the president when criticizing mainstream news organizations. President Trump turbo-charged that perception on Monday when he attacked his media enemies in a tweet that praised Sinclair and condemned CNN and NBC News.
"Sinclair is far superior to CNN and even more Fake NBC, which is a total joke," Trump tweeted.
The corporately-mandated promotional announcement is causing tensions inside of many of the newsrooms of Sinclair's TV stations, where anchors and correspondents for years have long been required to present prepackaged reports that reflect the conservative views of the Maryland-based company's owners. One morning show producer on its Nebraska outlet resigned over the issue last month. Two anchors at a TV station in Eugene, Ore., refused to read the promotional statement.
The promo has also heightened fears over Sinclair's potential influence on the media landscape as its pending deal to acquire Tribune Media — which owns Los Angeles outlet KTLA-TV Channel 5 — would enable the combined company to reach three out of four homes in the country.
"Those of us who have followed the news business have been concerned for a long time about Sinclair injecting a political point of view into local news, especially coming from a central place," said Andrew Heyward, a visiting scholar at the MIT Media Lab. "Surveys show local news is not only the most watched by a plurality of Americans, but also the most trusted. This would be polluting the last clear non-polarizing news pool in America."
Conservative viewers have a preferred outlet in Fox News, which has garnered a large cable audience by mixing commentary into its coverage. But anchors on the local newscasts of Fox-owned broadcast TV stations never show their political stripes. Nor do left-leaning talking points of MSNBC show up in the newscasts on NBC's local stations, making Sinclair's action more unusual.
The backlash has caused the typically reticent company to speak out. Sinclair Vice President of News Scott Livingston disputed claims that the promo was promoting Trump's agenda, contending that the message positions Sinclair stations as a reliable information source. Livingston read a similar message that stations aired last year.
"We aren't sure of the motivation for the criticism, but find it curious that we would be attacked for asking our news people to remind their audiences that unsubstantiated stories exist on social media, which result in an ill-informed public with potentially dangerous consequences," Livingston said in a statement.
Boris Epshteyn, the former Trump White House staffer known as a combative talking head during the 2016 campaign, is now chief political analyst for Sinclair. He defended the company's practices of must-run content, including his own segments.
"My segments are very clearly marked as commentary," said Epshteyn. "The same cannot be said for cable and broadcast news hosts who inject their opinions and bias into news coverage all the time without drawing any lines between them."
Other stations are already taking advantage of the controversy. WCPO, a Scripps-Howard station that competes with Sinclair in Cincinnati, has posted an editorial on its website touting its independence.
"Our corporate parent, the E.W. Scripps Company, is just a mile away, but our company leaders make it a point to stay out of our local journalism decision-making," the statement read.
Founded by engineer Julian Sinclair Smith in 1971 with a single independent outlet in Baltimore, Sinclair has grown into a TV-station-owning giant with $2.7 billion in revenue last year.
His son David, the current chief executive, took over the business in 1988 and grew Sinclair with acquisitions of stations in small- and medium-sized markets. The operation was known for keeping programming costs as low as possible as it expanded.
Smith "has always had a right-wing libertarian thing about him," according to one Hollywood executive, who was not authorized to comment, who has been doing business with him for years. Over time, Smith has used Sinclair's news content and programming decisions as a platform to share his political views.
In 2002, Sinclair tried to launch a national service called "News Central," which gave its stations centrally produced segments from its Hunt Valley, Md., headquarters to run with their local content. The service lasted a few years, but after its shutdown, Sinclair continued to produce segments and right-leaning political commentaries that its stations were required to run.
Sinclair came close to forcing its stations to show a documentary that was highly critical of the Vietnam War record of 2004 Democratic presidential nominee John Kerry. The company backed off, presenting only a five-minute segment from the film, after a threatened advertiser boycott drove down its stock price.
The company also made headlines in 2004 for refusing to air an episode of ABC's "Nightline" that showed the names and photos of every member of the military who had died in the war in Iraq. Sinclair kept the program off its seven ABC affiliate stations, calling it an attempt to undermine the war effort.
In recent years, Sinclair has been mandating its stations run pro-Trump commentaries from Epshteyn, and taped segments created at its corporate office, such as its "Terrorism Alert Desk," which packages any news about terrorist groups with the same high level of urgency.
Critics say the recent promo takes Sinclair's practices to another level by foisting the company's political views on local anchors, many of whom who have built a trust with viewers over the years.
"This is tapping into the anchor's hard-won credibility to deliver a corporate message," said Heyward, a former CBS News president. "It's a veiled knock against mainstream news organizations that have been labeled fake news by the commander in chief of this country."
Sinclair employees are under strict orders not to discuss the matter. Employees under contract who quit over the issue face steep penalties. But some have vented on social media about the company mandate.
"I've been angry for days," Norma Holland, an anchor for Sinclair's Rochester, N.Y., station WHAM, wrote on Facebook. "The Sinclair message you saw me and my colleagues in has damaged the trust you place in us — a trust that's taken, me in particular, 22 years to build. That hurts."
A reporter whose Utah station was recently acquired by Sinclair and who spoke to the Los Angeles Times on the condition of anonymity for fear of reprisals, recounted a long meeting in which staffers aired their grievances about the promo before it was taped.
"The local managers hate these 'must-runs' as much as the reporters, but they can't say no," the reporter said. "They have taken a trusted brand and turned it into a propaganda outlet."
On Thursday journalists from Sinclair stations nationwide posted an anonymous letter on Vox to express their outrage over the promo.
"We are writing this essay because we're disturbed by the editorial direction our leadership is taking, and we want people to know that many of us at Sinclair reject what our company is doing," the essay read. "Right now, journalists need all the support they can get. This promo, despite the lip service it pays to 'journalistic integrity,' encourages the opposite."
Now the question will be whether the fallout will hinder Sinclair's expansion plans. Sinclair aims to take advantage of the new proposed government standards for broadcast TV signals. Known as the Next Generation Broadcast Platform, the proposed rules will allow stations to offer higher quality signals to viewers watching on TV and send programming and other data directly to mobile devices, enabling them to deliver targeted advertising messages.
The spotlight on Sinclair has lawmakers urging the Department of Justice and the Federal Communications Commission to scrutinize the proposed Tribune deal, which has already taken longer than expected to get approval under a friendly Trump administration. Sinclair, already the largest station group with more than 190 outlets, is paying $3.9 billion for Tribune's 42 stations, which include Chicago's WGN and New York's WPIX. Approval is still months away.
Christopher Ruddy, the chief executive of the conservative digital news service Newsmax and a friend of Trump's, said the commander in chief is a fan of Sinclair because he believes its stations have given him fair coverage. The president, Ruddy noted, would like to see a politically-right-leaning national evening newscast on broadcast TV that competes with ABC, CBS and NBC.
But Ruddy said he has told Trump that Sinclair is unlikely to provide such an offering even if the Tribune deal went through since many of the company's stations are ABC, CBS and NBC affiliates that are contractually required to run network newscasts.
He opposes the merger.
"I want stations to do local programming and not be controlled by Washington or New York or Baltimore," Ruddy said. "I think that's better for everyone, conservatives and liberals."
---
UPDATES:
3:40 p.m.: This article was updated to include an anonymous letter posted by Sinclair journalists.
This article was originally published at 2:25 p.m.
---
Inside the business of entertainment
The Wide Shot brings you news, analysis and insights on everything from streaming wars to production — and what it all means for the future.
You may occasionally receive promotional content from the Los Angeles Times.