Budweiser commercial for Super Bowl LIII gives Tejon Ranch a starring role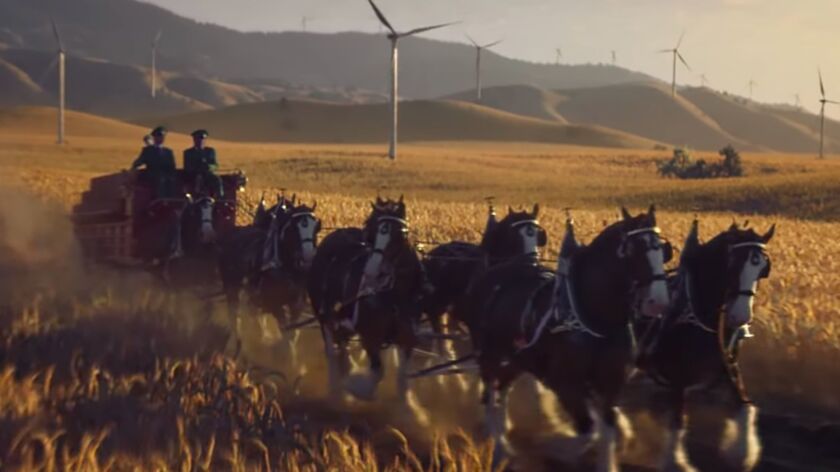 Drawn by eight Clydesdale horses, an old-fashioned Budweiser wagon winds through majestic fields of barley. The camera zooms out to reveal a modern-day wind turbine farm as Bob Dylan's "Blowin' in the Wind" plays on the soundtrack.
Budweiser's Super Bowl LIII commercial that debuted on Sunday's live CBS telecast exudes pure American heartland. In reality, the spot was filmed just an hour outside Hollywood, in California's Tejon Ranch, which straddles Los Angeles and Kern counties. The 270,000-acre site is a popular filming destination, especially for commercials and music videos, thanks to its proximity to Hollywood and its abundance of unspoiled nature that can double for locations as diverse as the African savanna and the Scottish Highlands.
The ranch has hosted eight Super Bowl commercial shoots over the years, with the recent Budweiser spot filming over a two-day period in November. Ranch officials said the commercial filmed in the "Old Headquarters" area of the property — a hilly section about 15 miles east of the 5 Freeway. Two teams of Clydesdales took turns filming the tracking shot, while two dalmatians alternated riding the beer wagon.
The wind farm seen in the final moments of the commercial were added digitally in post-production; the ranch doesn't have turbines. The amber waves of grain were also created using digital effects.
The privately owned Tejon Ranch sees as many as 24 commercial shoots annually, according to ranch representatives. Car commercials are especially common, since the ranch offers roads and scenic backdrops that are ideal for driving shots.
"It's pretty cool when we see one of them show up on a commercial. Makes us proud," said Gregory Bielli, the ranch's president and chief executive. "This is one way we can share Tejon Ranch with the world."
Kia shot a Super Bowl spot starring Melissa McCarthy at Tejon two years ago. The ranch served as the setting for scenes including one in which McCarthy is chased by a rhinoceros. Two other Kia commercials that filmed at the ranch aired during Super Bowl broadcasts in 2016 and 2013.
A 2007 Super Bowl commercial for Taco Bell used the ranch to double as Africa, with two hungry lions discussing the merits of steak grilled taquitos.
Many projects that shoot at Tejon Ranch remain under wraps because of confidentiality agreements with studios. But ranch officials said they get about five feature film shoots per year, including some pickup filming, which is secondary footage shot after the end of principal photography. Mel Gibson's "Braveheart" filmed pickup shots at the ranch, which stood in for 13th century Scotland.
More recently, the 2009 "Star Trek" movie and the "Fast and the Furious" franchise have shot scenes at the ranch. "Star Trek" filmed sequences at the Pastoria Energy Facility, a power plant on the ranch, which played a Starfleet shipyard. Past TV shows include NBC's "Fear Factor" and its teen reality series "Endurance."
Super Bowl commercials remain big business for the state's production economy. For this year's game, CBS charged an average of $5.25 million for a 30-second commercial, up from $5.2 million last year.
The majority of Super Bowl commercials have filmed in California in recent years. Fox's broadcast of Super Bowl LI in 2017 saw 58% of commercials shoot in California, according to data from the Assn. of Independent Commercial Producers.
The 2016 Super Bowl on CBS saw 62% of commercials shoot in California.
RELATED: The best, worst and funniest ads of Super Bowl 2019 and the national mood for social change »
Though shoot days for a commercial typically amount to less than a week, they employ large teams of local crew members as well as post-production specialists.
California sees nearly half of all commercial shoots in the U.S., according to Amy Lemisch, executive director of the California Film Commission.
"Commercials are important for bridging the gap for many of our crews. When you're in between seasons on a TV series or in between films, it's good bread-and-butter work for our crews and our vendors," she said.
Tejon Ranch is also a favorite location for music videos. Taylor Swift's "Wildest Dreams," released in 2015, filmed extensively at the ranch for its "Out of Africa"-themed shoot. The video stars Swift and actor Scott Eastwood as romantically involved actors working on an exotic movie location.
"What's interesting [about the ranch] is that they have a variety of terrain. It is super versatile," said J.J. Levine, a location manager who worked on the Swift video. "There are so many looks you can get out of it. You can get dirt roads. You can get paved roads. You can re-create Africa and the Wild West."
The ranch offers access to cattle, horses, and even cowboys for filming projects.
Selena Gomez's "Come & Get It" video from 2013 also used the ranch for scenes showing the pop star cavorting through an expanse of wildflowers.
Shooting is just one of Tejon Ranch's revenue streams. The ranch's primary sources of income include agriculture — it grows almonds and pistachios — as well as mineral sales and oil and gas. It also is involved with commercial real estate, such as the outlet shopping mall on the property.
Tejon Ranch was created shortly after the Civil War when Edward Beale, a naval officer who became the state's head of Indian Affairs, purchased and consolidated various lands. His son, Truxtun, sold the ranch in 1912 to a group of investors that included Harry Chandler, publisher of the Los Angeles Times.
The property became a public company in 1936, and the Times Mirror Co. sold its stake in the company in 1997.
The ranch, which employs about 150 people, recently received government approval for a residential development called Centennial that would create about 19,000 new houses. The move has been criticized by some environmentalists, but others see it as an important step to help alleviate the state's housing shortage.
The development, which doesn't have a completion date yet, isn't expected to affect the availability of land for filming projects, according to Tejon Ranch spokesman Barry Zoeller.
He said the ranch's primary filming areas, located in the Antelope Valley, are outside Centennial's boundaries.
Ranch officials are exploring the idea of developing parts of the Centennial project into film production facilities, including offices and soundstages, so that crews can have a base of operations while working on location. It would make Tejon more competitive with movie ranches in Santa Clarita, some of which offer sound stage facilities in addition to their natural settings.
"We will have a concentrated effort to reach the entertainment industry," Zoeller said. "We think the production industry is a natural fit to be located here."
---
From the Emmys to the Oscars.
Get our revamped Envelope newsletter, sent twice a week, for exclusive awards season coverage, behind-the-scenes insights and columnist Glenn Whipp's commentary.
You may occasionally receive promotional content from the Los Angeles Times.