The latest wrinkle in the writer-agent war: A state law widely seen as outdated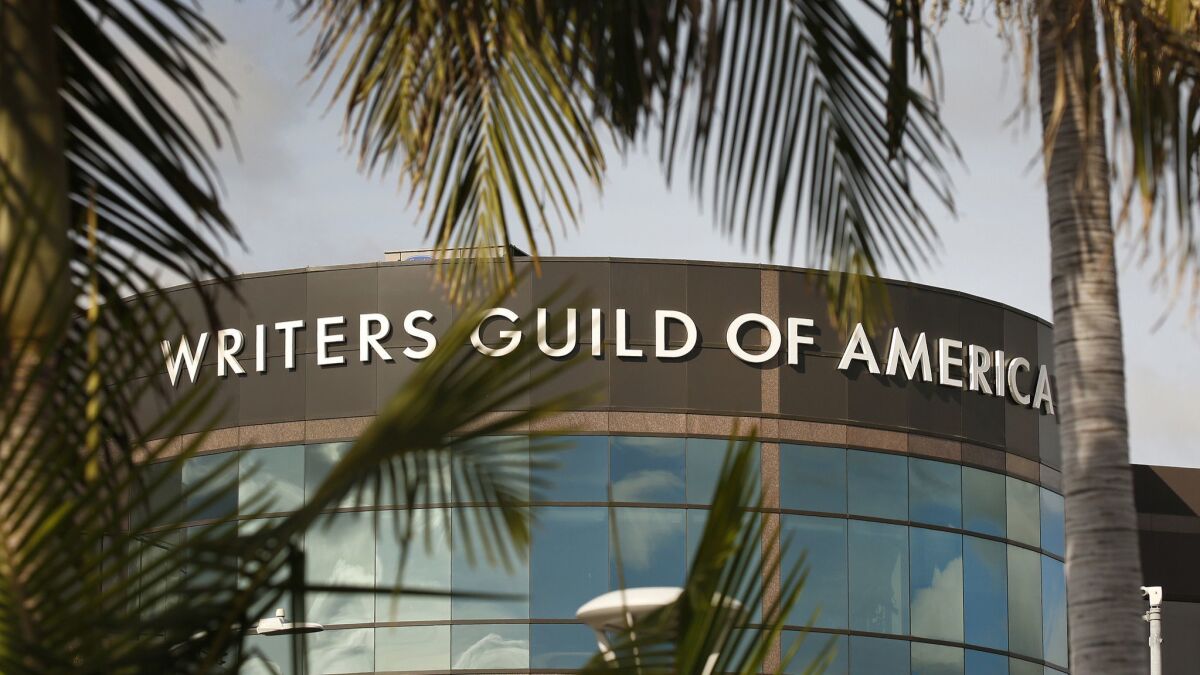 Four decades ago, California enacted rules designed to protect Hollywood talent from the worst impulses in the entertainment industry.
The law, known as the California Talent Agency Act, requires actors, writers and other creatives to use agents not only to find work but to safeguard them from greedy studios and the casting couch.
Now that law, which has been on the books since 1978 — and whose roots date back even further to the dawn of Hollywood — is the subject of intense debate as TV and movie writers wage a fierce war against their agents.
Members of the Writers Guild of America are in the process of firing their agents, the latest step in an ongoing dispute over agency practices that the guild believes have allowed agents to prosper while neglecting clients' needs. Thousands of members have cut ties with their agents after talks broke down this month, including such prominent scribes as "Lost" writer Damon Lindelof and the playwright and Oscar-nominated screenwriter Tony Kushner.
The practices in question include packaging — a long-standing custom in which agencies receive payment and sometimes profit participation when they bring talent together for a TV show or movie — and an aggressive move into the production field, making them potential employers of the talent they represent.
As writers send agents termination letters, the guild has encouraged them to rely instead on personal managers and attorneys to fill the void. But agencies have called this illegal, saying their position is mandated by the state.
"We write to advise you that the WGA's purported delegation violates both California's Talent Agency Act ('TAA') and New York's General Business Law, and to demand its immediate retraction," an attorney representing the agencies wrote.
The battle has animated vigorous discussion of the 1978 statute, which requires anyone who procures work or negotiates employment contracts for clients to be a licensed agent. Although the statute was initially intended to protect the weak, some experts say it now gives agents a captive client base, enthroning them in positions of impregnable power.
"It has been clear that the Legislature should involve itself in determining whether or not the law makes sense," said Michael Plonsker, a Los Angeles entertainment attorney who has litigated cases involving the Talent Agencies Act but isn't involved in the current dispute.
"Agents have this monopoly," said another entertainment attorney who requested anonymity because of professional relationships with the agencies. "[The law's] application has expanded beyond its original function."
Hollywood's big four agencies — Endeavor's WME, CAA, UTA and ICM Partners — have vehemently defended their position, saying in a strongly worded letter to the WGA this month that they would consider any attempt by the guild to delegate agent duties to other parties to be "unfair and unlawful competition."
"We demand the immediate retraction of the WGA's purported 'delegation,'" the letter stated.
Agencies argue that the law is a useful regulation that ensures a certain level of professionalism and trustworthiness by requiring them to register with the state. The law requires agents to post a bond of $50,000 and to undergo background checks.
"These regulations were put into place specifically to protect artists, similar to how other fields like medicine, law and real estate restrict activities to licensed professionals," said Karen Stuart, executive director of the Assn. of Talent Agents, the trade group representing the agencies in the dispute.
The WGA is defending its action, saying agencies are using the law to ensure their continued power despite growing conflicts of interest.
"We have this statute that protects artists and is now being used as a weapon to protect conflicted agents," said Anthony Segall, a partner at Rothner, Segall & Greenstone, who is representing the guild.
The guild isn't seeking to overturn the law and has even supported it in the past for the protections it affords writers. But, he added, "at some point, it needs to be modernized."
The agencies are relying not just on California law but also a New York rule that is similar in spirit but marginally less strict when it comes to agents.
"The laws were put in place to protect talent from being abused and taken advantage of," said Jason Boyarski, a New York entertainment attorney. "It's the application that feels outdated."
Since the early 20th century when Hollywood was in its infancy, California has had laws governing the relationship between artists and their agents. Early laws were drafted to shield vaudeville and circus performers from unsafe business practices.
"The laws would prohibit things like sending talent to brothels to perform while people hooked up. This is the genesis and it never really went away," said Max Sprecher, an L.A. attorney who has represented both talent and agencies in disputes.
Over the decades, the state Legislature revised the set of laws, calling it different names. The California Talent Agencies Act is the most recent iteration of the original concept. Except for some modifications in the 1980s, it has remained the same for more than 40 years.
In that period, Hollywood agencies have undergone enormous changes, transforming from relatively modest businesses that prided themselves on their personal touch to enormous institutions that wield power rivaling that of the giant studios.
The last decade especially has seen significant change with an influx of private equity investment in Endeavor, CAA and UTA. These new bosses have put pressure on agencies to diversify their business, reducing traditional client representation to just one facet of an expanding portfolio.
Writers are now arguing that the law locks them into relationships with agents who may no longer have their best interests at heart.
"Agents shouldn't have a monopoly on our access to work," said one screenwriter, who spoke on condition of anonymity because of the sensitive nature of the subject.
For many creative types, the law has become something of a formality since many personal managers already procure work for clients, even though their job is legally defined as advising and counseling clients on their careers. Managers are able to stay on the right side of California law if they work in conjunction with an agent.
The creeping gray area between agent and manager has been the subject of numerous lawsuits, most notably Marathon Entertainment vs. Blasi in 2008. The courts ruled that talent can void a work contract if it was negotiated by a manager, not an agent.
Such incidents aren't common but can arise when an artist falls out with a manager and wishes to get out of the relationship.
Experts said agencies could take their own legal action, potentially by suing the guild. But the likelihood of success remains unclear because the act has been used primarily in manager-talent disputes. In addition, the law no longer imposes penalties for violations, though agencies could request punitive damages.
The precedent has immediate implications for the WGA's dispute. In a surprising move, the guild said it will reimburse managers and attorneys for any lost income resulting from disputes that might arise.
Although some legal experts have questioned how the guild can afford to pay out, WGA leaders said they believe such incidents will be rare.
The standoff between writers and agents has thrown Hollywood into a state of chaos, coming during TV staffing season when writers' rooms do much of their hiring.
No talks between the two sides have been announced since negotiations concluded April 12 without an agreement.
WGA officials estimate that more than 8,000 of the guild's roughly 15,000 member writers have agents and are affected by the overall dispute. The guild said about 7,000 of its members have sent termination notices to their agents so far.
Inside the business of entertainment
The Wide Shot brings you news, analysis and insights on everything from streaming wars to production — and what it all means for the future.
You may occasionally receive promotional content from the Los Angeles Times.