TCA 2018: Amazon executive trio shows off its 'Mod Squad' cred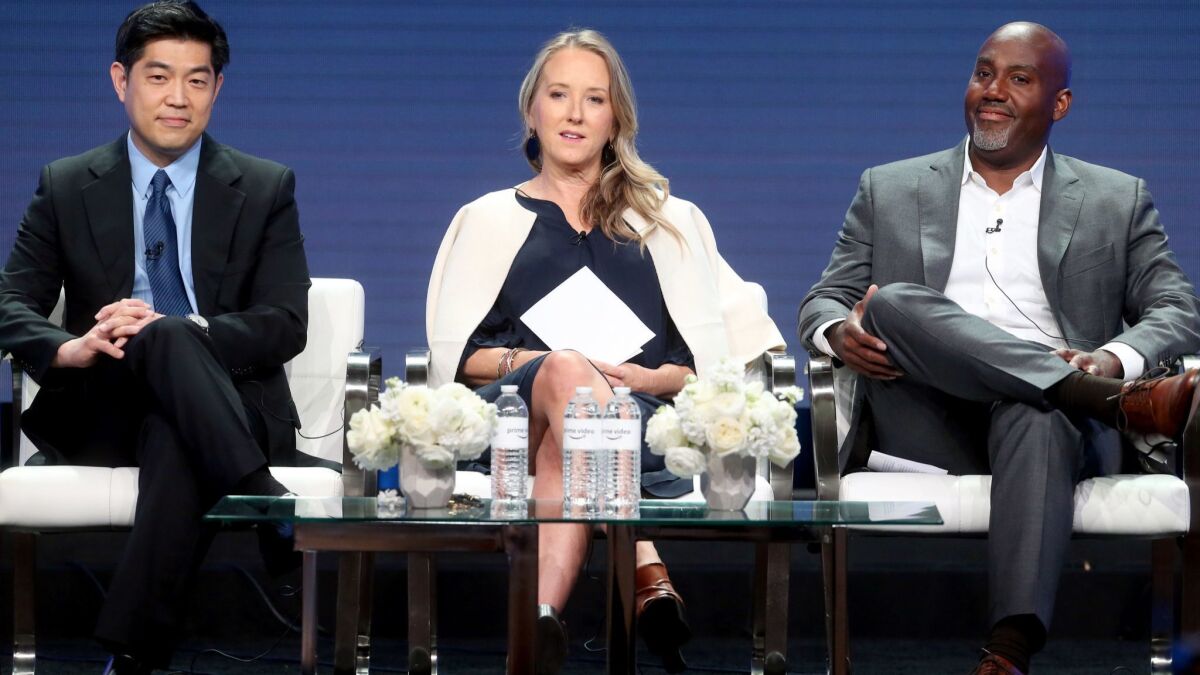 Change was apparent for Amazon Studios' programming presentation during the Television Critics Assn. conference Saturday. Jennifer Salke, the recently hired head of the Culver City studio, took the opportunity to showcase her democratic approach.
Instead of hogging the spotlight to celebrate her newfound status as the big cheese, Salke was joined by her two lieutenants — co-heads of television Albert Cheng and Vernon Sanders — on stage at the Beverly Hilton in Beverly Hills. One writer observed that the trio of executives "were 'The Mod Squad' here." It was a TV reference to the groundbreaking 1968 cop drama, which was one of the first to revolve around a diverse cast of equals.
"Hopefully, soon, 'The Mod Squad' just looks like a normal panel," Salke said, adding that the majority of her team at NBC also were diverse. "This is just how I surround myself with creative people — different types of voices and backgrounds — and the smartest people, frankly."
Amazon, the Seattle retailing giant, specifically sought a female executive to head the studio in the midst of the #MeToo movement and after negative publicity generated by the previous regime. Former studio head Roy Price abruptly departed after a producer of an Amazon Studios show accused him of sexual harassment. Amazon, according to knowledgeable people, wanted to wipe the slate clean to eliminate a "bro culture" at the studio that seemed insensitive, and in some cases, uninterested in women and people of color.
Salke, who was NBC Entertainment's president for seven years, in May hired another NBC veteran, Sanders, who is African American. Cheng, a former digital chief at Walt Disney Co.'s ABC and an Asian American, has been Amazon Studios' chief operating officer for three years and briefly served as interim head during the search for the new leader.
"We live in a world with all kinds of people," Salke said. "We have a very diverse audience and a very diverse customer base and they deserve to see different people incorporated into the different shows that they watch."
For Salke, joining Amazon has been an adjustment because the bulk of her career has been spent in traditional aspects of television. Before NBC, she developed shows at 20th Century Fox Television.
One of the main differences is that the Amazon Prime Video platform has few constraints, in contrast to a typical network schedule that consists of 22 hours a week of programming. So writers were curious about how she approached developing content for something as vast as the internet.
"The fortunate and unfortunate thing … is that there is a limited number of truly great things," Salke said. "It's a company that embraces big swings like that. I don't feel pressure to launch a certain amount of shows during a particular time period.... It is really about the quality of the individual programs."
Cheng added that Amazon's business model is different from traditional TV networks and even other streaming services.
"We are not in the business of putting out a lot of video," Cheng said. "We are about driving value for the customer. It's not necessarily about the sky is the limit — but there is no target or floor."
Salke also was asked about the controversy surrounding one of Amazon Studios' first hits, "Transparent." The star of that show, Jeffrey Tambor, was fired in February in the wake of harassment claims, allegations that Tambor denied. One writer asked what would happen with the Maura character that Tambor portrayed.
"Yes, we are ordering a Season 5 of the show. The plan hasn't been announced yet, but it exists," Salke said. She said that she would prefer that Jill Soloway, who created the show, be the one to describe the creative vision for the show post-Tambor.
"It's something we are exceptionally excited about, so it is all good," Salke said.
Inside the business of entertainment
The Wide Shot brings you news, analysis and insights on everything from streaming wars to production — and what it all means for the future.
You may occasionally receive promotional content from the Los Angeles Times.