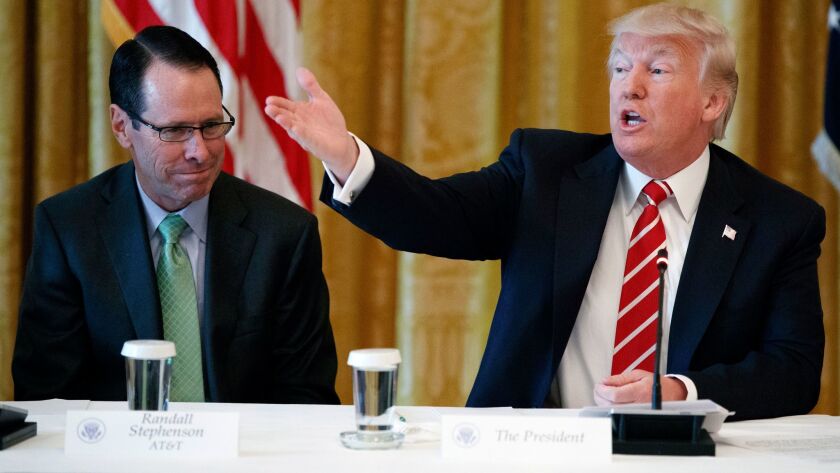 AT&T Chairman and Chief Executive Randall Stephenson found himself in uncomfortable territory after President Trump's appearance before thousands of Boy Scouts on Monday turned into a political rally with Trump boisterously bashing his rivals.
Stephenson, a former Scout who serves as president of the Boy Scouts of America, was among the officials who invited Trump to speak at the West Virginia jamboree of the Boy Scouts of America.
The controversy comes at an awkward time for Stephenson. His Dallas company is seeking the approval of Trump's Justice Department for its $85.4-billion takeover of media company Time Warner Inc.
During his speech before a crowd estimated at nearly 40,000, many of them teenage boys, Trump referred to Washington as a "cesspool" and threatened to fire one of his Cabinet secretaries if Congress failed to repeal Obamacare.
"As the Scout law says: 'A Scout is trustworthy, loyal' — we could use some more loyalty, I will tell you that," Trump told the group, according to a transcript of his remarks.
It was not unusual for a sitting president to appear before the group. The Boy Scouts of America, in a statement, said the tradition dates from 1937, when the President Franklin D. Roosevelt attended an event.
The Boy Scouts quickly sought to distance itself from Trump's remarks, saying the group was "wholly nonpartisan and does not promote any one position … political candidate or philosophy."
"This 80-year-old custom of inviting presidents to speak to Scouts is in no way an endorsement of any person, party or policies," the Scouts said. "Rather, the speaking invitation is based on our 'Duty to Country' from the Scout Oath and out of respect for the Office of the President of the United States."
Before the election, Trump said he would block an AT&T-Time Warner merger because it would give the company too much power.
AT&T would become the nation's largest media company, with such prominent properties as CNN, HBO, TBS and Hollywood's largest movie and television studio, Warner Bros., and vast reach through its Internet and cellphone service and TV distribution with its DirecTV subsidiary in El Segundo.
However, executives familiar with the Justice Department review say privately that Trump has since softened his position and they are expecting the deal to be approved as early as September.
An AT&T spokesman referred inquiries about the controversy to the Boy Scouts.
Lawmakers have expressed concerns about the mammoth merger. Some worry that Trump, who has consistently railed against CNN, calling it fake news, might try to extract more favorable news coverage from CNN as a condition of the deal. He has hinted that CNN's president, Jeff Zucker, might be fired after a merger.
U.S. Sen. Amy Klobuchar (D-Minn.) this month wrote Atty. Gen. Jeff Sessions to say that political interference in an antitrust enforcement was "unacceptable."
ALSO
Former Fox News executive files $48-million lawsuit over sexual assault scandal
Sony Pictures picks a new television team
Hulu hires a marketing officer from Google
O.J. Simpson's parole hearing is a ratings dud with 13.5 million viewers
---