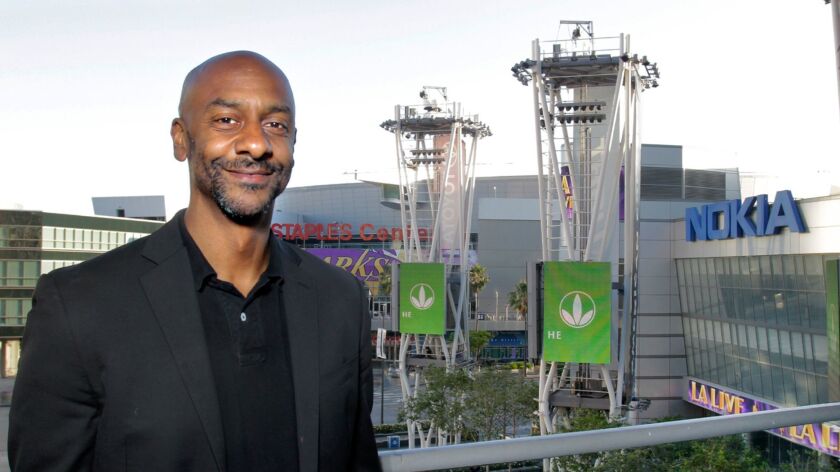 The top two programming executives at television channel BET abruptly stepped down Wednesday, adding to the management turnover at struggling media company Viacom Inc.
BET's head of programming, Stephen Hill, said he would exit Friday after 22 years at Viacom and 18 years at BET.
"It has been my honor to serve this brand," Hill said in a memo to his staff that announced his departure. "I am thrilled to have been able to be a member of the teams that … created so many spectacles, moments, memories and miracles."
BET's head of original programming, Zola Mashariki, who joined Viacom from Fox in 2015, also is departing.
Like dozens of cable television channels, BET has been struggling to maintain its cultural edge and viewers amid a proliferation of programming options.
The network's ratings are down 3% during the first three months of the year compared to the same period in 2016 but BET has avoided the steep drop in ratings experienced by sister networks MTV and Comedy Central. Those channels have seen their audiences shrink more than 20%.
But the high-level departures at BET, which has its West Coast headquarters in Hollywood, come as Viacom's new chief executive, Bob Bakish, moves swiftly to revamp key properties. Since Bakish was installed as the company's permanent CEO in December, he has shaken up the ranks, leading to the departures of several high-level executives, including the uber-head of the MTV and Comedy Central networks, the top executive MTV and the chairman of movie studio Paramount Pictures.
On Monday, Viacom named Jim Gianopulos, who ran the Fox studio for 16 years, as the new head of Paramount.
Bakish has said that he wants the various divisions of Viacom to work more closely together. He also plans to focus the company's resources around six "flagship" brands, which include BET and Paramount.
Connie Orlando, senior vice president for specials and music programming at BET, will serve as the interim programming chief during the leadership transition.
"Over the past decade Connie has worked in a variety of roles in the programming department and is a seasoned, talented and well respected industry veteran," Debra Lee, chairwoman and chief executive of BET Networks, said in a memo to the staff. "We're thrilled that she will step into this role during this period of transition."
The departures come at an awkward time, as Viacom prepares for its annual programming presentations to advertisers and as BET rolls out a highly anticipated police show, "Rebel," from "Boyz N the Hood" director John Singleton.
Viacom shares closed up 39 cents, or nearly 1%, at $45.30 on Wednesday.
---