Viacom buys Pluto TV for $340 million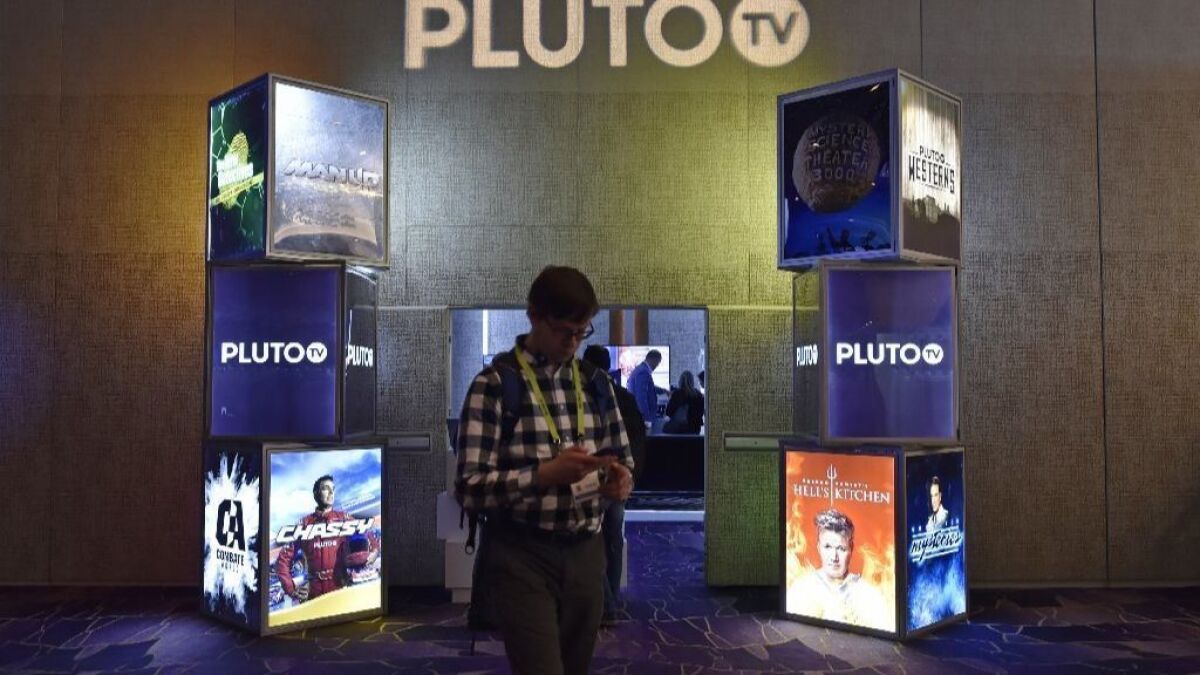 Viacom Inc., which owns such prominent cable channels as Comedy Central, MTV and Nickelodeon, is plunging into the fast-growing world of streaming.
On Tuesday, the cable television giant said it has agreed to buy streaming service Pluto TV for $340 million in cash. The move is designed to help kick-start Viacom's streaming efforts at a time when traditional media companies are scrambling to find ways to connect with younger consumers who are spending more of their time on YouTube, Netflix and Instagram.
Buying Pluto TV is a modest step. The Los Angeles-based company operates a small, ad-supported, internet-based service that offers livestreams of more than 100 television channels, including news, sports and movies. Unlike subscription video-on-demand services such as Sling TV, Hulu and Google's YouTube, which provides feeds of the major networks, Pluto TV relies heavily on older fare featured on such channels as Black Cinema, TV Western and Flicks of Fury.
"They've built a large amount of free content," Mike Vorhaus, chief executive of Vorhaus Advisors, said. "It isn't the type of service that people would spend $10 a month for. But it is something that people who have bought Rokus and Apple TVs — people who watch a ton of TV — would enjoy."
Pluto TV said it has more than 12 million monthly users, which will give Viacom a direct line to consumers and boost its advertising sales efforts. Pluto TV also will allow Viacom to reconnect with viewers who have ditched their pay-TV subscription and have lost access to Viacom's channels. Viacom owns Comedy Central, MTV, Nickelodeon, BET, VH1 and Paramount Pictures movie studio in Los Angeles.
The acquisition is part of a strategy by Viacom Chief Executive Bob Bakish to rebuild the New York media company, which has been roiled in recent years by boardroom battles, management upheaval and shifting economics.
Like other cable programmers, Viacom has been hard-hit by cable cord-cutting. The exodus of pay-TV consumers compounded long-term ratings declines at key channels. In addition, Viacom's previous management years ago sold some of the company's most valuable programming — Nickelodeon shows like "SpongeBob SquarePants" and "Dora the Explorer" — to Netflix. While such licensing deals brought a huge cash infusion, they also hastened the flight of viewers, which undermined Viacom's core business.
Whereas bigger media companies such as Walt Disney Co., AT&T's WarnerMedia and Comcast Corp.'s NBCUniversal have all announced plans to launch streaming services within the next year, Viacom has fewer resources and needed to find another way into the streaming market.
"Today marks an important step forward in Viacom's evolution," Bakish said in a statement. "As the video marketplace continues to segment, we see an opportunity to support the ecosystem in creating products at a broad range of price points, including free."
Until recently, the company, controlled by 95-year-old mogul Sumner Redstone, had been slow to venture into streaming. Viacom remains highly dependent on subscriber fees that pay-TV providers pay for the rights to distribute the company's channels.
Since Bakish took over as chief executive in late 2016, the company has made several small acquisitions, such as buying AwesomenessTV, which was once one of the fastest growing online channels for millennial consumers.
Viacom bought the popular online video convention VidCon and the marketing firm Whosay. It also scooped up dozens of online series targeting the children of MTV viewers.
Pluto TV provides Viacom with streaming technology, an established platform and the potential to dramatically expand the advertising business.
Pluto TV started in 2013 and attracted big-name investors, including Samsung Venture Investment Corp., Pritzker Group Venture Capital and Scripps Networks, which has since been acquired by Discovery. Viewers stream Pluto TV across such devices as Roku, Amazon Fire TV and Samsung smart TVs.
Tom Ryan will continue to serve as CEO of Pluto TV, which will operate as an independent subsidiary of Viacom. The sale is expected to close in the first quarter.
"Since our launch less than five years ago, and particularly over the past year, Pluto TV has enjoyed explosive growth and become the category leader in free streaming television," Ryan said in a statement. "Viacom's portfolio of global, iconic brands and IP, advanced advertising leadership and international reach will enable Pluto TV to grow even faster and become a major force in streaming TV worldwide."
Twitter: @MegJamesLAT
---
Inside the business of entertainment
The Wide Shot brings you news, analysis and insights on everything from streaming wars to production — and what it all means for the future.
You may occasionally receive promotional content from the Los Angeles Times.