Viacom revenue grows, but TV ad sales weaken and Paramount is still hemorrhaging money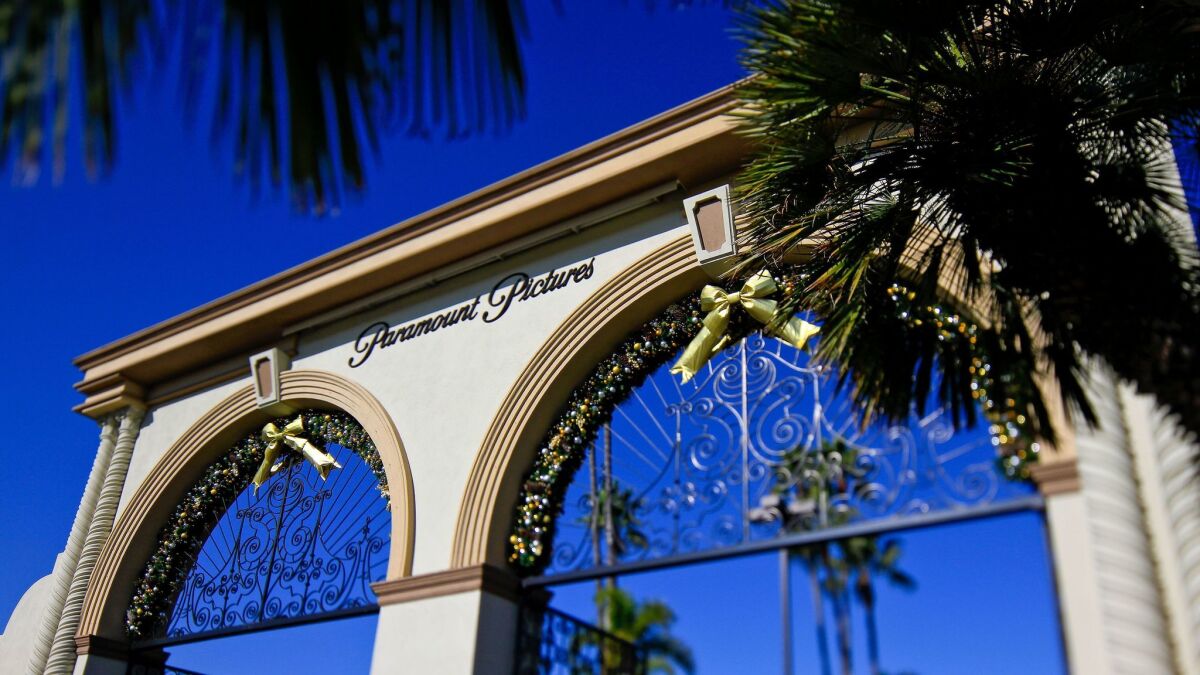 Viacom Inc.'s quarterly earnings results beat expectations, but the beleaguered media company reported domestic TV ad sales that were weaker than analysts anticipated — spooking investors.
Meanwhile, Viacom's Los Angeles-based film studio Paramount Pictures continued to hemorrhage money, but the company said Thursday that the bleeding there is slowing.
Domestic advertising spending at the company's cable TV networks declined 4% in the January-through-March quarter as channels, including MTV and Comedy Central, continue to struggle in the ratings. Analysts expected a drop of only 3%.
Viacom's stock began tumbling this week as Wall Street became spooked by signs of a weaker ad market and evidence of a dramatic rise in pay-TV customers deciding to "cut the cord," or stop subscribing.
Around 8:30 a.m. Pacific time on Thursday, the stock was at $36.70, down 6.5% for the day and 13.8% for the week.
Viacom's recently installed Chief Executive Bob Bakish has been working to fix problems left by the previous regime, so the company's fiscal second quarter included $280 million of restructuring charges. That included $156 million for severance packages to former executives, including former Paramount Chairman Brad Grey.
Viacom also wrote down $106 million in programming expenses as it veered away from scripted fare to focus on unscripted shows for its cable networks.
The restructuring charges were a significant drag on the company's earnings.
Viacom's net income declined to $121 million, or 30 cents a share, from $303 million, or 76 cents a share, in the year-earlier quarter.
But there were bright spots. On an adjusted basis, excluding the one-time items, earnings came in at 79 cents a share, easily beating the 59 cents that analysts surveyed by Thomson Reuters expected.
And there was top-line growth. Viacom posted revenue of $3.26 billion, up 8% from $3 billion in the same quarter last year.
"I'm happy to report that Viacom delivered a solid fiscal second quarter, one in which we continue to show improvement," Bakish said on a Thursday morning conference call with analysts.
Bakish became chief executive in December after nearly a year of management turmoil at that included boardroom battles and the ouster of former Chief Executive Philippe Dauman. The company is controlled by Sumner Redstone and his daughter, Shari Redstone.
Paramount continued to suffer from an anemic film slate. "XXX: The Return of Xander Cage" with Vin Diesel struggled in the U.S., with just $45 million in ticket sales, but it performed well internationally, raking in more than $300 million.
Last quarter, Paramount revenue leaped 37% to $895 million — driven by gains in television production as the studio capitalized on consumers' insatiable appetite for TV shows. The Melrose Avenue studio shaved its losses to $66 million, an improvement over the $136 million deficit in the year-earlier quarter.
Bakish shook up Paramount's management team, bringing in veteran Jim Gianopulos, the former 20th Century Fox film chief, to run the studio. Gianopulos started at Paramount in early April.
"He's really jump-started the culture there," said Viacom Chief Financial Officer Wade Davis, who was dispatched to Los Angeles late last year to help shore up Paramount's finances.
Davis noted that a $1-billion film financing deal with Chinese investors was firmly in place and said that the studio's partners, Shanghai Film Group and Huahua Media, have agreed to finance as much as 30% of the film slate. Previously the commitment was for 25% of the film slate over three years.
"We've never really had concerns about payment," Davis said.
Viacom makes its money on its television networks, including Nickelodeon. Revenue rose 1% to $2.39 billion, helped by its international networks, which remain strong. Adjusted television operating income was $747 million, down 7% from the year-earlier quarter.
Advertising revenue declined 1% to $1.1 billion. Domestic ad revenue dropped 4% because of lower ratings.
Inside the business of entertainment
The Wide Shot brings you news, analysis and insights on everything from streaming wars to production — and what it all means for the future.
You may occasionally receive promotional content from the Los Angeles Times.