Paramount's China film deal hits a snag as Viacom discloses missed payment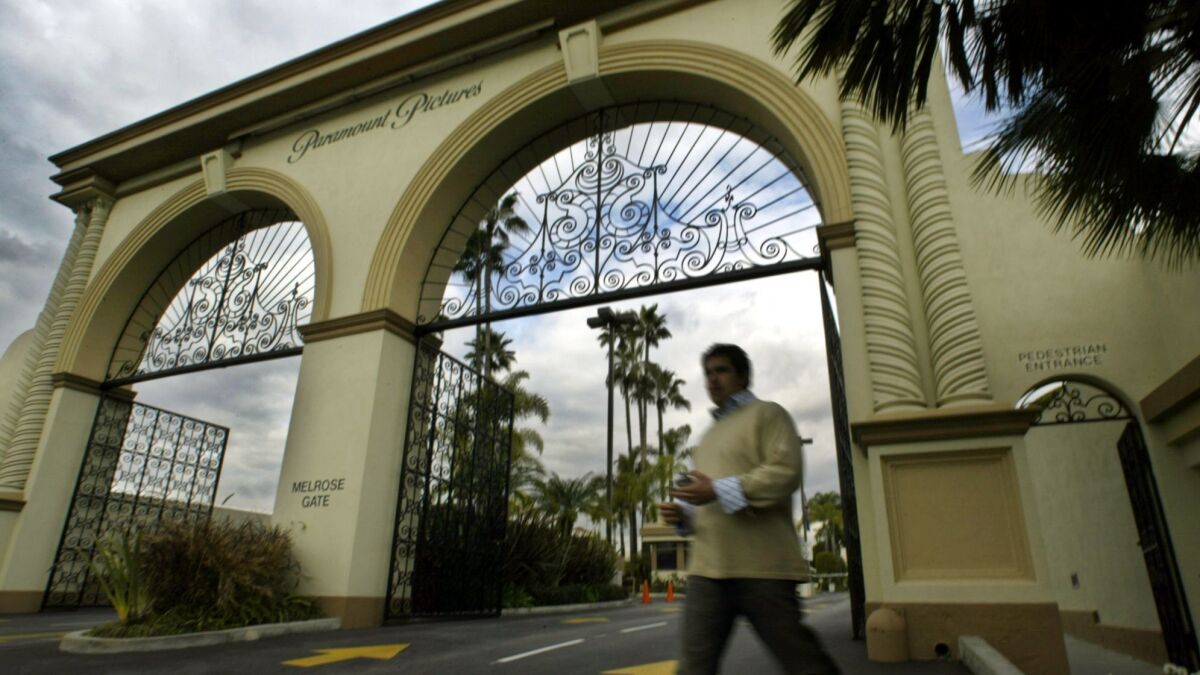 Film studio Paramount Pictures' deal to have a Chinese company invest in its movies is off to a rocky start, a worrying sign for Hollywood as it braces for a further clampdown on investment from China.
Paramount's parent company, Viacom Inc., disclosed Thursday that it did not receive its expected payment this summer from its Chinese financing partner, Huahua Media.
Viacom has been banking on an infusion of $1 billion in cash from China over three years to help it rebound from years of financial losses at the Los Angeles film studio. The June installment — the amount was not disclosed — has not been received, Viacom's Chief Financial Officer Wade Davis told analysts during an earnings call Thursday.
"Everything is fine… The deal continues to be in effect," Davis said. "We have been in business with Huahua for a long time, and they have been a fantastic partner in China."
A Huahua Media spokesman declined to comment. Viacom shares closed Thursday at $35.07, up 3%, but dropped 8 % in after-hours trading.
Paramount in January secured its $1-billion deal with Huahua and Shanghai Film Group to co-finance films during a three-year period. The studio would benefit by covering some of its losses if the films bombed, while getting a marketing boost in the world's second-largest box-office market. The pact was orchestrated by Brad Grey, Paramount's then chairman and chief executive, who was replaced by Jim Gianopulos. (Grey died in May.)
But several movies Huahua backed were major disappointments. Huahua took a big financial hit on box office failures "Baywatch" and "Ghost in the Shell," according to two people familiar with the matter who were not authorized to comment.
And while "Transformers: The Last Knight," the fifth movie in the Michael Bay series, did well globally, it fell short of expectations. "Transformers: The Last Knight" grossed $229 million in China, a steep drop from the $320 million the previous "Transformers" film grossed there.
Chinese companies have struggled recently to move capital out of the country as the government closely scrutinizes overseas investment. That has slammed the brakes on Chinese conglomerate Dalian Wanda Group's efforts to become a major Hollywood player.
The issues with the Huahua Media investment have had more to do with the performance Paramount Pictures' movies than capital controls, say people familiar with the matter. Signs of trouble with the Huahua Media deal emerged in March when Davis flew to China to reassure its co-financing partners about Paramount's movie strategy after Grey was ousted in February.
Multiple studios have secured co-financing deals with Chinese companies. Last year Sony signed an agreement with Wanda, the world's biggest cinema chain owner, but Wanda invested in only a couple of Sony movies — the disappointing "Passengers" and "Smurfs: The Lost Village." Also last year, Universal Pictures signed a deal for Perfect World Pictures to invest up to $450 million in its movies for five years.
The grosses from "Transformers: The Last Knight" enabled the film studio to post profit. The big-budget movie helped drive revenue of $847 million in the April-through-June quarter, up 36% over last year. Paramount had adjusted operating income of $9 million for the quarter, versus an operating loss of $26 million in the year-earlier period.
"The revitalization of Paramount is well underway," Viacom Chief Executive Bob Bakish told analysts.
The New York media company produced profit of $1.17 a share in the third fiscal quarter, compared to $1.05 a year ago. Net income was $680 million, up from $432 million last year. Analysts polled by Thomson Reuters expected earnings of $1.05 a share.
Revenue climbed 8% to $3.36 billion, compared with $3.11 billion in the year-earlier period. Analysts had anticipated revenue of $3.29 billion.
Paramount released two films during the quarter, "Transformers: The Last Knight" and "Baywatch."
Davis said the company took $59 million in restructuring and programming charges after a review of the studio's projects.
Viacom also has been trying to beef up its key cable TV networks, including Nickelodeon, Comedy Central, and MTV. MTV and Comedy Central have experienced severe ratings declines.
The television networks' revenue grew 2% to $2.56 billion, fueled by an increase in pay-TV affiliate fees. International networks revenue was up, but domestic advertising revenue was down 2% to $955 million for the quarter.
Television networks produced adjusted operating income of $870 million, virtually the same as a year ago.
Twitter: @MegJamesLAT
Twitter: @RFaughnder
---
Inside the business of entertainment
The Wide Shot brings you news, analysis and insights on everything from streaming wars to production — and what it all means for the future.
You may occasionally receive promotional content from the Los Angeles Times.