Want to watch movies at home sooner? Warner Bros. chief reports 'good progress' on touchy issue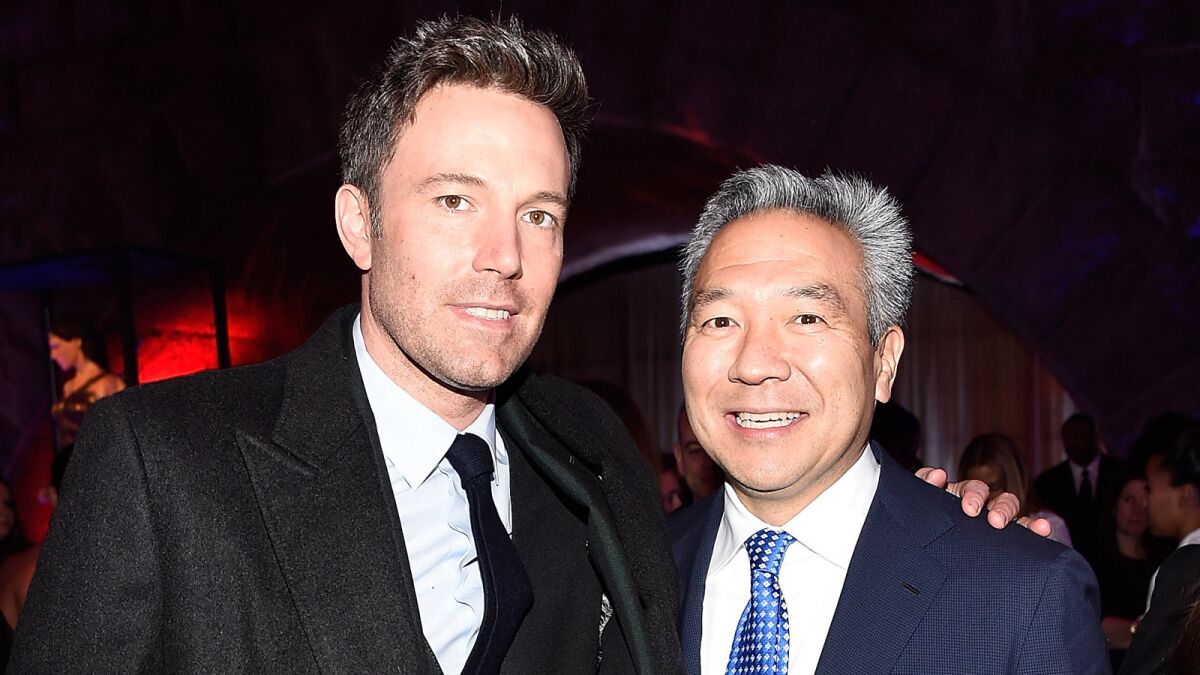 Hollywood studios have been nudging theater chains to let them release new movies on home video only weeks after the movies hit the big screen. Theaters don't like that idea, but according to the head of Warner Bros. Entertainment, they might be coming around.
"We continue to have constructive discussions with the exhibitors," Warner Bros. Entertainment Chief Executive Kevin Tsujihara told Wall Street analysts on Wednesday during parent company Time Warner Inc.'s first-quarter earnings call. "I think we are making good progress."
The traditional model for releasing movies was designed to give theaters an ample cushion to make money from a new film by delaying the home video release of movies. But with the rise of streaming services such as Netflix and a decline in traditional home video revenue, studios want the flexibility to push films into the home video market much earlier than in the past.
Now, most major movies are made available to rent about three months after the theatrical release. Studio heads have debated the idea of offering films to stream in people's homes for about $30 a pop one month to six weeks after the theatrical release.
Tsujihara did not give much insight into pricing strategies, other than saying that "the model will be a premium video-on-demand model that hopefully will be mutually beneficial to both of our businesses."
Studios have discussed concessions to theater owners, who worry that customers might stay away from the multiplex if they could watch a film at home in a few weeks. The studios have proposed a revenue sharing arrangement to incentivize the cinemas to relax the current standards.
"We really do believe that by giving consumers more flexibility and more options when the awareness of the films is the highest … will actually create, overall, a bigger pie rather than a smaller pie," Tsujihara said.
Time Warner Inc. exceeded Wall Street's expectations with first-quarter profit up 17%, thanks to higher fees for its TV networks and strong theatrical results by Warner Bros.' "The Lego Batman Movie" and "Kong: Skull Island."
The strength of Time Warner's programming illustrates why phone company AT&T Inc. is eager to buy the New York media company. AT&T is trying to win federal approval for its planned $85.4-billion takeover of Time Warner, which was announced in October.
For the January-through-March quarter, Time Warner posted revenue of $7.7 billion, up 6% from the same quarter last year. Net income increased 17% to $1.4 billion, or $1.80 a share, up from $1.2 billion, or $1.51 a share, a year earlier.
Adjusted earnings came in at $1.66 a share, up from $1.49 in the year-earlier quarter. Analysts expected adjusted earnings of $1.45 a share on revenue of $7.67 billion, according to FactSet.
"As has been the case over the last few quarters, the performance of Warner Bros. was the biggest driver of the outperformance," Barclays Capital media analyst Kannan Venkateshwar wrote in a note.
At Warner Bros., the company's largest unit, revenue increased 8% to $3.4 billion, primarily because of higher TV and theatrical sales. "Kong: Skull Island" raked in more than $560 million in ticket sales, and "The Lego Batman Movie," released in February, has made more than $308 million worldwide.
The studio bucked a trend of declining home video revenue because people snapped up copies of "Fantastic Beasts and Where to Find Them," the latest movie set in the Harry Potter universe.
Warner Bros.' operating income rose to $488 million, up 15% from the year-earlier period.
Ad revenue was down 2% in the quarter at Time Warner's Turner networks, largely because of lower ratings for its programming. Turner includes cable channels TBS, TNT, Cartoon Network and CNN, which posted its most watched first quarter since 2003 because of heightened interest in President Trump. Turner's ratings for the NCAA basketball tournament were up 16% compared with last year. The weakening advertising market has been a source of worry on Wall Street.
Turner's revenue rose 6% to $3.1 billion due to higher subscription fee revenue. But operating income declined 6% to $1.2 billion because of higher programming costs, particularly sports.
At HBO, revenue increased 4% to $1.6 billion because of higher subscription fees. Operating income jumped 22% to $583 million.
Shares of Time Warner closed down 28 cents, or .28%, to $99.05.
ALSO
They avoided a strike, but negotiations between writers and studios were a true Hollywood thriller
Imax embeds itself with Hollywood directors to make sure you see 'Dunkirk' and 'Transformers' on its screens
Fox News Co-President Bill Shine resigns amid criticism of his handling of sexual harassment claims
---
UPDATES:
2:15 p.m.: This article has been updated with additional details on the earnings.
This article was originally published at 8:55 a.m.
Inside the business of entertainment
The Wide Shot brings you news, analysis and insights on everything from streaming wars to production — and what it all means for the future.
You may occasionally receive promotional content from the Los Angeles Times.