Harvey Weinstein ex-assistant sues, describing unwanted touching, naked dictation and used condoms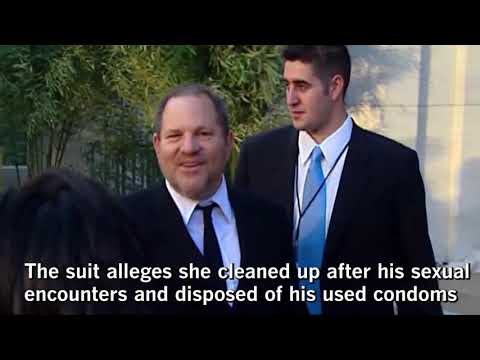 Sandeep Rehal contends she was subjected to daily touching and lewd comments about her appearance.
Harvey Weinstein's former personal assistant sued him and his former company Thursday, alleging "endless offensive, degrading, and sexually harassing" acts with almost daily touching at the hands of her boss.
For two years, Sandeep Rehal alleges, she was forced to work in a hostile work environment catering to Harvey Weinstein's sexual appetites and activities and attending to his family members, according to a federal lawsuit filed Thursday in New York.
The suit alleges she served his every need, including supplying him with clean underwear, preparing for and cleaning up after his sexual encounters and often removing semen from the couch in his office and disposing of his used condoms.
"I am Harvey Weinstein and you are at Weinstein University. I decide whether you graduate," Weinstein told Rehal, according to the lawsuit.
The action is the latest in a barrage of litigation against the disgraced mogul and depicts a toxic work environment for female employees who worked at the once-highflying studio famous for such movies as "Shakespeare in Love," "Good Will Hunting" and "The King's Speech."
Rehal contends she was subjected to daily touching and lewd comments about her appearance and that Weinstein would on a daily basis call her various names for the female anatomy as he ranted to her at his New York office.
"To say Weinstein's behavior was harmful, tawdry, demeaning and offensive is an understatement," said Genie Harrison, her attorney.
More than 80 women — many of them prominent actresses — have publicly accused Weinstein of sexual misdeeds spanning four decades.
"Mr. Weinstein categorically denies these claims and his lawyers will respond in the appropriate legal forum proving they are untrue," a spokeswoman said.
With more than a dozen criminal investigations into Weinstein underway in Los Angeles, London and New York, the fallen producer is facing mounting litigation.
Since a New York Times article Oct. 5 first revealed allegations against Weinstein, accusations and condemnations have engulfed him. The mogul was fired from the company he co-founded and expelled from the Academy of Motion Picture Arts and Sciences and other groups.
Weinstein has through his attorneys categorically denied committing any crimes.
"Mr. Weinstein has never at any time committed an act of sexual assault, and it is wrong and irresponsible to conflate claims of impolitic behavior or consensual sexual contact later regretted with an untrue claim of criminal conduct. There is a wide canyon between mere allegation and truth, and we are confident that any sober calculation of the facts will prove no legal wrongdoing occurred," attorneys Blair Berk and Ben Brafman said in a statement. "Nonetheless, to those offended by Mr. Weinstein's behavior, he remains deeply apologetic."
In her lawsuit, Rehal alleges that she was required to stock an erectile dysfunction drug and carry a shot of medication for his sexual encounters. At one point, the suit alleges, Weinstein paid her a $500 bonus for procuring the shots.
Rehal alleges that during daily rides in his Lexus SUV, Weinstein would touch her on the thigh and that he would rub his belly against her. He also would dictate to her while naked, she said. When she began to dress in slacks and avoid skirts, Weinstein allegedly questioned her clothing, at one point asking her: "You used to dress so cute and now what is going on?"
Her attorney said Rehal quit in February 2015 to escape the "toxic work environment." Fearing retaliation and damage to her career, she did not go public with her allegations until dozens of other women came forward with allegations of sex assault, threatening behavior and battery.
Harrison said the lawsuit shows that his closest business associates were not only aware of, but also enabled, his savage behavior toward women in the workplace.
"Weinstein's abuse of power has been well documented, allowing Sandeep finally to reveal the details of her employment, which before now might have seemed too incredibly horrifying to believe," Harrison said.
Twitter: @lacrimes
---
UPDATES:
7:10 p.m.: This article was updated with a comment from a spokeswoman for Harvey Weinstein.
This article was first published at 2 p.m.
Inside the business of entertainment
The Wide Shot brings you news, analysis and insights on everything from streaming wars to production — and what it all means for the future.
You may occasionally receive promotional content from the Los Angeles Times.