Weinstein Co. has filed for bankruptcy and will pursue a sale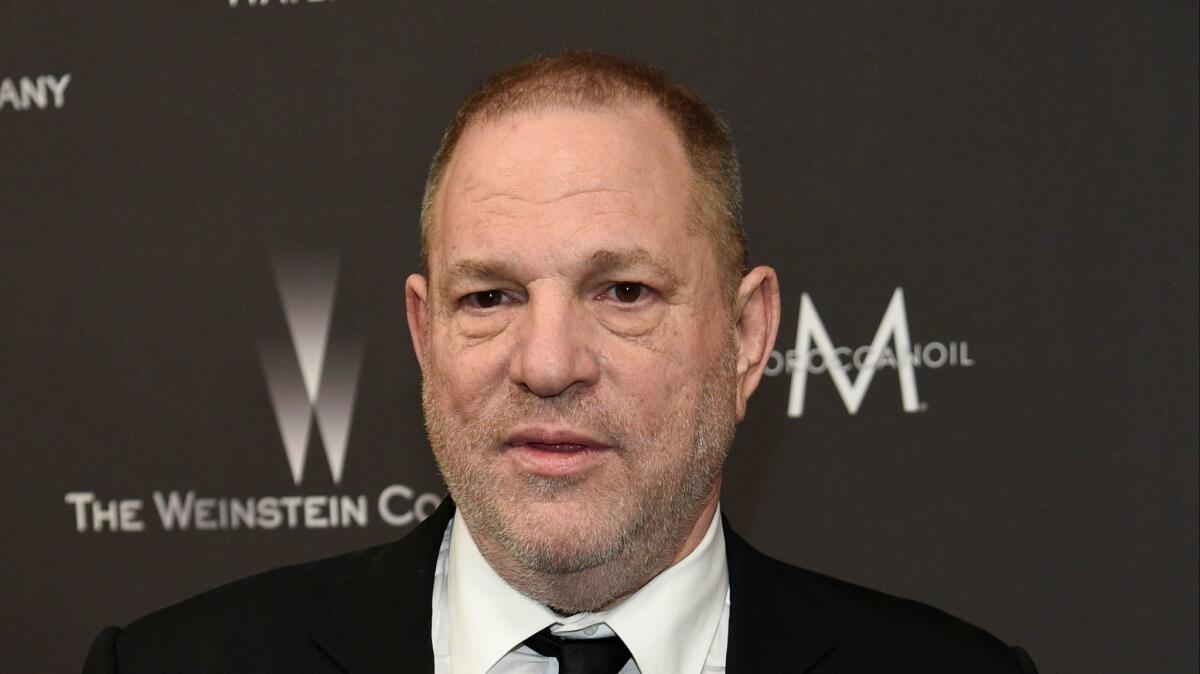 Harvey Weinstein's embattled movie studio — once a premier maker of award-winning films — has filed for Chapter 11 bankruptcy more than five months after sexual misconduct allegations against its co-founder sent the company spiraling out of control, the company's board said late Monday night.
The filing, submitted in Wilmington, Del., is the culmination of a long struggle to spare the formerly highflying studio from Bankruptcy Court. The move to seek protection from creditors owed hundreds of millions of dollars comes after the company tried and failed to sell assets to a group of investors led by billionaire Ron Burkle and former Obama administration official Maria Contreras-Sweet.
See the list of creditors in the Weinstein Co. bankruptcy filing »
The long-awaited bankruptcy, the biggest to hit a Hollywood studio in nearly three years, marks a stunning downfall for New York-based Weinstein Co., which Harvey and his brother, Bob, founded in 2005 as the successor to their previous studio, Miramax.
"While we had hoped to reach a sale out of court, the board is pleased to have a plan for maximizing the value of its assets, preserving as many jobs as possible and pursuing justice for any victims," Chairman Bob Weinstein said in a statement.
Once an independent film powerhouse, the studio released critically acclaimed dramas — winning best picture Oscars for "The Artist" and "The King's Speech" — and commercial successes such as "Django Unchained." But the Weinsteins struggled financially as debts and flops piled up even before Harvey Weinstein was accused of sexual harassment and assault by dozens of women, leading to lawsuits against him and the company. Some of the claims are being investigated by police in Los Angeles, New York and London.
The company has liabilities of at least $500 million, according to a person familiar with the studio's finances.
Dallas-based private equity firm Lantern Capital has made a "stalking horse" bid for Weinstein Co.'s assets, which sets a floor for a bankruptcy auction. Lantern previously was a minority partner backing Burkle and Contreras-Sweet's bid to acquire the studio. Movie studio Lionsgate, known for "The Hunger Games" and "Wonder," was also in talks to make the starting bid.
Lantern's bid amount was not immediately disclosed, but people close to the process said the offer was worth more than $400 million, including debt. Weinstein Co.'s board said it selected Lantern because of its commitment "to maintain the assets and employees as a going concern."
"In the last several months, Lantern has evaluated the company and is proud to provide a solution to the board," Lantern co-founders Andy Mitchell and Milos Brajovic said in a statement. The founders promised to improve the performance of the company and "promote a diverse and transparent environment."
During the auction, studios and production companies such as Metro-Goldwyn-Mayer, Killer Content and Miramax's Qatari parent company BeIN Media are expected to bid for assets under a process overseen by the Bankruptcy Court. Especially coveted is the studio's 277-film library, unreleased films and a TV production unit known for the "Project Runway" reality series. Lionsgate and Burkle are likely to make their own plays.
Weinstein Co.'s downfall is the most significant Hollywood studio bankruptcy since Ryan Kavanaugh's Relativity Media filed in July 2015.
It was the outcome that Weinstein Co. had desperately tried to avert. The company on March 1 announced a last-minute deal to sell to Burkle and Contreras-Sweet in a transaction worth $500 million, including $225 million in debt. But the deal, which promised a fresh start for the company and female leadership, fell apart within days, making bankruptcy all but inevitable.
Both sides pointed fingers. Contreras-Sweet's camp said they learned of more than $50 million in undisclosed liabilities that made the deal untenable. Weinstein Co.'s board, which includes Bob Weinstein, fired back, saying the buyers were never serious bidders.
The collapse was a climactic end to months of on-again, off-again negotiations. They appeared to be close to a deal in February, but that was derailed by New York Atty. Gen. Eric Schneiderman, who criticized the plan, saying any sale would have to adequately compensate Weinstein's accusers, protect future employees, and not enrich people who he said enabled Weinstein's abuses.
To satisfy the demands, Weinstein Co. fired Chief Operating Officer David Glasser, whom Schneiderman sharply criticized for his handling of complaints against Weinstein. The two sides agreed to set up a $90-million fund to help compensate Weinstein's accusers. But the deal ultimately fell apart over financial differences.
Now that the company has declared bankruptcy, sexual harassment lawsuits pending against the company will be temporarily paused and outsiders will be able to buy assets that are free of liabilities, analysts said. Layoffs are sure to hit Weinstein Co.'s staff.
Weinstein Co. said in a statement that it has released employees from nondisclosure agreements that it said Weinstein used to silence accusers. Schneiderman's office, which is still investigating Weinstein Co., had been pushing the company to release employees from such agreements as part of its bankruptcy filing.
"The Weinstein Company's agreement to release victims of and witnesses to sexual misconduct from non-disclosure agreements ... will finally enable voices that have for too long been muzzled to be heard," Schneiderman said in a statement.
The first people to be paid in a bankruptcy are Weinstein Co.'s secured creditors, including Union Bank. Weinstein's accusers will join other unsecured creditors at the back of the line, Jack Tracy, a legal analyst for bankruptcy information service Debtwire, said before the filing.
"All of those secured creditors get first dibs," Tracy said. "After that, any other creditor will be at the bottom of the totem pole."
Tracy said potential buyers may want to set up their own victims' fund in order to avoid public blowback. It is unclear how long the bankruptcy process may take. The closely watched Relativity Media spent nearly nine months in bankruptcy protection before emerging in April 2016 as a shell of its former self. Weinstein Co. will want the process to go as quickly as possible, Tracy said.
"The longer this takes, the more the pressure's going to build from their creditors, the more lawsuits will be filed," Tracy said.
Twitter: @rfaughnder
---
UPDATES:
7:55 p.m.: This article has been updated with quotes from Lantern Capital's co-founders and New York Atty. Gen. Eric Schneiderman.
This article was originally published at 7:05 p.m.
Inside the business of entertainment
The Wide Shot brings you news, analysis and insights on everything from streaming wars to production — and what it all means for the future.
You may occasionally receive promotional content from the Los Angeles Times.