Weinstein Co. projects' fates: What's canceled and what's on track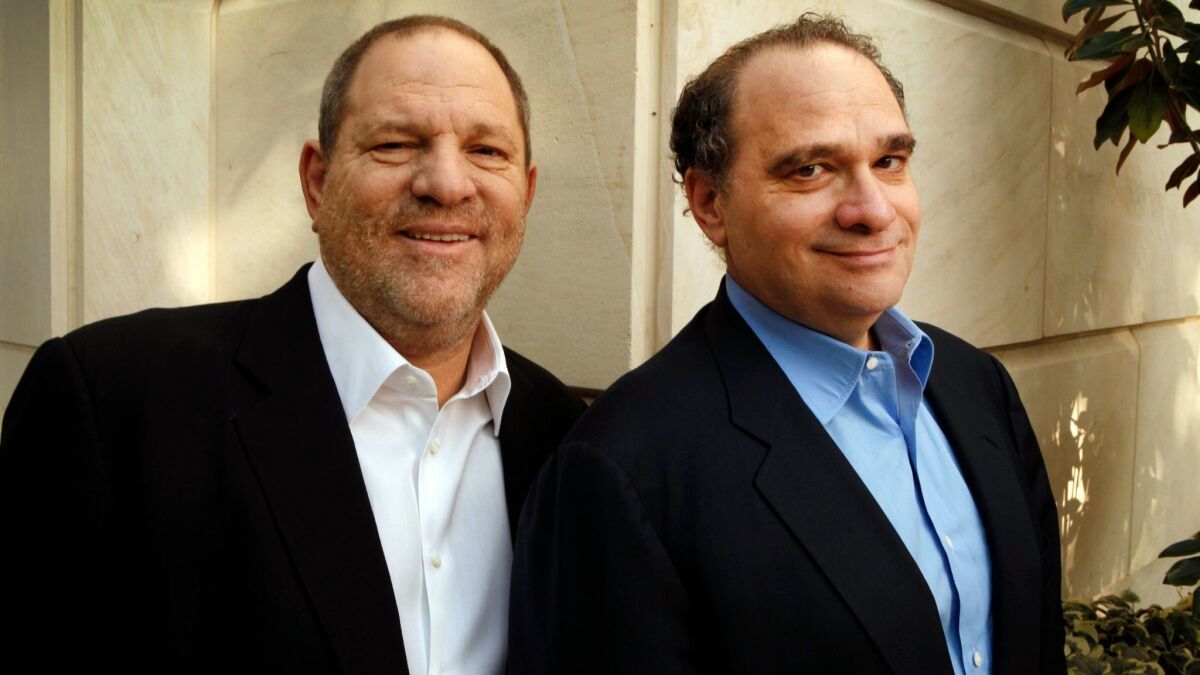 Harvey and Bob Weinstein's studio, Weinstein Co., had dozens of projects in the works when sexual harassment and rape allegations against Harvey Weinstein hit the news this month.
Some of those projects are now canceled. Others are still moving forward. Here's a breakdown, based on information from IMDB, published reports and other announcements.
Canceled
Several projects in the works have been scrapped.
Movies
"Forgive Me, Leonard Peacock": Channing Tatum was set to make his directorial debut with the film adaptation of Matthew Quick's YA novel about a sexually abused teenager. Tatum announced Oct. 18 that after the Weinstein allegations, he would not be moving forward with the project.
Television
Untitled David O. Russell project: The director of "American Hustle" and "Joy" was set to do a drama series for Amazon. Julianne Moore, Robert De Niro and Michael Shannon had all been attached. Amazon announced Oct. 13 that it was dropping the show.
Untitled Elvis biopic: A multi-part TV biopic about the life of Elvis Presley had been in pre-production under a deal with Apple Inc. as part of a rumored anthology series about the lives of famous musicians. Apple canned it Oct. 9.
Publishing
Weinstein Books: Hachette Book Group pulled the plug on the publishing imprint Oct. 12.
In release or near release
In some cases, Weinstein Co. simply acquired a project and is serving as a distributor; in others, it was more closely involved and at least one Weinstein brother has served as an executive director.
Movies
"The Current War": Starring Benedict Cumberbatch, Nicholas Hoult, Michael Shannon and Katherine Waterston with Harvey Weinstein as an executive producer, the historical drama was set to be released Oct. 24. Cumberbatch, who plays Thomas Edison, released a statement saying he was "utterly disgusted" by the Harvey Weinstein revelations. Weinstein Co. has pushed it back to 2018.
"The Upside": The comedic drama starring Bryan Cranston, Kevin Hart and Nicole Kidman premiered at the Toronto Film Festival in September and is scheduled to be released March 9. Harvey Weinstein is an executive producer.
"Polaroid": Lars Klevberg's horror movie about a spooky instant camera is set to be released Nov. 22. Harvey and Bob Weinstein are executive producers.
"Paddington 2": The children's movie is set to be released in the U.S. on Jan. 12, distributed by Weinstein Co.
"The War With Grandpa": Robert De Niro stars in a family comedy about a young boy who doesn't want to share a room with his grandfather. Christopher Walken, Uma Thurman and Jane Seymour also star. It's set to be released Feb. 23, distributed by Weinstein Co.
"Mary Magdalene": Rooney Mara stars as the biblical title character, with Joaquin Phoenix playing Jesus and Chiwetel Ejiofor as Peter. It's set to be released March 30, with Weinstein Co. distributing.
"Hotel Mumbai": Jason Isaacs, Armie Hammer and Dev Patel star in this drama about the Mumbai terror attacks in 2008. It's set to be released sometime in 2018, with Weinstein Co. distributing.
Television
"Project Runway": Season 16 of "Runway" is currently airing on Lifetime. Harvey Weinstein's name has been scrubbed from the credits on this and other Weinstein Co. shows. His estranged wife, Georgina Chapman, is a judge on the spinoff "Project Runway All Stars," which in 2016 was renewed for two more seasons.
"Waco": Taylor Kitsch, Melissa Benoist and Michael Shannon star in the miniseries about the 1993 showdown between cult leader David Koresh and the FBI at the Branch Davidian compound in Waco, Texas. The show will debut in January on the Paramount Network, which is replacing the Spike TV channel.
"Spy Kids: Mission Critical": The Netflix original series based on the "Spy Kids" movies is set to be released in 2018.
In production
Movies
"Fahrenheit 11/9": Michael Moore's quasi-sequel to "Fahrenheit 9/11" will cover the election of Donald Trump as president.
Television
"Scream: The TV Series": MTV's slasher anthology show has aired two seasons, with a third season slated to air in 2018. Harvey Weinstein was an executive producer.
"Six": The History channel show about Navy SEAL Team 6 aired Season 1 this year. Season 2 has begun filming.
"The Romanoffs": The Amazon Studios series from "Mad Men" creator Matthew Weiner has a cast that includes Christina Hendricks, John Slattery, Janet Montgomery and Aaron Eckhart. Amazon announced it will move forward on the show without the involvement of Weinstein Co.
"Yellowstone": Kevin Costner, Kelsey Asbille and Wes Bentley star in a drama series about Montana ranchers that is set to air on the Paramount Network.
In pre-production
Movies
"Artemis Fowl": Weinstein Co. acquired the movie rights to the popular children's book series in 2001. In 2015, Kenneth Branagh signed on to develop and direct the adaptation. Judi Dench is rumored to be attached to star. In September, it was announced to be in pre-production and got an official release date: Aug. 9, 2019. After the scandal broke, Harvey Weinstein was removed as a producer.
Television
"Guantanamo": Oliver Stone's Showtime series about prisoners at Guantanamo Bay was put into pre-production in August. On Oct. 12, Stone said he would "recuse" himself from the show as long as Weinstein Co. is involved.
"Les Miserables": Weinstein Co. reportedly will no longer be involved in producing or distributing this BBC-produced miniseries adaptation of Victor Hugo's novel that was announced in 2016.
Status unknown
Some projects have been halted or otherwise called into question since the Harvey Weinstein allegations. Others were announced long ago and little is known about their status.
Movies
"In The Heights": Weinstein Co. acquired the film rights to Lin-Manuel Miranda's pre-"Hamilton" musical in 2016. Quiara Alegría Hudes, who wrote the book for the musical, said Oct. 12 that she could not do business with Weinstein Co. and asked the company to relinquish the rights. Miranda tweeted that Hudes "speaks for us both."
Untitled Manson Family project: Earlier this year, Weinstein Co. announced a movie project about the Manson Family murders to be written and directed by Quentin Tarantino. Margot Robbie was rumored to be attached. Harvey Weinstein was set to executive produce.
"Kill Bill Vol. 3": The long-awaited sequel to the "Kill Bill" movies was announced in 2009. In 2015, director Tarantino said it was still a possibility.
"Prosecuting Evil: The Extraordinary World of Ben Ferencz": Days before the Harvey Weinstein scandal broke, Weinstein Co. announced it had acquired the rights to a documentary about the life of the prosecutor at the Nuremberg trials, to be directed by Barry Avrich. Avrich also directed "Unauthorized: The Harvey Weinstein Project," which the New York Times called a "virtual tribute" to Harvey Weinstein.
"Perfect Strangers": Weinstein Co. announced in February 2017 that it would remake the Italian comedy.
Untitled Furby project: In 2016, Bob Weinstein announced plans for a live-action/CGI movie based on the popular toy.
Untitled Edgardo Mortara film: Robert de Niro was rumored to be in the running to play Pope Pius IX in this film inspired by the kidnapping of Edgardo Mortara.
"The Six Billion Dollar Man": Mark Wahlberg was attached to star in this quasi-remake, which in 2015 got a 2017 release date.
"The Senator's Wife": Announced in 2014, Meryl Streep was attached to star in a movie that Harvey Weinstein said would confront the NRA and the gun lobby.
Untitled Tanny Le Clercq project: A movie, announced in 2014, about the life of a prima ballerina whose career ended when she caught polio.
"Every Exquisite Thing": As of 2014, "St. Vincent" writer-director Ted Melfi was attached to adapt and direct a movie version of the novel by "Silver Linings Playbook" author Matthew Quick.
"A Speck in the Sea": Weinstein Co. optioned the rights to the lost-at-sea account in 2014.
"Pippin": Weinstein Co. announced it was developing an adaptation of the musical in 2013.
"The Man Who Made It Snow": Weinstein Co. bought the rights to make a biopic about Max Mermelstein — an American drug smuggler who for years dealt with high-level members of Colombia's biggest cocaine cartel — in 2013. Antoine Fuqua and Jake Gyllenhaal were set to produce, with Gyllenhaal also starring.
"Rounders 2": In 2013, Weinstein Co. reunited with Miramax and announced it would make a sequel to 1998's "Rounders." Harvey Weinstein said he'd spoken to Matt Damon about it and wanted Robert De Niro to play the villain.
"Shakespeare in Love 2": While announcing "Rounders 2," Harvey Weinstein also said making a sequel to "Shakespeare in Love" was a priority.
"Veronica's Room": Weinstein Co. optioned Ira Levin's 1973 play in 2013.
"The Special Program": Weinstein Co. optioned the script, which appeared on 2013's "Black List" of the best unproduced screenplays.
"The Ends of the Earth": As of 2013, director David O. Russell was attached to the project, with Jennifer Lawrence to star in it.
"Ink and Bone": Bob Weinstein's Dimension Films bought a spec script in 2013 for a horror movie about a reclusive writer held captive by his own creations.
"How Starbucks Saved My Life": Weinstein Co. optioned the memoir in 2012.
"Come Drink With Me": Weinstein Co. announced in 2013 that it would remake the 1966 martial arts classic.
"Short Circuit": As of 2012, Matt Lieberman was attached to write and Tim Hill to direct a remake of the 1986 movie.
"The Man From Nowhere": Bob Weinstein's Dimension Films announced in 2012 that it had acquired the rights to make an English-language version of the 2010 South Korean action movie.
"The Boys in the Boat": Weinstein Co. optioned the movie rights in 2011. Kenneth Branagh was attached to direct. As recently as this year, Washington state lawmakers were hoping it would be filmed in their state.
"Livid": Bob Weinstein's Dimension Films acquired the French horror movie in 2011.
"Richard Pryor: Is It Something I Said?": The Richard Pryor biopic has spent the better part of a decade cycling through potential stars and directors.
"Faster, Pussycat Kill Kill": Quentin Tarantino wrote the script and would direct this remake, about three strippers who rob an elderly man. The movie was optioned in 2009.
"Get Happy: The Life of Judy Garland": When Weinstein Co. announced the biopic in 2009, Anne Hathaway was attached to star in it.
"No Woman No Cry: My Life With Bob Marley": Weinstein Co. optioned Rita Marley's memoir in 2008.
Television
Untitled Trayvon Martin project: Harvey Weinstein and Jay-Z announced plans in May for a TV movie about Trayvon Martin based on the book by Lisa Bloom, the lawyer who gave Weinstein legal advice in the early days of the scandal.
"Omerta": A TV movie adaptation of Mario Puzo's novel about an American mob boss was announced in May, with Antoine Fuqua attached to direct.
"Race With Jay Z": The docu-series was announced in April.
"Geeking Out": Kevin Smith and Greg Grunberg hosted a nine-episode talk show on AMC in 2016. No renewal or cancellation has been announced.
"The Reaper": A miniseries based on the memoir of Nicholas Irving, a U.S. sniper nicknamed "The Reaper" for the kills he tallied while deployed in Afghanistan. NBC agreed to pick it up in 2015. Jay-Z was attached to produce.
"The Ten Commandments": In 2013, Weinstein Co. announced a miniseries based on the story of Moses and the 10 commandments.
FOR THE RECORD
Oct. 29, 1:50 p.m.: An earlier version of this post incorrectly stated that a Steven Spielberg film adaptation of David Kertzer's book "The Kidnapping of Edgardo Mortara" was in development at the Weinstein Co. Although the latter had been working on a film inspired by the true-life story, it was separate from Spielberg 's project with Amblin Entertainment.
Please consider subscribing today to support stories like this one. Already a subscriber? Your support makes our work possible. Thank you. Get full access to our signature journalism for just 99 cents for the first four weeks.
ALSO
Weinstein Co.'s future uncertain as Colony Capital deal falters
As Weinstein scandal spreads, talent agencies and guilds face tough questions
Harvey Weinstein sues his own company for documents to defend himself against claims of sexual abuse
Harvey Weinstein's 50-plus accusers: Full list includes fledgling actresses and Hollywood royalty
---
Inside the business of entertainment
The Wide Shot brings you news, analysis and insights on everything from streaming wars to production — and what it all means for the future.
You may occasionally receive promotional content from the Los Angeles Times.