Harvey Weinstein's accusers: List includes fledgling actresses and Hollywood royalty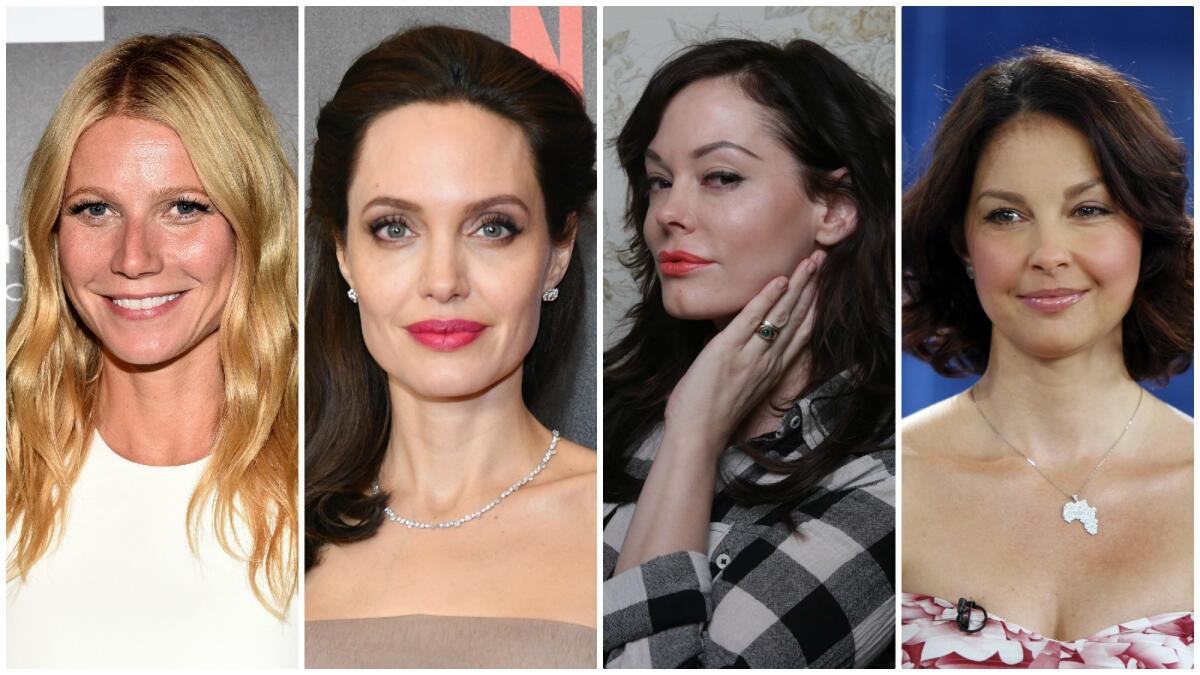 Disgraced studio mogul Harvey Weinstein turned himself in to New York authorities on Friday, more than seven months after stories of his alleged sexual misconduct torpedoed his lucrative career.
Once scores of women came forward to accuse the once-mighty producer of assault and harassment, starting in October 2017, the Oscar winner's downfall was steep.
In relatively short order, he was fired as co-chairman of his namesake company, resigned from its board of directors, expelled from the Academy of Motion Picture Arts and Sciences and the Producers Guild of America and rebuked by several professional organizations and festivals around the world.
Police departments in London, New York and Los Angeles opened investigations to shed light on numerous women's allegations that Weinstein sexually assaulted or harassed them.
On Friday, the producer was charged with rape in the first degree, rape in the third degree and committing a criminal sexual act in the first degree for alleged forcible sexual acts against two women in 2013 and 2004. Those women's names were not revealed to the public.
Weinstein continued to "vehemently deny" any criminal acts after his arrest, even as Hollywood celebrated his surrender to police.
Though his alleged impropriety was widely described as an "open secret" in Hollywood circles, the outcry that followed investigations by the New York Times and the New Yorker last fall became his undoing.
The scandal gave rise to the #MeToo and Time's Up movements as it opened the floodgates for similar accusations against others in Hollywood: Weinstein's brother, Bob Weinstein; director James Toback; Amazon Studios chief Roy Price; Nickelodeon's Chris Savino; Oscar winner Kevin Spacey, actor James Franco and film producer Brett Ratner. They joined the growing list of powerful men being accused of sexual misconduct.
Here's a look at Weinstein's accusers and their allegations. There have been multiple other allegations that are not included here because those accusers have remained anonymous. This list will be updated as more step forward.
Amber Anderson
Actress
The "Black Mirror" and "C.B. Strike" actress alleged that Weinstein "coerced" her into a private meeting in 2013. "Once we were alone the mood immediately changed," she wrote on Instagram on Oct. 16. "He behaved inappropriately and propositioned a 'personal' relationship to further my career whilst bragging about other actresses he had 'helped' in a similar way. He told me not to tell anyone I was alone with him, told me if I did it might affect my 'opportunites.' He tried to take my hand and put it in his lap which is when I managed to leave to leave the room."
---
Lysette Anthony
Actress
The British soap opera actress filed a formal crime report in London on Oct. 11, alleging that she was raped by the movie mogul at her London home in the late 1980s.
Anthony tweeted about reporting the incident to police, provided a photo with the case number and included a link to the British Sunday Times in which she detailed the incident. She said she answered the door of her London home, and Weinstein attacked her.
"He pushed me inside and rammed me up against the coat rack in my tiny hall and started fumbling at my gown," she told the newspaper.
"Finally, I just gave up," Anthony said. "At least I was able to stop him kissing me." Read more »
---
Asia Argento
Actress/director
Argento alleged that Weinstein invited her to what was supposed to be a party at a hotel on the French Riviera in 1997. When she arrived, only Weinstein was there. According to Argento, he changed into a bathrobe and forcibly performed oral sex on her. Argento entered into what she describes as a years-long coercive sexual relationship with him. "After the rape, he won," she told the New Yorker.
Weeks after the Weinstein story broke, Argento posted a series of tweets listing the names and accusations of 82 women who alleged they were abused by Weinstein. Read more »
---
Rosanna Arquette
Actress
The "Pulp Fiction" actress told the New Yorker that she went to the Beverly Hills Hotel in the early 1990s to get a script from Weinstein. According to her, he showed up at the door in a bathrobe and asked for a massage, then placed her hand on his erect penis. She said her career suffered after she rejected him. Read more »
---
Jessica Barth
Actress
The "Ted" star told the New Yorker that the producer propositioned her at the 2011 Golden Globe Awards, inviting her to his hotel room to talk about her career. She obliged and found that he had ordered Champagne and sushi. Weinstein allegedly then asked for a naked massage in bed. She left bawling after he told her to lose weight "to compete with Mila Kunis." Read more »
---
Kate Beckinsale. Jay L. Clendenin / Los Angeles Times
Kate Beckinsale
Actress
The "Underworld" and "The Aviator" star said that, during a meeting at a hotel when she was 17, she was directed to Weinstein's room, which she thought would be a conference room.
"He opened the door in his bathrobe," she wrote on Instagram on Oct. 13. "I was incredibly naive and young and it did not cross my mind that this older, unattractive man would expect me to have any sexual interest in him. After declining alcohol and announcing that I had school in the morning I left, uneasy but unscathed."
Years later, she said, he asked her if he "tried anything" during their meeting. She alleged that she also said no to him professionally many times, which resulted in him screaming at her, calling her the C-word and making threats. Saying no in her business, she explained, allowed her to feel "uncompromised" but "undoubtedly harmed" her career.
"Let's stop allowing our young women to be sexual cannon fodder, and let's remember that Harvey is an emblem of a system that is sick, and that we have work to do." Read more »
---
Juls Bindi
Massage therapist
During a "20/20" interview that aired Oct. 13, Bindi alleged that Weinstein attacked her in 2010. She was 29 at the time and was working in Hollywood as a massage therapist and had spoken to Weinstein about a possible book deal. During an appointment with him at the Montage Hotel, she said he disrobed in front of her, then later asked her about his penis size. She claimed she ran into the bathroom and alleged that he followed and started masturbating in front of her. When she tried to get by him, she said that he grabbed her and started groping her chest. Read more »
---
Zoë Brock
Model
Posting her story on Medium on Oct. 8, the New Zealand model said she was 23 when she was "Harveyed" at the Hotel du Cap during the Cannes Film Festival. Though she said she had felt safe with Weinstein at a party beforehand, she detailed an alleged ruse to get her alone in his hotel room. There he emerged naked and kept asking if she wanted a massage, then chased her until she locked herself in the bathroom, according to Brock. She scolded the producer, whom she claims cried and said, "You don't like me because I'm fat."
Brock wrote that when she left, Weinstein's assistant apologized, saying that "of all the girls he does this to, you are the one I really felt bad about. You deserve better."
"This comment made me nauseous. It was an admission of his sycophantic enabling," she wrote. Read more »
---
Cynthia Burr
Actress
Burr's account in a New York Times story published Oct. 30 expanded the time frame of Weinstein's alleged abuses to the 1970s. The "Scarface" and "Lethal Weapon" actress said that when she was in her 20s, the producer tried to kiss her in an elevator then forced her to perform oral sex on him in a hallway. Read more »
---
Liza Campbell
Artist/writer
In an Oct. 8 story in the Sunday Times, Campbell, who critiqued scripts for some of Weinstein's best-known films and whose late father was an English earl, claimed that in the '90s, Weinstein invited her to his hotel room to chat about work and then invited her to "jump in the bath" with him. Read more »
---
Marisa Coughlan
Actress
In an Oct. 17 interview with the Hollywood Reporter, Coughlan claimed that Weinstein tried to proposition her into giving him a massage during a meeting in the Penthouse suite of The Peninsula Hotel. At the time, Coughlan had just starred in the Miramax film "Teaching Mrs. Tingle" and had been cast to star in the company's upcoming ABC drama "Wasteland." "He told me that he has a lot of 'special friends' and they give each other massages," Coughlan said. "It was a full-court press. He wanted me to be one of his 'special friends' and go into the bedroom."
Coughlan was able to leave before anything happened, but she says Weinstein reached out several other times, including when he offered to fly her out to New York so he could take her ice skating and on other "romantic" outings. According to Coughlan, their last encounter was a meeting at a Los Angeles restaurant that ended with Weinstein "pushing" for Coughlan to come to his hotel before he got out of the car, told her he respected her, and walked away.
---
Emma de Caunes
Actress
The French actress alleged that in 2010, Weinstein invited her to his hotel room in Paris to discuss a book he wanted to adapt. According to her, he emerged from the bathroom naked and with an erection. She fled the room. Read more »
---
Florence Darel
Actress
The French star told People that Weinstein propositioned her when she was 26. Eve Chilton, his wife at the time, was in the hotel room next door. He also asked her to be his part-time mistress.
"I was astonished," she told People on Thursday. "When you have someone so physically disgusting in front of you, continuing and continuing as though this was all perfectly normal… What happened to me may not be illegal, but it was inappropriate. Very inappropriate." Read more »
---
Paz de la Huerta
Actress
The "Boardwalk Empire" actress, who first met Weinstein when she was 14 on the set of 1999's "Cider House Rules," accused the producer of raping her twice in 2010, which prompted a probe by the Manhattan district attorney's office.
De la Huerta told Vanity Fair and CBS News that in October 2010, Weinstein gave her a ride home from a party and insisted on having a drink in her apartment. She alleged he then forced himself on her.
She also said that in December that same year, Weinstein allegedly came to her apartment and, since she had been drinking, she was unable to give consent when he allegedly he forced himself on her.
"I was very traumatized," she said. "I felt so disgusted by it, with myself ... I became a little self-destructive. It was really hard for me to deal, to cope."
A New York City police official said on Nov. 3 that the allegation made against Weinstein is "credible" and they are gathering evidence to seek an arrest warrant. Read more »
---
Cara Delevingne
Actress/model
Delevingne, who has appeared in the Weinstein Co. films "Paper Towns" and "Tulip Fever," wrote on Oct. 11 on Instagram that when she first began acting, Weinstein called her up to ask whether she had slept with any women. She claims he also gave her unsolicited advice about her sexuality and the effects it might have on her career in Hollywood. A year or two later, she alleges, she took a meeting with him that started in a hotel lobby and ended up with her and another woman with the producer in a hotel room where he asked the two of them to kiss and then tried to kiss her on the lips as he walked her out of the room.
"I still got the part for the film and always thought that he gave it to me because of what happened," Delevingne wrote. "Since then, I felt awful that I did the movie. I felt like I didn't deserve the part. I was so hesitant about speaking out....I didn't want to hurt his family. I felt guilty as if I did something wrong." Read more »
---
Juliana De Paula
Former model
In an Oct. 21 story, De Paula told The Times that Weinstein groped her and forced her to kiss other models he had taken to his loft in New York a decade ago. When she tried to leave, she said, he chased her through the apartment, naked. She fended him off with a broken glass.
"He looked at me and he started to laugh," she recalled. "I was shocked. I was completely in disbelief." Read more »
---
Sophie Dix
Screenwriter
The former actress alleged that in the 1990s Weinstein pushed her onto a hotel-room bed. She was 22 at the time.
"Before I knew it, he started trying to pull my clothes off and pin me down and I just kept saying, 'No, no, no.' But he was really forceful," she told the Guardian. "I remember him pulling at my trousers and stuff and looming over me and I just sort of – I am a big, strong girl and I bolted … ran for the bathroom and locked the door."
But when she finally opened the door, she claimed to see him "facing the door, masturbating."
The incident left her traumatized and depressed, so she "decided if this is what being an actress is like, I don't want it." Read more »
---
Lacey Dorn
Actress/filmmaker
The Stanford University graduate told the New York Times in an Oct. 30 story that as she was saying goodbye to Weinstein at a 2011 Halloween party, the producer grabbed between her legs and touched her buttocks and crotch through her clothes. She was 22 at the time. Read more »
---
Dawn Dunning
Actress
In 2003, Dunning met the producer at a nightclub where she was waiting tables. Promised a screen test for Miramax, she said she was invited to his Manhattan hotel suite for a meeting. She was 24. When she got to his room, she told the New York Times, he was waiting in his bathrobe behind a coffee table filled with contracts for his next three films. She could sign them if she would have a threesome with him, she said. She laughed it off but he got angry, she said, and told her she'll "never make it in this business." Read more »
---
Lisa Esco
Actress
On Oct. 14, Esco told the Washington Post about how Weinstein tried to proposition her during what she believed to be a dinner meeting back in 2014. According to her, he said, "I think we should see a movie in the theater, like back in the day, and we should kiss." Although she says she brushed him off repeatedly, he said "it's just a kiss" and continued pressuring her. "He tried to insinuate that everything would be easier if I went along," she recalled.
---
Alice Evans
Actress
In a piece written for the Telegraph on Oct. 14, the 46-year-old "Vampire Diaries" actress said she encountered Weinstein at the 2002 Cannes Film Festival. She said he insisted she to go into the hotel bathroom with him to touch her breasts and kiss her. She declined and he vaguely threatened her husband Ioan Gruffudd's professional career.
"I was never again considered for a Weinstein film, and neither was Ioan," she said. "I'll never know if my refusal to be sexually available for Mr. Weinstein at the moment he fancied his little fix had me blacklisted, or whether I'm inflating my own importance in a much bigger picture." Read more »
---
Angie Everhart
Actress
In a TMZ Live interview on Oct. 13, the "Last Action Hero" star said that she was allegedly trapped by Weinstein in the cabin of a yacht at the Venice Film Festival more than a decade ago. She had been sleeping in the cabin, and when she woke up, she claimed the producer was standing over her blocking the door and masturbating. She said she shared her story with numerous people and people dismissed it, saying, "Oh, that's just Harvey."
"When I talked about it before, nobody listened," she said. "And now people are listening. And not just for me. I'm glad people are listening, so it doesn't happen anymore because it's not OK." Read more »
---
Hope Exiner d'Amore
Former employee
Exiner d'Amore alleged that Weinstein raped her in a hotel room in the 1970s when she was in her 20s and working for his concert promotion company, Harvey and Corky Productions. In an Oct. 30 New York Times story, Exiner d'Amore said that she had to share a hotel room with Weinstein during a business trip and that he slipped into bed with her naked and forcibly performed oral sex and had intercourse with her. Read more »
---
Claire Forlani
Actress
On Oct. 12, the "Mallrats" star shared a lengthy account on Twitter in which she claimed that she escaped Weinstein's advances five times. Two took place at the Peninsula Hotel and the others were dinner meetings. Nothing happened because she "ducked, dived and ultimately got out of there without getting slobbered all over." She said she was 25 at the time. Read more »
---
Romola Garai
Actress
"So I had to go to his hotel room in the Savoy, and he answered the door in his bathrobe," the "Atonement" and "Suffragette" actress told the Guardian on Oct. 10. "I was only 18. I felt violated by it, it has stayed very clearly in my memory.
"The point was that he could get a young woman to do that, that I didn't have a choice, that it was humiliating for me and that he had the power. It was an abuse of power," she added. Read more »
---
Louisette Geiss
Former actress/screenwriter
Geiss alleged that her encounter with Weinstein took place at the Sundance Film Festival in 2008, where she was shopping a screenplay. Geiss said that she met with Weinstein at a restaurant near closing time to discuss her pitch and that he invited her to his office — adjacent to his hotel room — to continue their meeting.
Geiss claimed that, 30 minutes into the meeting, Weinstein excused himself and returned naked, wearing only a bathrobe, and instructed Geiss to continue talking as he got into the hot tub, before later asking that she watch him masturbate. Read more »
---
Louise Godbold
Nonprofit director
In an Oct. 9 blog post, the co-executive director of the nonprofit Echo Parenting & Education in Los Angeles said that she, too, was one of the young women Weinstein "preyed upon" in the early 1990s.
"The details of what I have learned was not unique to me are out there now — the office tour that became an occasion to trap me in an empty meeting room, the begging for a massage, his hands on my shoulders as I attempted to beat a retreat… all while not wanting to alienate the most powerful man in Hollywood." Read more »
---
Judith Godrèche
Actress
The leading French actress said she was 24 when she took a breakfast meeting with Weinstein at the Cannes Film Festival in 1996. Unaware of his reputation, she went to his room at the Hotel du Cap-Eden-Roc, where she claims he asked her to give him a massage, arguing that it was an American custom.
"The next thing I know, he's pressing against me and pulling off my sweater," she told the New York Times.
"I tried to negotiate the situation over the years, and negotiate with myself and pretend it kind of never happened," she said. Read more »
---
Trish Goff
Model
After meeting Weinstein at a cocktail party at Vogue editor Anna Wintour's house in 2003 when she was 25, Weinstein invited the single mother to lunch in a private room at the Tribeca Grill, she told the New York Times on Oct. 13.
"He started asking me if I had a boyfriend, and if we had an open relationship. I said I wasn't interested in an open relationship, but he was relentless, and I kept trying to shut that down and move on," she said.
"Then he started putting his hands on my legs, and I said, 'Can you stop doing that?' When we finally stood up to go, he really started groping me, grabbing my breasts, grabbing my face and trying to kiss me," Goff added. "I kept saying, 'Please stop, please stop,' but he didn't until I managed to get back into the public space."
---
Larissa Gomes. Lilly Lawrence / Getty Images
Larissa Gomes
Actress
While she was working on the Toronto set of the Miramax-produced teen flick "Get Over It" about 17 years ago, the actress said the producer asked her to bare her chest and tried to kiss her on the lips while name-dropping famous actresses and dangling career opportunities. She was 21 at the time.
"He would not stop. He just kept pushing his hands close to my chest forcefully until I finally was able to get up and away from him," she wrote in an email to the Los Angeles Times weeks after the Weinstein scandal broke. She alleged that Weinstein told her, "You know, Gwyneth Paltrow and Ashley Judd were exactly where you are at one point. Look at them now." Read more »
---
Heather Graham
Actress
The "Boogie Nights" star's alleged encounter took place in the early 2000s, when Weinstein summoned her to his office and said he wanted to put her in one of his films, she told Variety.
"Later in the conversation, he mentioned that he had an agreement with his wife. He could sleep with whomever he wanted when he was out of town. I walked out of the meeting feeling uneasy. There was no explicit mention that to star in one of those films I had to sleep with him, but the subtext was there," she said.
Graham said she later declined a follow-up meeting at his hotel because she didn't want to be alone in a hotel room with him. Read more »
---
Eva Green
Actress
The "Casino Royale" actress, who appeared in the Weinstein Co.'s "Sin City," opened up about her experience after her mother discussed it in a radio interview. She said that she had to push Weinstein off of her during a business meeting in Paris.
"He behaved inappropriately and I had to push him off. I got away without it going further, but the experience left me shocked and disgusted," she said to Variety in a statement. Read more »
---
Ambra Battilana Gutierrez
Model
The Italian model and beauty pageant contestant claims that Weinstein groped her during a meeting in 2015. She reported the alleged assault to the New York Police Department, and the next day, wearing a wire, she says she met with Weinstein at the Tribeca Grand Hotel. In audio footage obtained by the New Yorker, Gutierrez objects to Weinstein's behavior the day before, and an agitated Weinstein can be heard telling Gutierrez, "I'm a famous guy ... I'm used to that," and repeatedly urges her not to "embarrass" him.
Despite the recording, the Manhattan district attorney declined to pursue criminal charges, possibly because Gutierrez had once attended a party thrown by Silvio Berlusconi and was not considered "credible." Read more »
---
Mimi Haleyi
Production assistant
Haleyi said Oct. 24 that she frequently interacted with Weinstein after first meeting him in 2004 at the London premiere of "The Aviator." Two years later, she said, she was invited to his hotel room at the Cannes Film Festival to help him with some of his New York productions. He then asked her to give him a massage, she said. She declined and left the room crying, "having felt completely humiliated for being excited to meet him."
During another encounter while she was in her 20s, she said, she agreed to meet Weinstein at his SoHo loft because she wanted "to maintain a good relationship."
"It was not long, though, before he was all over me making sexual advances," she said. "I told him 'no, no, no,' but he insisted." She said that she told him she had her period and again asked him to stop but that he wouldn't take no for an answer.
"He then orally forced himself on me while I was on my period. … I was in disbelief and disgusted. I would not have wanted anyone to do that to me even if that person had been a romantic partner," she said.
After that, she said, he rolled over and said: "Don't you feel we're so much closer to each other now." Read more »
---
Daryl Hannah
Actress
The "Kill Bill" star alleged that Weinstein tried to get into her hotel room on two separate occasions, which once prompted her to escape from a back entrance, she said in an Oct. 27 New Yorker story. She once barricaded herself in the room using furniture and, on a separate occasion, she alleged Weinstein asked her if he could touch her breasts. She refused and believes that Weinstein retaliated against her professionally. Read more »
---
Salma Hayek
Actress
Roughly two months after the accusations about Weinstein first came to light, Hayek penned a first-person account for the New York Times titled "Harvey Weinstein is my monster too." In the piece, she detailed how Weinstein asked her to take showers with him, watch him take a shower, let him give her a massage, let a naked friend of his give her a massage, let him give her oral sex, and get naked with another woman, among other propositions.
According to Hayek, Weinstein's inappropriate behavior went far beyond a sexual nature. She claimed that Weinstein verbally assaulted her on set, physically assaulted her at the Venice Film Festival the year their film "Frida" premiered and threatened her life, saying, "I will kill you, don't think I can't."
---
Lena Headey
Actress
The "Game of Thrones" star shared on Twitter on Oct. 17 that she had two separate encounters with Weinstein. According to Headey, the producer made a suggestive comment to her at the Venice Film Festival in 2005, which she dismissed as a joke. Years later, Headey said that she and Weinstein met for breakfast at a hotel after which he tried to get the actress to join him in his room. After clarifying that she was interested only in the work, Headey said that Weinstein angrily escorted her to the valet, warning her never to tell anyone about their encounter. Read more »
---
Natasha Henstridge
Actress
The "Whole Nine Yards" actress spoke with Megyn Kelly to detail her sexual assault accusation against director Brett Ratner, but she also discussed a past incident with Weinstein when she met with him at a hotel in Sundance. She said he "came on to me repeatedly" before he "pleasured himself in front of me."
---
Lauren Holly
Actress
The Canadian actress said she had been used to interacting with Weinstein socially after working on 1996's "Beautiful Girls." So when he asked her to meet at his hotel in the 1990s for a business meeting, everything seemed normal, she said on Canadian talk show "The Social" on Oct. 16. She was in her 30s and had been working in the industry for a while.
But it all changed when Weinstein came back to the room dressed in a bathrobe, she said. According to her, he kept up the professional banter, then asked her to follow him to the bathroom, where he dropped his robe, began using the toilet and showered — all the while talking to her "like we're having a normal encounter."
When he got out of the shower, she alleged, he dried off and came toward her naked and asked if she wanted a massage. She pushed him and ran away. Read more »
---
Dominique Huett
Actress
The actress said Oct. 24 that Weinstein sexually abused her in 2010 in Beverly Hills, and she sued his company for negligence, marking the first civil suit over the former co-chairman's alleged abuses since the scandal came to light in early October. Her civil complaint said that Weinstein lured her into his hotel room under the guise of a business meeting about her career. Then he demanded that she give him a massage and let him perform oral sex on her, according to a seven-page complaint filed in Los Angeles Superior Court.
Weinstein Co. "executives, officers and employees had actual knowledge of Weinstein's repeated acts of sexual misconduct with women," the complaint said. Read more »
---
Angelina Jolie
Actress/director
The Oscar winner said the producer made advances in a hotel room during the release of her film "Playing by Heart" in the '90s.
"I had a bad experience with Harvey Weinstein in my youth, and as a result, chose never to work with him again and warn others when they did," Jolie told the New York Times. "This behavior towards women in any field, any country is unacceptable." Read more »
---
Ashley Judd
Actress
Judd, whose personal account was a key part of the New York Times investigation, told the newspaper that while she was working on the 1997 thriller "Kiss the Girls," Weinstein invited her to the Peninsula Beverly Hills hotel for what she thought would be a breakfast meeting. Instead, he had her sent up to his room, where he appeared in a bathrobe and asked if he could give her a massage or she could watch him shower, the newspaper said.
"I said no, a lot of ways, a lot of times, and he always came back at me with some new ask," Judd said. "It was all this bargaining, this coercive bargaining."
The outspoken actress was applauded by her colleagues for coming forward and also said that "women have been talking about Harvey amongst ourselves for a long time, and it's simply beyond time to have the conversation publicly." Read more »
---
Minka Kelly
Actress
In an Instagram post written Oct. 13, Kelly recalls meeting with Weinstein alone at a hotel restaurant. "He said, 'I know you were feeling what I was feeling when we met the other night' and then regaled me with offers of a lavish life filled with trips around the world on private planes etc. IF I would be his girlfriend." However, Kelly politely declined him. His alleged response? "I trust you won't tell anyone about this."
---
Katherine Kendall
Actress
The "Swingers" actress recounted a 1993 story of the producer disappearing into a bathroom and reemerging wearing a bathrobe to ask her for a massage. She alleged that he then bargained with her, asking her to at least show him her breasts, she told the New York Times. Read more »
---
Heather Kerr
Actress
Kerr said she was sexually assaulted during a business meeting in 1989. Speaking during a news conference alongside her attorney, Allred, on Oct. 20, Kerr alleged that Weinstein forced her to touch his genitals and told her that she had to be good in bed, as well as sleep with him, directors and other producers if she wanted a career in Hollywood.
"He told me this was how things work in Hollywood and that all the actresses that had made it had made it this way. He said, 'name anyone,'" the 56-year-old recalled. "He told me that first I would have sex with him and then he would take me to parties and show me who I had to sleep with after that. But first he needed to know how good I was." Read more »
---
Mia Kirshner
Actress
In an Oct. 13 op-ed for Canada's Globe and Mail, the "Vampire Diaries" and "The L Word" actress wrote that she refused to recount her own "ordeal in a hotel room" where he attempted to treat her "like chattel that could be purchased with the promise of work in exchange for being his disposable orifice." Instead, the actress called out the "disease" of "turning a blind eye to sexual harassment and abuse carried out by those who wield power in the film industry." She said she was not protected from Weinstein and called for institutional change to fix that. Read more »
---
Liz Kouri
Actress
After meeting at a party for an off-Broadway show in 1999, the "Bold and the Beautiful" actress told USA Today that Weinstein put his fingers inside her and moved her hand to help him masturbate. "He was very clear. He had helped other actresses get major roles, and he would like to help me. He continued to press up on me and fumbled for his zipper. Then he put his hand up my skirt and pulled my panties over."
Kouri says she froze. "I couldn't react," she said. "I didn't want to make him mad. I didn't want to cause a scene. I didn't want to rock the boat. I didn't want to ruin any chances that I might have had at all to audition for him. Or my career."
---
Ivanna Lowell
Former employee
In addition to working for Miramax, Lowell dated Bob Weinstein, Harvey's brother and longtime business partner. She first recounted how her experiences with Harvey — including how he asked if she liked to give oral sex and would come over to her apartment and lie on her bed in the middle of the night — in her 2010 memoir "Why Not Say What Happened?" She repeated those claims to the Daily Mail in October, recalling one time in particular when he came to her apartment, "plopped down and lay naked on my bed," before asking her and her friend, "'Which one of you ladies is going to be nice and give Uncle Harvey a massage?'"
---
Laura Madden
Former employee
Madden came forward with her allegations in one of the first pieces published by the New York Times. In it, she claimed that Weinstein asked her for massages at hotels in London and Dublin in 1991. At one point, she locked herself in one of the hotel bathrooms and cried, according to another colleague.
---
Natassia Malthe
Actress
The Norwegian-born actress alleged that Weinstein raped her in February 2008 at the Sanderson hotel in London.
"I laid still and closed my eyes and just wanted it to end," she said during an Oct. 25 news conference. "I was like a dead person. Afterwards I lay there in complete disgust. After he was done he put his pants back on and hurriedly left the room."
Malthe said that at a later meeting at the Peninsula hotel — where, she said, Weinstein had promised there would be "no hanky panky" — a woman in the room performed oral sex on Weinstein and asked her to join them in a threesome. Malthe declined and abandoned her efforts to get a role in the film "Nine," which Weinstein was producing. Read more »
---
Brit Marling
Actress/writer
The Goldman Sachs summer analyst-turned-actress met Weinstein at the Sundance Film Festival in 2014, she wrote in an Oct. 23 op-ed for the Atlantic. "The OA" writer and star recounted similar circumstances for meeting the producer, going to a bar and then being redirected to his room where she alleged that he suggested they shower together. She said she was offered champagne and a massage and that she let Weinstein touch her shoulders.
"What could I do? How not to offend this man, this gatekeeper, who could anoint or destroy me?" she wrote. "It was clear that there was only one direction he wanted this encounter to go in, and that was sex or some version of an erotic exchange. I was able to gather myself together — a bundle of firing nerves, hands trembling, voice lost in my throat — and leave the room."
She then wept in her hotel room "because at other times in my life, under other circumstances, I had not been able to leave." Read more »
---
Sarah Ann Masse
Actress/nanny
The comedian and writer interviewed with Weinstein to be his children's potential nanny, she said in an Oct. 11 Variety story. The aspiring actress said that when she arrived at the producer's Connecticut home in 2008, he opened the door and conducted the interview in his boxer shorts and undershirt.
He asked her if she would ever flirt with his friends to get ahead and she said "absolutely not." When the interview ended, he reportedly grabbed her and "gave me this really tight, close hug that lasted for quite a long period of time. He was still in his underwear. Then he told me he loved me. I left right after that." She later found out she didn't get the job. Read more »
---
Ashley Matthau
Dancer
Matthau, who appeared in the Weinstein Co.'s "Dirty Dancing: Havana Nights," accused the producer in an Oct. 30 New York Times story of pushing her onto a hotel-room bed and fondling her breasts before stripping, straddling and masturbating on top of her in Puerto Rico in 2004. The dancer, who went by the name Ashley Anderson at the time, hired an attorney and ultimately agreed to a six-figure settlement with Weinstein in exchange for her silence. Matthau told the newspaper that she was willing to break the confidentiality clause despite possible legal retribution. Read more »
---
Rose McGowan
Actress
The "Charmed" alum, who appeared in the Weinstein Co.'s "Scream" franchise, reportedly reached a six-figure settlement with the producer in 1997 for an alleged incident in a hotel room during the Sundance Film Festival.
The settlement, however, was "not to be construed as an admission" by Weinstein, but intended to "avoid litigation and buy peace," according to legal documents obtained by the New York Times.
McGowan has been a vocal on Twitter about Weinstein and has publicly condemned him, his brother and the Weinstein Co. board, along with actors such as Ben Affleck who claim they were unaware of Weinstein's behavior. Read more »
---
Katya Mtsitouridze
TV host
Speaking with the Hollywood Reporter, the Russian TV personality said Weinstein sexually harassed her when they were both at the 2004 Venice Film Festival. She claims Weinstein arranged a private lunch meeting in his hotel room and greeted her in a bathrobe.
"I waited for the masseuse, but she's late. We can have fun without her. Let's relax," he allegeldy told her. She eventually escaped his room when a waiter came into drop off an ice bucket.
---
Emily Nestor
Former employee
After working for just one day as a temporary employee at the Weinstein Co. in 2014, Nestor provided an account to company execs that said Weinstein invited her to the Peninsula Beverly Hills hotel where he said if she accepted his sexual advances, he would boost her career, according to the New York Times. Read more »
---
Connie Nielsen
Actress/producer
The "Wonder Woman" star penned a guest column for Variety in which she claimed Weinstein touched her inappropriately at a dinner for her 2005 film "The Great Raid," which he produced. "Harvey proceeded to put his hand on my thigh at dinner during the opening night of 'Great Raid,' at which both my boyfriend and my brother were present. I grabbed his hand and squeezed it violently to hurt him and proceeded to hold it in place on his own thigh. I steered clear of him as soon as I could," she wrote.
---
Kadian Noble
Actress
The British native filed a civil suit Nov. 27 alleging that Weinstein and his company engaged in sex trafficking. In her suit, she claimed he groped her, pulled her into a bathroom and forced her to fondle him when they met in his hotel room at the 2014 Cannes Film Festival to supposedly discuss a role.
---
Lupita Nyong'o
Actress/director
The "12 Years a Slave" Oscar winner said she encountered Weinstein when she was still a student at Yale. She alleged that he blurred lines with her over a period of years, with a number of work-related invitations turning into uncomfortable situations where he pushed her to drink alcohol she didn't want, asked to massage her and later "cut to the chase" about how she could help her career through a sexual relationship. He took no for an answer, finally, she said, but vaguely threatened her career. She vowed never to work in a Weinstein Co. project; he later offered her a star-vehicle film if she'd agree to a role in a Weinstein film she had previously rejected.
"I had shelved my experience with Harvey far in the recesses of my mind, joining in the conspiracy of silence that has allowed this predator to prowl for so many years," Nyong'o wrote in an Oct. 20 op-ed for the New York Times. Read more »
---
Lauren O'Connor
Former assistant
The former Weinstein Co. assistant sent a searing memo to the company asserting sexual harassment and other misconduct by Weinstein, she told the New York Times.
"There is a toxic environment for women at this company," she wrote in a letter addressed to several executives.
Another unnamed female assistant claimed that in 2015, the mogul badgered her into giving him a massage while he was naked, leaving her "crying and very distraught," the New York Times reported. Read more »
---
Gwyneth Paltrow
Actress
Weinstein was credited with launching Paltrow's career, aiding in her Oscar win for 1998's "Shakespeare in Love" and turning her into the "first lady of Miramax."
Before that, though, Paltrow claimed that the film producer assaulted her when she was 22 after he summoned her to his hotel suite at the Peninsula Beverly Hills for a work meeting about 1996's "Emma." There, according to Paltrow, he placed his hands on her and suggested they go to the bedroom for massages.
"I was a kid. I was signed up; I was petrified," she told the New York Times.
Paltrow said she confided in her boyfriend at the time, actor Brad Pitt, who later confronted the producer. But she said Weinstein threatened to fire her if she talked about it again. The two managed to carry on with a professional relationship. Read more »
---
Samantha Panagrosso
Model
Panagrosso said in an Oct. 21 Times story that Weinstein made unwanted sexual advances toward her during the Cannes Film Festival in 2003. When Weinstein began touching her legs under the water at a hotel pool and she rebuffed him, he pointed at another model.
"Look at her, I'm going to have her come to my room for a screen test," she said Weinstein told her. When Panagrosso told friends about his continuing advances, she said, they laughed it off: "Sam, don't be so naïve. You know Harvey can make you a star." Read more »
---
Zelda Perkins
Former assistant
Perkins, who came forward on Oct. 23, was one of at least eight alleged victims to reach settlements and sign non-disclosure agreements with Weinstein. She broke the NDA by telling the Financial Times that, while working for him at Miramax's London office, Weinstein allegedly accosted her in his underwear and propositioned her with massages. She said that she was subjected to years of sexual harassment by her boss, often seeing him walk around naked and sticking around while he bathed.
Perkins alleged that she and a colleague split a roughly $330,000 settlement in October 1998.
"Unless somebody does this [breaks the NDA] there won't be a debate about how egregious these agreements are and the amount of duress that victims are put under," she said. Read more »
---
Vu Thu Puong
Actress
The Vietnamese actress claimed in a Facebook post that Weinstein made unwanted sexual advances toward her, including attempting to teach her how to perform in a sex scene, when they met in 2008 in a hotel room.
---
Tomi-Ann Roberts
Actress
Roberts met Weinstein while waiting tables as a 20-year-old college junior. In summer 1984, he urged her to audition for a movie, sent scripts and asked her to meet him where he was staying so they could discuss the film, she told the New York Times.
When she arrived, she said, he was nude in the bathtub and told her that she would give a much better audition if she were comfortable "getting naked in front of him." Read more »
---
Lisa Rose
Former employee
Rose was 22 and working in Miramax's London office when she says Weinstein asked her for a massage at the Savoy hotel in 1988. "I was really frightened, my heart was beating, and I was thinking, 'this is what it's like having so much power - he's a man who's got a lot of power,'" she told BBC News. When she refused, she said, "He didn't touch me. He said nasty things but he didn't touch me." She later left the company.
---
Erika Rosenbaum
Actress
The Canadian actress alleged that Weinstein persuaded her to talk to him while he showered in his hotel bathroom and there he allegedly grabbed her neck and masturbated in front of her, she said in an Oct. 19 New York Times interview. Read more »
---
Melissa Sagemiller
Actress
The "Get Over It" actress alleged three advances on the part of the producer during an interview with the Huffington Post published on Oct. 13. The first of which took place in 2000 when she was filming that teen comedy, which was distributed by Weinstein's Miramax. She said he tried to woo her at a lunch meeting, then coax her into his hotel room at another meeting. On another occasion, she said he ordered airport personnel to deliver her to his private plane.
"I was definitely talking about it when we would go out with the cast because I was trying to warn the other girls, and I was trying to be tough about it and make a joke about it," she said. Read more »
---
Annabella Sciorra
Actress
"The Sopranos" actress alleged she was raped by Weinstein after he barged into her apartment in the 1990s, according to the Associated Press. Speaking in the New Yorker on Oct. 27, Sciorra told the magazine that Weinstein "shoved" her onto her bed and they had nonconsensual sexual intercourse. Read more »
---
Léa Seydoux
Actress
The "Inglourious Basterds" and "Spectre" actress said that after meeting the producer at a fashion show, he insisted that they make an appointment for drinks that very night.
"We met in the lobby of his hotel. His assistant, a young woman, was there. All throughout the evening, he flirted and stared at me as if I was a piece of meat. He acted as if he were considering me for a role. But I knew that was … . I knew it, because I could see it in his eyes. He had a lecherous look. He was using his power to get sex," she wrote in the Guardian.
She alleged that he invited her to his hotel room for a drink and after his assistant left, "he started losing control."
"We were talking on the sofa when he suddenly jumped on me and tried to kiss me. I had to defend myself. He's big and fat, so I had to be forceful to resist him. I left his room, thoroughly disgusted. I wasn't afraid of him, though. Because I knew what kind of man he was all along," she wrote. Read more »
---
Jennifer Siebel Newsom
Documentary filmmaker
In an article for the Huffington Post, the wife of Lt. Gov. Gavin Newsom wrote that the reports written about Weinstein are "not all that shocking because very similar things happened to me."
The "Miss Representation" and "The Mask You Live In" filmmaker did not disclose the exact details of her interactions with Weinstein but did describe similar circumstances as other Weinstein accusers.
"I was naive, new to the industry, and didn't know how to deal with his aggressive advances ― work invitations with a friend late-night at The Toronto Film Festival, and later an invitation to meet with him about a role in The Peninsula Hotel, where staff were present and then all of a sudden disappeared like clockwork, leaving me alone with this extremely powerful and intimidating Hollywood legend," she wrote. Read more »
---
Lauren Sivan
TV reporter
The journalist claimed she was once trapped by Weinstein in the hallway of a restaurant that was closed to the public. According to her, he masturbated in front of her until he ejaculated into a potted plant, she said on "Megyn Kelly Today."
"I could not believe what I was witnessing," Sivan said. "It was disgusting and kind of pathetic.… More than the disgusting act itself, which of course was gross, the demeaning part of it all, that just 20 minutes earlier he was having this great conversation with me and I felt so great and flattered by it. And then [he said], 'Stand there and be quiet,' just a few minutes later, just negated any warm feelings I had, and I realized, 'Oh, that is what this is all about.'" Read more »
---
Chelsea Skidmore
Actress
The comedian told the Washington Post that Weinstein requested a massage after they had tea at the Peninsula Hotel in 2013. When she turned him down, he masturbated in front of her. During later meetings, he exposed himself to her and pushed her into getting physical with other women. Read more »
---
Mira Sorvino
Actress
The actress told the New Yorker that Weinstein tried to give her a massage and "chas[ed] her around" a hotel room at the Toronto Film Festival in 1995, and later showed up at her New York apartment in the middle of the night. She believes her rebuff of his advances damaged her career. Read more »
---
Lucia Stoller
Actress
The actress, who now goes by Lucia Evans, told the New Yorker that while she was a college student, Weinstein forced her to perform oral sex on him during what was billed as a casting meeting at the Miramax offices in 2004. The New York Police Department has since opened an investigation. Read more »
---
Tara Subkoff
Actress
The actress alleged that the producer sexually harassed her in the 1990s during a premiere after-party after she was offered a role in one of his films. Subkoff recalled that Weinstein motioned for her to come over to him and sit on his lap.
"I was so surprised and shocked I couldn't stop laughing because it was so awkward," she said in an Oct. 12 Variety story. "But then I could feel that he had an erection. I got quiet, but got off his lap quickly. He then asked me to come outside with him and other things I don't want to share, but it was implied that if I did not comply with doing what he asked me to do that I would not get the role that I had already been informally offered. I laughed in his face as I was in shock and so uncomfortable. I left the party right after that."
She says she was later blacklisted in Hollywood. Read more »
---
Uma Thurman
Actress
Thurman was one of Weinstein's most frequent leading ladies. However, she was one of the last actresses to speak out about her experience with the longtime movie mogul. In a February 2018 interview with the New York Times, she recounted two incidents with Weinstein. The first was when she met him at a Paris hotel room for a meeting and he greeted her in his bathrobe.
The second occured at the Savoy Hotel in London when things turned physical. "It was such a bat to the head. He pushed me down. He tried to shove himself on me. He tried to expose himself. He did all kinds of unpleasant things. But he didn't actually put his back into it and force me," she said. "You're like an animal wriggling away, like a lizard. I was doing anything I could to get the train back on the track. My track. Not his track."
---
Paula Wachowiak
Former production assistant
While interning on Weinstein's first movie "The Burning," in 1980, Wachowiak said she was sent to the producer's hotel room to have him sign checks. Wachowiak told the Buffalo News on Oct. 15 that when she arrived he greeted her with a towel around his waist that he later dropped before asking her for a massage. Wachowiak said when she saw him on set later, he asked her if seeing him naked was the highlight of her internship. Read more »
---
Paula Williams
Model
The model and aspiring actress said in a "20/20" interview that Weinstein invited her to dinner party after meeting at a 1990 Oscar party. The night of the dinner party, Williams, who was 20 at the time, said Weinstein sent a car to bring her to a Hollywood Hills home. When she arrived, he was the only one there.
"He immediately starts massaging my neck as I walk in, so I know right away that this … is going to be uncomfortable," she said.
She said he later exposed himself to her and she ran out of the home, zigzagging her way through neighboring yards to get away. Read more »
---
Sean Young
Actress
The "Blade Runner" star, who worked on Miramax's "Love Crimes," said she got a bad rap in Hollywood "for saying no," accused Weinstein of exposing himself to her.
"I personally experienced him pulling his you-know-what out of his pants in order to shock me," she said on the Austin-based "Dudley and Bob With Matt Show" podcast on Oct. 19. "My basic response was, 'You know, Harvey, I really don't think you should be pulling that thing out, it's not very pretty."
The actress, who has previously accused Oscar winner Warren Beatty of sexual harassment (which he denied), maintains she had her career railroaded for turning down industry men's advances.
"The minute you actually stand up for yourself in Hollywood, you're the crazy one… that's why a lot of women don't come out with their experiences with that kind of lewdness and ridiculousness." Read more »
Staff writers Stephen Battaglio, Meredith Blake, Christie D'Zurilla, Libby Hill, Victoria Kim and Kate Stanhope contributed to this report.
FULL COVERAGE: The Harvey Weinstein scandal
Please consider subscribing today to support stories like this one. Already a subscriber? Your support makes our work possible. Thank you. Get full access to our signature journalism for just 99 cents for the first four weeks.
---
---
UPDATES:
2:30 p.m. May 25, 2018: This article was updated with additional accounts of accusations against Harvey Weinstein, along with news that the mogul was arrested on May 25.
This article was originally published on Oct. 31, 2017, at 10:15 a.m.
Get our L.A. Goes Out newsletter, with the week's best events, to help you explore and experience our city.
You may occasionally receive promotional content from the Los Angeles Times.