As Harvey Weinstein scandal spreads, talent agencies and guilds face tough questions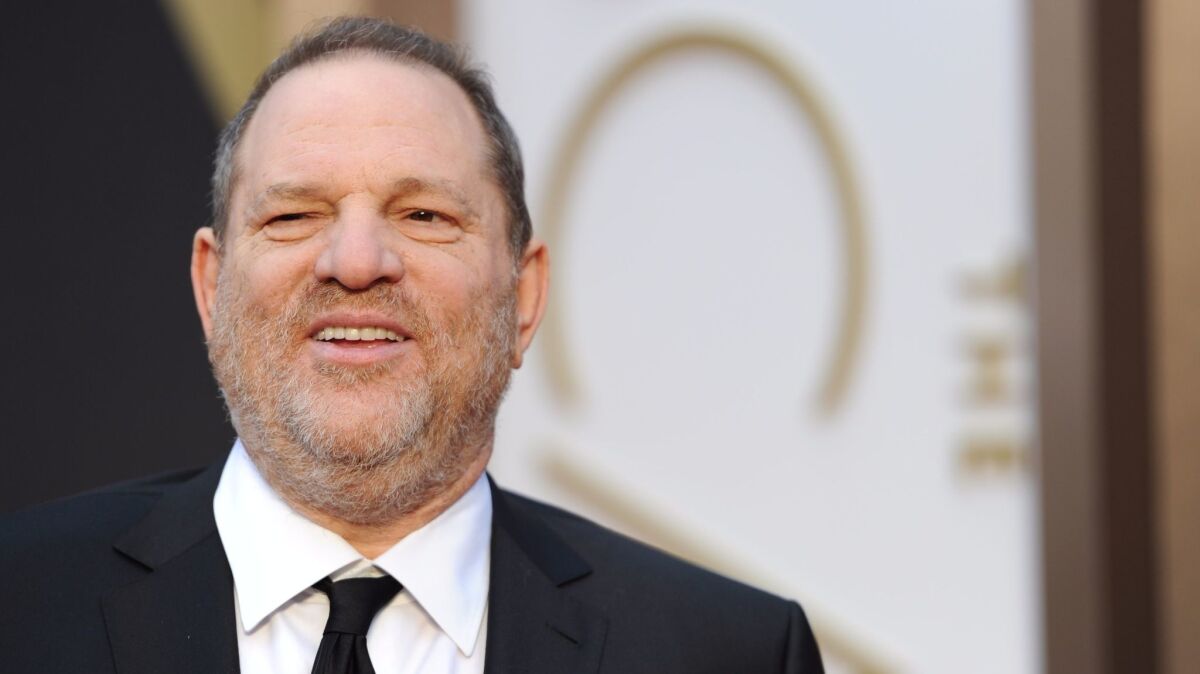 Behind every major Hollywood actress is her "team" — that invisible group of agents, managers and lawyers who are discretely thanked during Oscar acceptance speeches and who wield enormous power behind the scenes to shape their clients' careers.
Not every actress is fortunate enough to have her own team. But even the greenest of showbiz newcomers can at least count on the support of SAG-AFTRA, whose mission is to fight for the rights of its 160,000 members.
With more than 50 women stepping forward to accuse Harvey Weinstein of sexual harassment, assault and rape, the spotlight has widened to include organizations that are supposed to provide a safety net against work-related abuse in Hollywood. Several actresses have publicly called out the talent agencies for a lack of support.
Rose McGowan, who has accused Weinstein of raping her, wrote on Twitter, "To the agents who sent us to meet a Monster: I hope you enjoyed that 10%." Courtney Love said that she was "eternally banned" by Creative Artists Agency for speaking about Weinstein. Rachel McAdams told Vanity Fair that her agent failed to warn her about James Toback's history of misconduct before a meeting with the writer-director in which the actress said she was sexually harassed.
The actresses declined to comment or didn't respond to requests sent to representatives. Weinstein issued an apology for inappropriate behavior with colleagues and said he was seeking therapy, but he has denied all claims of nonconsensual sex. Toback has denied the numerous allegations of inappropriate sexual behavior against him.
"You have to wonder about the specific people who generated these appointments, and what did they know and when did they know it," said Jason E. Squire, associate professor of cinema practice at USC. "You have to look at the enablers, not on the Weinstein Co. side, but on the side of the talent."
CAA declined to comment on claims made by McGowan and other actresses. But a person close to CAA who was not authorized to comment said the agency has been evaluating its policies concerning sexual harassment and recently held a meeting between staffers and agency partners Bryan Lourd and Kevin Huvane about the Weinstein situation.
"We take seriously the responsibility of serving our clients to the best of our ability and providing our employees an environment in which people are treated with dignity and respect," the agency said in a statement. "We continually evaluate our company policies and practices to strive to achieve these goals."
Most major agencies did business with Weinstein in his more than three decades in the industry. Although gossip about his behavior circulated, salacious stories about Hollywood's most powerful men are commonplace in the industry grapevine, making it difficult to sort reality from mere hearsay.
Agencies are the main gatekeepers of talent in Hollywood, and actors depend on them to find work. But to land coveted roles, performers first have to build relationships, which means meeting with producers and directors, often in semiprofessional settings such as hotels.
"We are in a creative business where collaboration and relationship-building is a key ingredient to success. However, we will never allow our clients or colleagues to be put in compromising or unsafe situations," said Chris Silbermann, managing director of ICM Partners.
The agency worked with Weinstein Co. on projects including the Oscar-winning movie "The King's Speech" in 2010.
Since the New York Times and New Yorker published their accounts of Weinstein's history, ICM and other leading agencies are encouraging clients who have experienced harassment to tell their agents.
"If you feel uncomfortable, threatened or exposed, if a client feels that way, if a colleague does — you are safe to come forward," Jeremy Zimmer, chief executive of United Talent Agency, said in a recent email to staffers.
William Morris Endeavor began reviewing its sexual harassment policies after the harassment scandals at Fox News last year, according to one person close to the agency.
ICM launched an internal investigation in May to determine if some of its agents discouraged a client — former Fox News contributor Tamara Holder — from reporting sexual harassment that allegedly occurred in 2015 while she was working at the network. The investigation by law firm Latham & Watkins found no wrongdoing by the agency.
Some women say their agents did indeed help to shield them from Weinstein.
"Everyone knew [about his behavior toward women], just as they know about other high-profile people with power in the industry who get away with the exact same things," said screenwriter Kelly Marcel, whose credits include "Fifty Shades of Grey" and "Saving Mr. Banks."
"My London agent, when I signed with her, said, 'You will never work with Harvey Weinstein. You will never be in a room with him.' That was 10 years ago, and she denied many requests over those 10 years."
Marcel's agent at Casarotto Ramsay & Associates didn't respond to a request for comment.
Actress Rebecca Hall also credited her representatives with quietly protecting her from the film mogul. "I certainly was never allowed near a meeting with him on my own and anything like that," Hall told Indiewire this month. "In retrospect, I understand why, even if my representatives weren't explicitly telling me."
Others, however, have said that, when it comes to sexual misconduct, the safety net failed them.
Speaking this month at the Elle Women in Hollywood event, Reese Witherspoon revealed that she had been sexually assaulted by a director at age 16 and said that, to this day, she feels "anger at the agents and the producers who made me feel that silence was a condition of my employment."
Witherspoon and Hall both declined to be interviewed.
Agencies are regulated under California's Talent Agencies Act. But traditionally, it has been up to individual agencies to formulate their own policies regarding sexual harassment, said Karen Stuart, head of the Assn. of Talent Agencies, a trade group.
But that could change in the future. Stuart said she has reached out to SAG-AFTRA to formulate best practices for situations like this. "People should come forward," she said. "And we should support them."
Like the agencies, SAG-AFTRA has faced criticism for what some members perceive as its failure to protect performers, especially those who aren't famous enough to have their own representation.
"Though we should blame no one except Weinstein for his vile actions, arguably no entity should be more shaken by the story than the union that for decades failed to protect its members," actor Morgan Spector wrote in Jacobin, the left-leaning magazine.
SAG-AFTRA condemned Weinstein in the days after the scandal broke. In an interview, guild President Gabrielle Carteris said that the responsibility for dealing with harassment should be a collective effort.
"Every one of the performers who shared their story should be looking to their union, agents, managers, lawyers and other resources to be a part of the solution," Carteris said via email.
Carteris said that SAG-AFTRA doesn't disclose the nature of complaints it receives through its confidential safety hotline. But, she added, as the issue has risen in prominence, "more and more people have felt empowered to speak out and calls have increased."
Other Hollywood guilds have spoken out against members accused of sexual misconduct, and in some cases, have taken action.
The Writers Guild of America, East, has condemned writer-director Toback, while the Directors Guild of America said last week that it has filed disciplinary charges against Weinstein, who is a member.
The Producers Guild of America voted unanimously last week to expel Weinstein.
"This is a systemic and pervasive problem requiring immediate industrywide action," the PGA said. "The PGA calls on leaders throughout the entertainment community to work together to ensure that sexual abuse and harassment are eradicated from the industry."
Times staff writer Amy Kaufman contributed to this report.
Times staff writer Amy Kaufman contributed to this report.
ALSO
Weinstein scandal puts nondisclosure agreements in the spotlight
Robin Abcarian: How to snuff out the grotesque epidemic of sexual harassment? Start early
New York attorney general launches investigation of Weinstein Co.
---
UPDATES:
12:22 p.m.: This article was updated with the results of an ICM investigation into whether some of its agents for former Fox News contributor Tamara Holder discouraged her from reporting alleged sexual harassment that occurred while she was at the network.
This article was originally published at 6:00 a.m.
---
Inside the business of entertainment
The Wide Shot brings you news, analysis and insights on everything from streaming wars to production — and what it all means for the future.
You may occasionally receive promotional content from the Los Angeles Times.