Working for Harvey Weinstein was a coveted career steppingstone that came at a price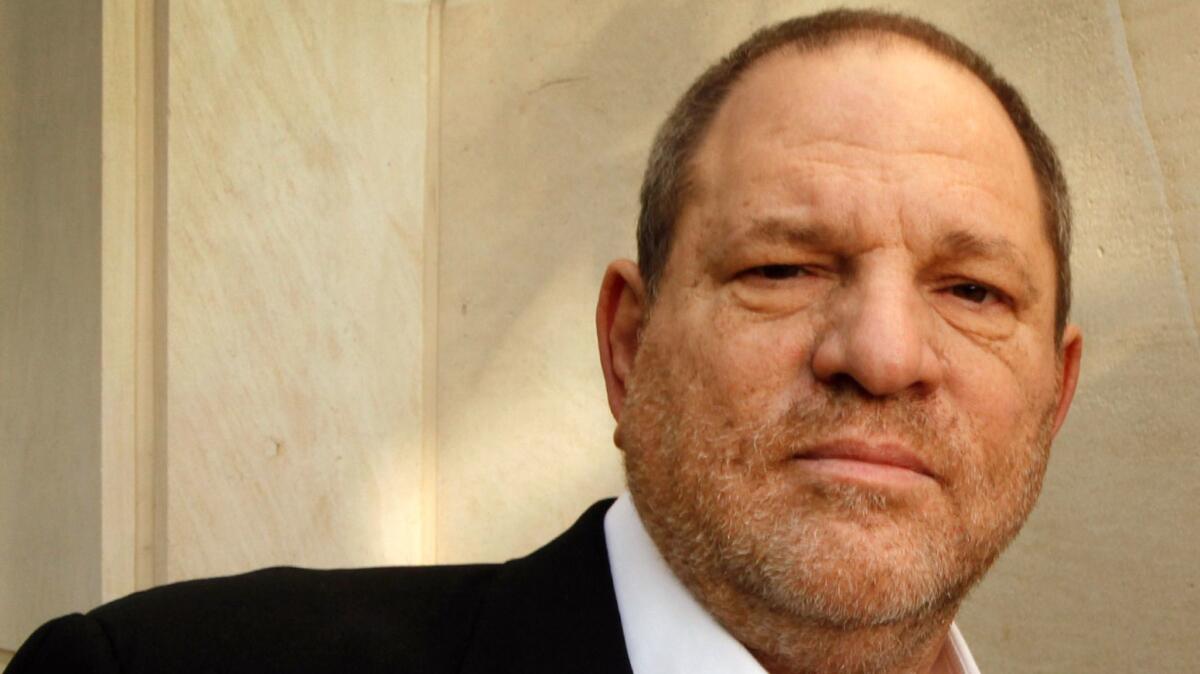 For an ambitious college or film school graduate looking to break into the cut-throat movie business, there were few jobs in Hollywood as coveted as working for Harvey Weinstein.
The pay was often bad and the hours long, but simply having Miramax or Weinstein Co. on your resume was seen as a golden ticket that could be parlayed into a better-paying job at other independent film companies and even a major studio.
Toiling in the trenches for Weinstein, however, was not for the weak or easily intimidated.
Weinstein is currently facing allegations that he sexually harassed and assaulted a series of women over a period of more than 20 years, as reported recently by the New York Times and New Yorker. Those who worked with him on a daily basis knew a different kind of abuse that was more psychological in nature.
Former employees and other indie veterans said working for Weinstein frequently involved bearing the brunt of his volcanic temper, which was legendary in an industry filled with supersized egos. His rage-fueled outbursts were mostly verbal but would sometimes turn physical, with employees finding themselves on the receiving end of his brute force, including thrown objects and altercations, according to three people who worked for the producer.
"The company was packed full of young people, driven by the idea that they were cheap. The attitude was that the company paid them with experience. The abusive behavior was part of the deal," said Mark Tusk, who worked as vice president of acquisitions at Miramax during the 1990s.
FULL COVERAGE: The Harvey Weinstein scandal>>
The employees who survived best were able to stand up to Weinstein, Tusk said. "You had to know how the bully mentality worked. He respected you more if you pushed back — but he still put his foot down and made it clear he was the boss," he said.
In an interview with the Hollywood Reporter published Saturday, Bob Weinstein acknowledged his brother's behavior in the workplace.
"Harvey was a bully. Harvey was arrogant. He treated people like … all the time," Bob Weinstein said. "That I knew. And I had to clean up for so many of his employee messes. People that came in crying to my office: 'Your brother said this, that and the other.' And I'd feel sick about it."
Some of Harvey Weinstein's outbursts toward business partners were negotiating tactics aimed at scoring a better deal. He could also turn his rage into charm in a matter of seconds, drawing on his film-geek background to talk about arthouse cinema as a way to put his subordinates at ease after a tense standoff.
Former employees expressed a mixture of sadness and shock over the sex allegations against Weinstein. Most of the accusations have come from actresses, but some were former employees, including at least two unnamed assistants who reached settlements with the movie boss in 1990 and 1998, according to the New York Times.
Many rank-and-file employees didn't know about their boss' alleged sexual transgressions, hearing only vague whispers about extramarital flings. The open secret among staffers was that he was a philanderer, not a harasser and assaulter of women, said one former employee who worked for Weinstein for about five years in the early 2000s.
The rumors didn't stop eager young film buffs from lining up to work for him, attracted by the edgy auteur titles that New York-based Miramax distributed in its early days and later by the Oscar-winning prestige movies that Weinstein released at his creative peak, including "Good Will Hunting," "Shakespeare in Love" and "Chicago."
The potential career upside was often too tempting to resist. Weinstein alumni have gone on to work for Netflix, Showtime, New Line Cinema and Focus Features as well as the major Hollywood studios. Others have created their own production and distribution companies.
But employee turnover was brisk. "You put in your year or two, then you got the hell out of there," said one former film executive who wasn't employed by Weinstein but who worked in the same indie film circles.
When it came to his brother's bullying in the workplace, Bob Weinstein told the Hollywood Reporter, "I would often counsel people and say, 'You know what? You have a choice here. Leave. Leave, please leave.' I don't know why some of them stayed."
Bernice Ledbetter, a faculty member at the Pepperdine Graziadio School of Business and Management, said it may have been difficult for people to leave because of the allure of the Weinstein Co.
"It's a very seductive industry at all levels. It draws people in who are willing to be abused, to work for pennies, for the sake of being there. It's part of the lure and lore of Hollywood," she said.
During his scrappy early days in the '80s, Harvey and Bob Weinstein managed a small staff of about 20 individuals. The atmosphere was intimate and even familial — Harvey's wife at the time, Eve, headed Miramax's family film division, while his mother, Miriam, worked the reception area.
Even then, Harvey Weinstein was known as an overbearing boss who pushed his employees to their limits, calling people at all hours. Former and current Weinstein employees would gather informally after work to share their horror stories about him and commiserate.
The mogul often played mind games with his new mid- to senior-level hires, whom he put into two general categories: those who received a six-month honeymoon period where the brothers treated them as part of the family, and those whom Harvey Weinstein would immediately grind down as a test of sorts. If they stood up to him and didn't let the verbal abuse crush them, he would grant them leeway.
"These people stayed longer once they got through the hazing process," said Tusk, the former acquisitions executive. "It was a strange dichotomy."
Harvey Weinstein's personal assistants were often treated as glorified servants, but everyone from the top down was called upon to perform secretarial duties, including taking meeting notes and fetching him cigarettes.
The culture was partly a holdover from Miramax's start-up years when it operated hand-to-mouth. The company had many lean years when it survived on a line of credit of about $25 million, according to one person with knowledge of the situation.
After Walt Disney Co. acquired Miramax in 1993, the brothers had access to more money and the staff eventually grew to a few hundred, with offices opening in Los Angeles and London.
Success only exacerbated Harvey Weinstein's anger issues and need for industry recognition. "Things really took a turn for the worse around the time of 'The English Patient,'" said one former Miramax executive who worked for the company for several years in the '90s.
The 1996 movie was his first release to win the Oscar for best picture, and it whetted his appetite for more awards. By the time "Shakespeare in Love" was released two years later, his worst traits became amplified, the executive said.
The Oscar campaign for "Shakespeare in Love" was aggressive and at times nasty as it took aim at its chief rival for best picture, "Saving Private Ryan." Ultimately, Harvey Weinstein's movie triumphed on Oscar night, but his reputation as a campaigner who played dirty was sealed.
While he has seldom been caught red-handed in his attempts to sabotage the competition, he did apologize to Universal Pictures in 2002 after a Miramax staffer was caught steering a journalist to a negative story on the Drudge Report about John Nash, the subject of "A Beautiful Mind."
Out of the limelight, Harvey Weinstein terrified his employees with his physical outbursts.
Once, he became so dissatisfied with poster artwork for a movie release that he picked up a framed picture of his parents and hurled it across the room, narrowly missing an employee, said a former executive who worked for the Weinsteins for several years.
"He's basically an angry man who is never going to get over his anger and that manifests itself in many ways," the executive said.
His size was another factor. Standing more than 6 feet tall and sporting a massive frame, he was a physically imposing character who could strike fear in his employees simply by lunging forward or pounding his fist on a desk.
"He threw his weight around literally and figuratively," said a press agent who worked with the Weinsteins.
But mostly it was vulgar outbursts. He sometimes directed his anger at his younger brother Bob. The siblings frequently feuded but stuck together as business partners until Weinstein Co. announced Sunday that it was firing Harvey Weinstein.
The elder Weinstein declined requests for comment, but in an interview with the Los Angeles Times this year, he said he was working on his personal issues.
"I'm trying to be a better person," he said.
Times staff writer Meg James contributed to this report.
ALSO
Amazon Studios cuts ties with Weinstein Co. following Harvey Weinstein sex scandal
The fallout: How the Harvey Weinstein scandal exposed sexual harassment as Hollywood's dirty secret
In Hollywood, what should've been scandal was long met with a shrug. A new outcry has changed that
---
UPDATES:
11:35 a.m.: This article was updated to include comments Bob Weinstein made to the Hollywood Reporter.
This article was originally published at 5 a.m.
Inside the business of entertainment
The Wide Shot brings you news, analysis and insights on everything from streaming wars to production — and what it all means for the future.
You may occasionally receive promotional content from the Los Angeles Times.