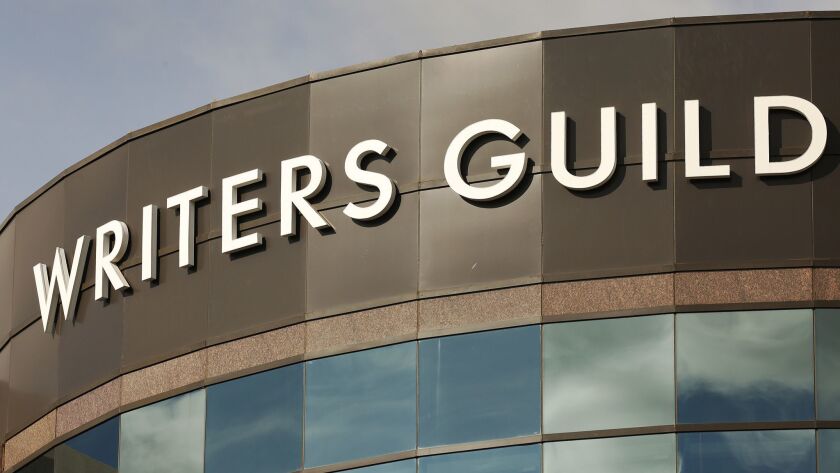 Hollywood is keeping a nervous eye on the widening feud between the Writers Guild of America and the major talent agencies as the two sides are expected to negotiate down to the wire on a deal that would prevent writers from taking the extraordinary step of firing their agents.
Writers and agents have until Saturday to hammer out a new franchise agreement that would address the contentious issues of packaging fees and agencies' growing involvement in TV and movie production. The guild is arguing that agents have prioritized packaging over client representation and face conflicts of interest if they employ a client on a show while also representing the same client.
Both sides have engaged in aggressive publicity campaigns, looking to sway the narrative to gain the most leverage. In their latest move, WGA members voted overwhelmingly this week in favor of a code of conduct that would limit agency practices, though no agencies have so far agreed to the terms.
How do Hollywood insiders really feel about the dispute? The Times spoke with writers and agents on condition of anonymity, inviting them to expound on their concerns and personal anxieties, without fear of repercussions from guild leaders or agency executives. What follows are excerpts from those conversations.
Feature film writer
I'm a captain for the guild — I'm part of the apparatus pushing for the vote. I have spent way more time composing emails to my group than I have writing, which is probably not the best for my career. But you know how it is. It's work I find valuable so I'm happy to do it. Honestly, it's been a total [expletive] show.
It's been scary, anxiety producing. It's tough to go through this with people who are your close friends. I'm close friends with my agent. He's been instrumental in getting me good jobs. But he understands. He has a granular understanding what it's like to be a writer. I don't want to leave him, but he knows I'm going to go if the guild says it's time to go. I think it's tearing him up. He's fighting for some way for his agency to work things out.
Showrunner on a premium cable series
We're in the middle of staffing season. To not have an agent when entering staffing season is not a good place to be. I'm a showrunner and employed so it's a little different. For me it's more symbolic than anything else. I signed the petition because I wanted young writers to know that I'm on their side and I take their anxieties seriously. We're fighting to protect the weakest in our herd. They need to be nurtured, fed and paid for their work. I have one story editor and she feels passionately that the union has protected her and she doesn't believe agents will negotiate in good faith.
At one point, we had agents come talk to us — to hear it from their perspective. They didn't make a great case. They said it's like drilling for oil, that they don't make money on a lot of packages and that they're taking a risk too. But most projects are like that in Hollywood.
Agent at a major Hollywood talent agency
If I had to sum it up, it's comfortable, awkward and embarrassing because as much as people like to think that agents are swimming in a room full of money, the majority of us are grinders who are working so [expletive] hard to get these deals. Now, writers are probably the most underappreciated talent in the whole ecosystem. There's been this history of using and abusing writers. So I feel they are taking it out on the agents. But we are fighting on your behalf, so it's ridiculous.
I wish writers were more educated in the history and how packaging came about. There's a long, long history. The majority of writers are cheap — they don't want to pay their 10% commission. The writers are delusional if they think the studios will pay them more [if packaging is eliminated]. They're dreaming. The studios are going to pocket the money aggressively. They're not going to give writers better deals on the back end. I'll tell you right now — it's not going to happen.
TV and film writer
I've been with my agents 13 to 14 years. My agents have done right by me. It took me by surprise when I sat with [guild leaders]. After 15 minutes, their goal was to have us all leave our agents and to re-create the business. Under no uncertain terms. It felt like I stepped into an alternate universe. It feels like a rogue band has been hurt by packaging and has taken over the guild. The smartest writers I know aren't going to leave their agents. This is a skewed perspective. I think, mostly, writers are happy. But there have been some people who are unhappy. It feels like the WGA wants to drive us off a cliff, but they don't know where the landing is.
TV writer-producer for a show on a major streaming service
I created the show with someone else. My agency will make more than I will on that show. It's supposed to be 10% of what you make. Now they are getting more than I am. It only incentivizes them to keep the show budget lower to give them more profits. In the past 10 years, demand for writers has been huge. But instead, writer budgets have stayed the same and salaries have trended downward.
When it comes to a conflict of interest — it shouldn't be there in the first place. Agencies creating their own studios is very concerning.
Have an opinion on the subject? Contact david.ng@latimes.com.
---