After Hollywood sexual harassment scandals, they were spurred to action. Now there's a help line to report abuse and get legal support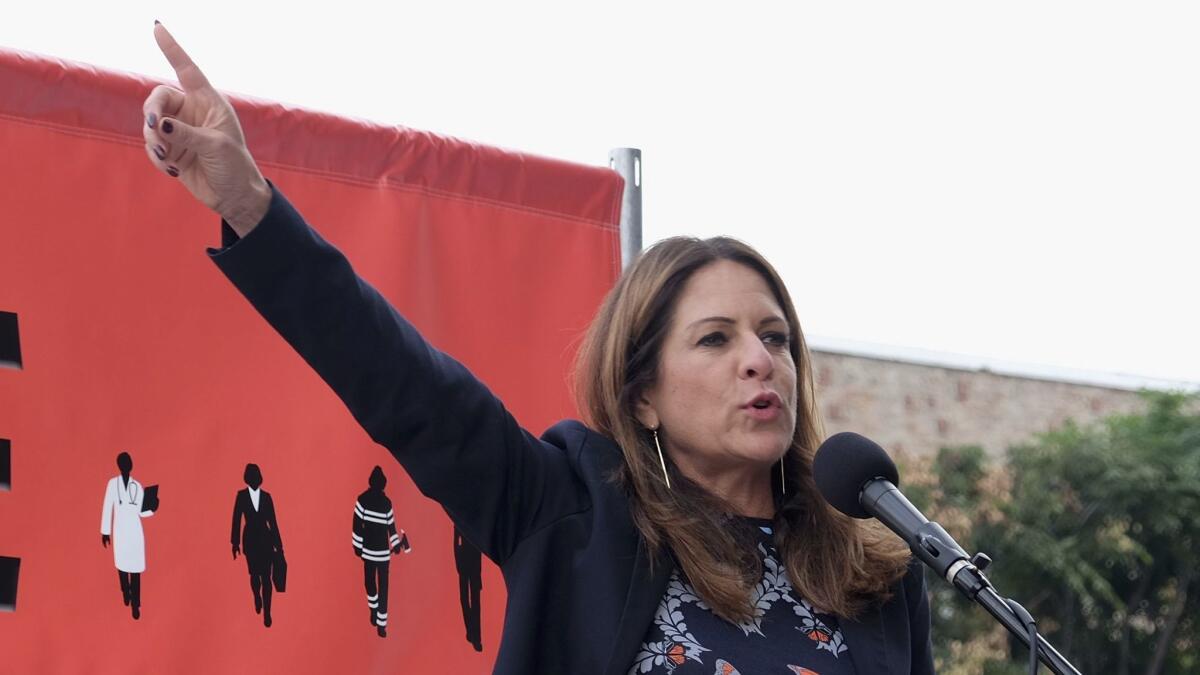 Since sordid allegations about movie producer Harvey Weinstein surfaced, the cascade of harassment complaints — crude comments, hostile work environments, requests for sexual favors and physical assaults — has shaken even veterans of the entertainment industry.
The staggering number of scandals has raised questions about why studios, unions, talent agencies and other groups in Hollywood haven't done more to prevent abuse. Now one prominent Los Angeles advocacy group, Women in Film, is taking steps to address what many believe has been a systemic problem in the media and entertainment industries.
"Like many people in Hollywood, I would have thought that this kind of thing was highly unusual and extremely rare," said Cathy Schulman, an Oscar-winning movie producer ("Crash") and board president of Women in Film L.A. "I'm not naive and have certainly seen my fair share of bad behavior … but this explosion of news has come as a shock to all of us."
Galvanized by revelations of bad behavior by powerful men in the business — and inspired by the #MeToo movement, in which victims have shared their own stories — Women in Film is putting together a network of resources for women — and men — who are facing harassment and have no other place to turn for help.
With seed money from the William Morris Endeavor talent agency, Women in Film set up a help line for people to report cases of abuse and hired an executive to manage it. That phone line, (323) 545-0333, went live Friday morning.
Meanwhile, entertainment attorney Bonnie Eskenazi, a member of the organization, has been assembling a roster of nearly two dozen attorneys to represent victims for free. In addition to providing pro-bono legal services, the group plans to develop a system to confidentially track complaints and identify trends when numerous allegations are made against one individual or a particular workplace. For example, more than 70 women have come forward to accuse Weinstein of various levels of sexual abuse and inappropriate conduct. Weinstein has denied claims of nonconsensual sex.
"Sometimes it takes a shock to the system before there are changes," said Lauren Edelman, a law and sociology professor at the UC Berkeley School of Law who studies workplace culture. "Weinstein was the shock that got this thing going, and it has taken the form of a social movement."
Sometimes it takes a shock to the system before there are changes.
— Lauren Edelman, UC Berkeley School of Law professor
Women in Film, founded 44 years ago, was spurred to action when the raft of harassment scandals exposed gaping holes in safety nets that should have protected workers. Talent agencies and guilds fell short of providing adequate safeguards for their clients and members, as did human resources departments at production companies, TV networks and news outlets.
SAG-AFTRA, which represents actors and other performers, has its own anonymous hotline for its members.
But in many cases, women didn't report abuses out of fear that they — not the perpetrator — would be punished.
"The safety nets are not true safety nets," said Debra Katz, a Washington attorney who handles sexual harassment cases. "The HR departments are not truly there for employees — they are there to serve the interests of management and cover up for their revenue generators — their star performers."
The recognition that human resources departments failed to protect victims prompted Women in Film to design its own support network tailored to Hollywood's culture, which includes a heavy reliance on contractors.
"Oftentimes, human resources isn't available. And, at times, it's not useful," Schulman said.
Her group did not want its resource center to be affiliated with typical power players. It wanted to create a "safe zone."
"We're a nonprofit that's not aligned with any particular studio, or agency, or production company, or a network, or news channel," Schulman said. "We felt that we could quickly become the place for women to reach out."
Part of the reckoning has been to figure out how Hollywood's distinct culture has fostered some of the abuse. For example, soundstages and movie and TV sets are not typical workplaces. People tend to act casually, put in long hours and often work thousands of miles from home.
And then there is Hollywood's fascination with — and forgiveness of — larger-than-life personalities. That might have contributed to a tolerance of the alleged behavior by Weinstein, broadcast journalist Charlie Rose, film director Brett Ratner, comedian Louis C.K., NBC News anchor Matt Lauer and John Lasseter, chief creative officer of Pixar Animation and Walt Disney Studios.
"In our community, there is this idea that if you are talented, then you're allowed eccentricities," Schulman said. "That may have originally meant, 'Well, they only drink blueberry shakes or eat tree bark — but we need to [support] that because this person is on our set and they're famous.' "
Bad behavior by big-named talent was routinely overlooked and led to lax enforcement of employment rules and labor laws, Schulman said.
On Tuesday night, more than 50 people flocked to a public library in West Hollywood for a Women in Hollywood discussion on sexual harassment. The panel included women with sexual harassment stories, including actress Heather Graham, who described her decision to go public about how Weinstein indirectly propositioned her more than a decade ago.
"I was really inspired by other women speaking out," Graham said. "The shame should be with the predator — not the victim."
The shame should be with the predator — not the victim.
— Heather Graham, actress
Cynthia Bamforth, a Pasadena attorney, described how California employment law covers people who work not only for big companies but also for small ones. Independent contractors, job applicants, volunteers and interns also are covered, Bamforth said. She added that there were different forms of harassment, including hostile work environments and "quid pro quo" situations in which someone dangles job advancement in exchange for sex.
Women in Film had planned an initiative to make lawyers available to assist victims earlier this year, but the idea took on new urgency after the sexual harassment scandal exploded, Eskenazi said in an interview.
"This is meant to be part of the long-term solution," Eskenazi said. "When the huge outcry over sexual harassment dies down — and it will — there still will be some institutional effort to help women in need — a place where people can come for help."
Inside the business of entertainment
The Wide Shot brings you news, analysis and insights on everything from streaming wars to production — and what it all means for the future.
You may occasionally receive promotional content from the Los Angeles Times.