YouTube TV launches today. It has some cool features and some big drawbacks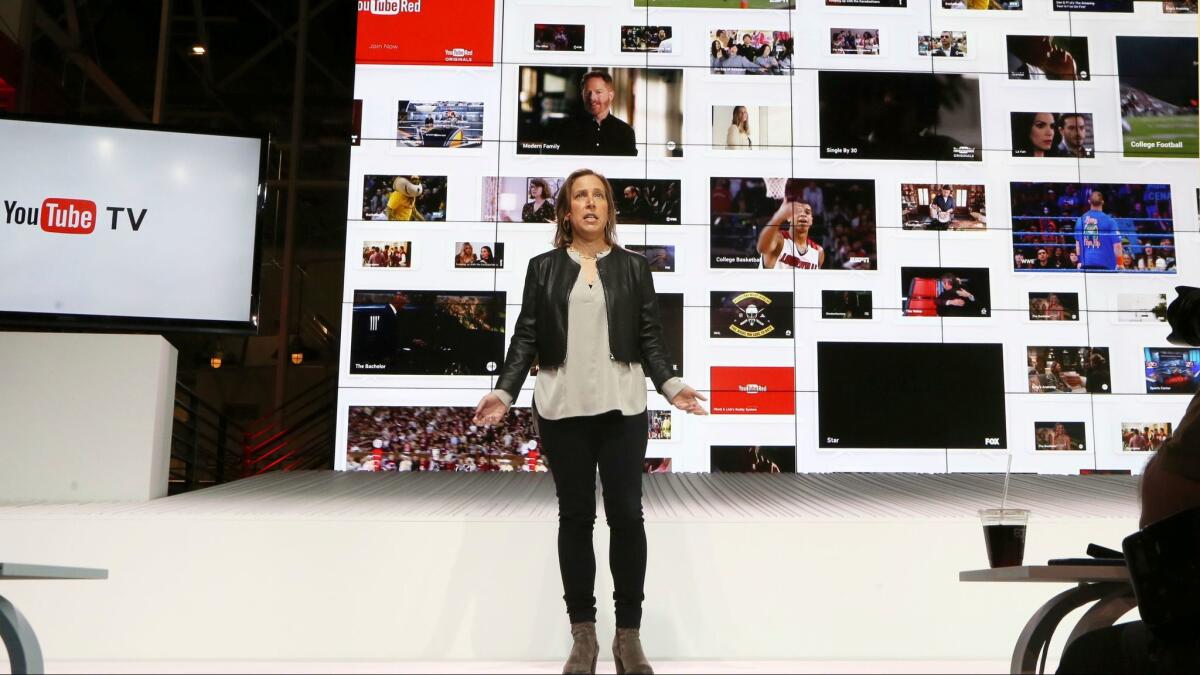 YouTube TV, Google's new streaming package of about 40 television channels, is the tech industry's latest bid to get cable-shunning millennials to pay for live TV over the Internet. It offers intriguing advantages over rivals, but it remains hobbled by a limited channel selection.
Don't confuse the YouTube service, which debuted Wednesday, with Netflix, Amazon Prime and other streaming offerings. Like similar efforts from Sony, Dish and AT&T's DirecTV, YouTube TV primarily aims to let you channel surf over the Internet, not stream from an online library of shows and movies. These Internet-cable services can offer live programming, especially sports.
But they also come with some serious drawbacks. While these services are typically cheaper than traditional cable or satellite services, people haven't been signing up in droves. Google is targeting viewers who have never subscribed to cable or satellite TV and are just as happy to get all their video from the Internet; getting them to cough up $35 a month could be a hard sell.
Google — a subsidiary of Alphabet Inc. — aims to attract subscribers with more sophisticated program search, personalized recommendations and a more fully featured online DVR than rival services offer. But it faces many of the limitations its rivals have.
YouTube TV, for instance, features staples such as ESPN and major broadcast networks, but lacks key networks such as PBS, CNN and Comedy Central. And initially it will be available in only a handful of major U.S. cities.
What you get and what you don't
YouTube TV offers plenty of live sports, one of the chief reasons people stick with cable. Pick a team, and the service automatically records all the televised games it can find. Available channels include ESPN, Big Ten and sports networks from Comcast, Fox and CBS — but not Turner networks such as TBS and others that aired the bulk of March Madness. New York Mets fans won't get baseball games on SNY.
YouTube also has the youth-oriented Freeform and CW networks; its rivals lack the CW. AMC is coming in a few weeks, so subscribers will have to wait to catch up on the just-ended season of "The Walking Dead."
Since most channel numbers and names are meaningless in a digital world, YouTube TV arranges live channels by topic, starting with broadcast networks, sports, youth-oriented channels and then everything else. Subscriptions are initially limited to Los Angeles, the San Francisco Bay Area, New York, Chicago and Philadelphia — all locations where YouTube could get rights to local ABC, CBS, Fox and NBC stations.
Search party
As you'd expect from Google, search is one of YouTube's big selling points. Its rivals already offer search by shows and sometimes by actors; YouTube adds topic searches, such as "aliens" or "road trips."
Unfortunately, it's still a work in progress. A search for "nerd comedy" brings up "The Big Bang Theory," but "comedy about nerds" does not. And a search for "Modern Family episode on basketball" doesn't bring up the episode titled "Basketball."
YouTube could also stand to take a cue from TiVo recorders and let you automatically record all programs featuring, say, Jennifer Lawrence, including her talk-show appearances. You can search for Jennifer Lawrence, but you need to go through the results and choose shows to record individually — too much work for a service that promises simplicity.
One big plus: YouTube's unlimited DVR will store recordings for nine months, long enough for entire seasons of network shows. Sony's PlayStation Vue — the only similar service offering an unlimited online DVR — offers only 28 days of storage, nowhere near enough for binge-watching series that air weekly.
YouTube TV works on phones, tablets and laptop browsers. Watching on an actual TV set requires Google's Chromecast, an inexpensive streaming stick you control with your phone. (Early subscribers get one free of charge.)
About your privacy
This being Google, your viewing and search histories might be mined for targeted advertising. You can suspend tracking in the settings, though that will hinder personalized recommendations. It's too early to tell whether that's a loss, though some of the early recommendations have been spot on.
You can share your subscription with five people in your household, with three simultaneous streams allowed. No need to share passwords; they sign in with their own Google accounts. Recordings and recommendations are kept separate, so your roommates can't make fun of you for binge-watching "The Real Housewives."
ALSO
Amazon reaches deal with NFL to stream Thursday night games
My kids don't have a YouTube channel — but they pretend they do
Netflix sees dramatic subscriber growth, lifted by overseas expansion
Inside the business of entertainment
The Wide Shot brings you news, analysis and insights on everything from streaming wars to production — and what it all means for the future.
You may occasionally receive promotional content from the Los Angeles Times.