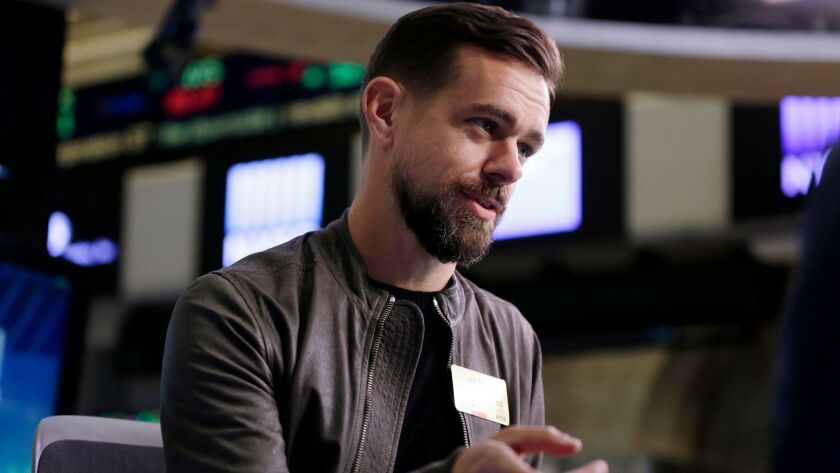 Silicon Valley is known for its politically progressive culture and distaste for the policies of President Trump. But Twitter executives are voicing their support for Trump's frequent use of their social media platform — and have even encouraged the president to use Twitter more.
On Sunday's broadcast of the "Today" show on NBC, Chief Executive Jack Dorsey said in an interview that he thinks Trump's frequent use of Twitter serves a greater political good.
"I believe it's really important I hear directly from our leadership. And I believe it's really important to hold them accountable," Dorsey said. "And I believe it's really important to have these conversations out in the open rather than have them behind closed doors."
He said Trump has "found a tool that's useful for him."
Dorsey said that the absence of platforms like Twitter would be bad for open political discourse. "It goes in the dark and I just don't think that's good for anyone," he said.
His remarks came shortly after Anthony Noto, Twitter's chief financial and operating officer, encouraged the White House to use the social media platform even more.
Noto was responding to a recent tweet Trump posted in which the president said he was considering eliminating regular White House press briefings.
"May I suggest questions submitted and answered via Twitter," Noto said on his Twitter account. "A perfect record and we distribute to the world not just those with a TV."
Last month, Twitter leaders suggested in an earnings conference call that the platform has experienced a bump in users thanks to the rise in political discourse during Trump's first weeks in office.
The company said it had 328 million active users after adding 9 million in the first quarter of the year.
There is "some evidence that we benefited from our new and resurrected users following more news and political accounts in [the first quarter], particularly in the U.S.," Noto said during the call.
"That's a really positive thing."
The San Francisco company reported its first year-over-year decline in quarterly revenue in the first quarter. But the stock has been on the upswing this month after Twitter announcing a deal to stream videos from Bloomberg Media around the clock as it pursues a strategy to make itself more of a video destination.
---